The Impact of Medical Philanthropy: Greater Than You Think
Medical giving helps provide cutting-edge buildings and equipment along with enhanced services.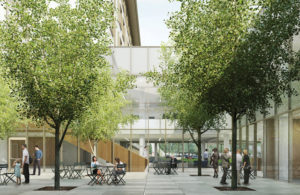 If you've ever donated to your local hospital, you're in good company. Philanthropic support of hospitals dates all the way back to … who else … Benjamin Franklin.
In the mid-1700s, Franklin was approached by a physician friend who wanted to open the first hospital in the American Colonies. Hospitals were a relatively new concept at the time—most people were cared for at home. Franklin quickly got behind the plan, so much so that he offered to raise 2,000 pounds of his own money—and from his friends—if the Pennsylvania Assembly would match the amount.
The money was collected, the match was made, Pennsylvania Hospital was built (founded in 1751), and history was written.
21st Century Giving
Today, philanthropic dollars continue to impact health care as greatly as they did in establishing America's first hospital. In fact, Giving USA Foundation's Annual Report on Philanthropy for the Year 2018 listed health-related organizations as the recipients of about 8% of all charitable dollars, or about $40 billion. This modern-day support is critically important as hospitals seek to establish or enhance new patient services or fund capital projects to provide lifesaving care.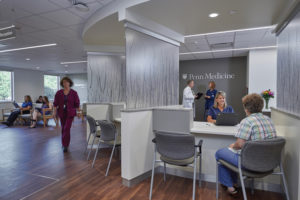 In Chester County and throughout Pennsylvania, the same spirit that moved Franklin and his friends to action more than 250 years ago lives on among area residents and businesses. Take Chester County Hospital, for example—a sister organization of Pennsylvania Hospital and part of the University of Pennsylvania Health System.
"Like that first hospital in Philadelphia, Chester County Hospital was built thanks to donations from local community members and businesses," says Mike Duncan, the hospital's CEO since 2011. "And 127 years later, that support continues. This has allowed us to expand and improve the medical services and facilities we offer our patients."
Impressive Level of Support
While the world has changed dramatically since Ben Franklin's day, the support community members provide to local hospitals has not. Philanthropic funding remains a huge driver of expansion and innovation.
"On average, Chester County Hospital receives $7 million in donations each year," Duncan says. "One of the most satisfying parts of my job is talking to people about what led them to donate. Each has a personal reason for giving."
Many donors are philanthropically motivated because they know the hospital is an important asset that helps build a stronger, healthier community. Others have had a clinical experience that has impacted them, such as cancer, which leads them to support a specific program or project that will help patients in similar situations. Still others make a gift to show gratitude for the care they or a loved one has received.
While reasons for donating vary from person to person, all agree that supporting their local hospital is a good way to ensure the longevity of a community.
Direct Impact on Patient Care
In recent years, philanthropic support has had a significant impact on hospitals in our area and the care they provide. In fact, it's hard to name a major hospital project or program at Chester County Hospital that hasn't benefited from the support of generous donors.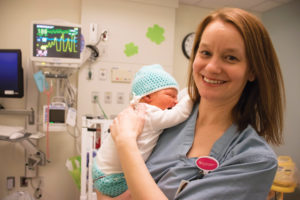 "The renovation and expansion of our Neonatal Intensive Care Unit, which was a $5.1 million project, was funded solely through donations," says Kevin O'Brien, Senior Vice President of The Chester County Hospital Foundation. The new NICU provides better care to the youngest and most vulnerable patients and is much more accommodating to parents and families.
The NICU is not a unit any expectant parent expects to need, but its presence has been lifesaving for hundreds of families. The unit contains the technology and specially trained staff to care for babies born prematurely or with medical complications.
One of the most advanced pieces of equipment in the new unit is seemingly one of the simplest: the beds. Called Giraffe Beds, these high-tech devices combine features of an incubator with those of an open-air warmer, including the ability to control temperature, humidity and oxygen flow. The beds provide a stable and protected environment for frail babies and eliminate the stress of having to move them from bed to bed.
"Giraffe Beds are the most advanced level of care for premature infants," says Susan Cacciavillano, BSN, RNC-NIC, clinical manager of the NICU. "It's the closest thing to the mother's womb, providing a healing environment that can help development take place. Having this technology available in the NICU is a game changer for our youngest patients."
The NICU is just one example of how philanthropic support is enhancing patient care at Chester County Hospital. Other projects and programs that have benefited from donations include:
The Lasko Patient Tower, which opened in 2014, was largely funded through $40 million in donations, including a substantial lead gift from Oscar Lasko and the Lasko family. The patient tower contains private rooms that are larger and more comfortable for patients and families. The Tower also houses a new maternity unit, orthopaedic unit, radiation therapy suite and telemetry unit to monitor abnormal heart activity.
A hybrid operating room in the hospital's new Pavilion will be equipped thanks to $2.7 million in donations. This state-of-the-art operating room combines the technology of both a heart catheterization lab and a cardiac surgery operating room into one space that allows doctors to perform extremely complex heart procedures.
The $7-million expansion of the hospital's Cancer Center was also supported through philanthropic donations. This expansion effectively doubled the size of the Cancer Center and completely renovated the infusion suite. Philanthropic funding also helps the Center support patients holistically by providing services such as massages, wigs and transportation.
Donations helped the hospital purchase millions of dollars of medical technology that's changing the way patients are treated. This includes the hospital's first da Vinci surgical robot and new equipment in the cardiac catheterization lab.
The Women's Specialty Center—a $500,000 project—was funded solely through philanthropy. This Center improved patient care by providing a single location where women can have various health issues addressed and procedures performed.
Donations helped the hospital open the Ob/Gyn Clinic, which provides pre-natal care to uninsured and underinsured mothers. The Clinic's services increase the likelihood that pregnant women at risk for complications will have safe pregnancies and deliver healthy children.
"The generous support that made all these modern-day projects possible is proof that the special connection we share with area residents has remained strong since our founding," Duncan says.
Generational Changes in Giving
Like everything else in life, the way people choose to spend their philanthropic dollars has changed over the years. This is also true for hospitals.
Today hospitals find that younger people have different funding priorities and expectations than their parents or grandparents, which is natural. They also like to be more involved in how their donation is being used. This has changed the way hospitals approach fundraising.
Historically, hospitals did all the planning internally first and then approached donors once the plans were finalized. But today, potential donors are brought in towards the beginning of the process. For example, a development officer may meet early on with a donor who is very passionate about having input on a project. That donor may come prepared with research she'd done on how other hospitals had approached a similar project. Now that's engagement!
It All Adds Up
While the old adage is accurate that 90% of the funds usually come from 10% of the donors, philanthropy isn't limited to a single type of person. That's especially true when it comes to donations to hospitals.
Many donors make annual gifts of $25, $100 and $1,000, while others make much larger donations—there's no "right" amount to give. Every donor is critical to a hospital's mission.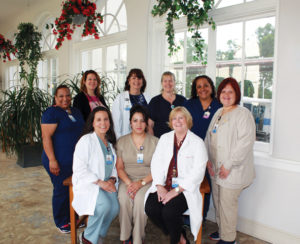 This grassroots support is perhaps best exemplified by the Chester County Hospital's Women's Auxiliary, which dates back to 1893. Far from being an outdated, "stuffy" organization, the Auxiliary has more than 400 members of all ages across 12 branches. Each year, these Auxilians raise an amazing $600,000 to $650,000 in support of the hospital.
"The Women's Auxiliary puts the 'community' in our community hospital—we couldn't do what we do without their support," Duncan says. "Most recently, the Auxiliary raised $1.25 million toward our new NICU, which is named after one of their members, Nancy Moore, who passed away and left us $3.5 million in her will. Our Women's Auxiliary is truly the envy of every community hospital in Pennsylvania."
The hospital's department of Volunteer Services also makes a significant impact by contributing 45,000 hours of service per year, saving nearly $600,000 that would have been paid to employees. Volunteerism plays a critical role in the success of fundraising events and also various clinical and clerical support at the hospital.
Ways to Give
In the years leading up to Chester County Hospital's opening in 1892, local committees were formed to solicit donations. Funds were raised through events such as concerts, dances, Shakespeare readings, cake sales and children's fairs—all organized by area residents.
While Shakespeare readings may have fallen out of favor as a fundraising tool, there are countless other ways that today's donors can support hospitals financially. These include cash/check/credit card, gifting securities like stocks and bonds, gifting tangible property like real estate or artwork, or gifting intangible property like patents or copyrights.
Donors can also make a planned or deferred gift by including the hospital as a beneficiary of their will, trust or insurance policy. Or they can establish charitable trusts benefiting the hospital or a charitable gift annuity with the hospital. Another popular and tax-advantaged giving method is to make a charitable rollover of funds from an IRA to the hospital.
According to both Duncan and O'Brien, hospitals like Chester County Hospital would be far different places without philanthropic support.
"Without a doubt, many of our building projects and technology upgrades would not have been possible without the support we receive from our donors," Duncan says. "The high-quality facilities and services our community depends on are a direct result of philanthropy.
"I always say that there is no better way to support your community than to support your community hospital."
And hospitals throughout Pennsylvania can certainly agree.
Chester County Hospital is an acute care facility in West Chester specializing in heart and vascular care, cancer, orthopaedics and women's health. With satellite locations in Exton, West Goshen, New Garden, Jennersville, Kennett Square and West Grove, the hospital will become the largest in Chester County when its 250,000-square-foot Pavilion opens in 2020. ChesterCountyHospital.org.
back to top
Our Favorite Resources
Lower Bucks Hospital
Roxborough Memorial Hospital
Surburban Community Hospital