The Final Cut: A Cut-Your-Own Tree Guide
Where to cut your own Christmas trees in Chester County and beyond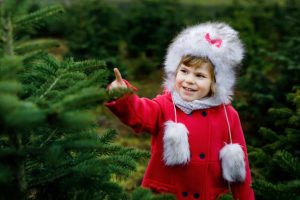 One of the most beloved Christmas traditions is finding a tree with those you love. When you cut your own tree, the experience is even better.
Most tree farms also offer even more fun — from hayrides, bonfires, cider tastings and hot cocoa to, best of all, a chance to laugh and make memories with your family as you wrestle your tree to the ground, then up on top of your car.
Check out our guide to local tree farms that go above and beyond to create a tree-mendous experience. And don't worry, we've got pre-cut options for you, too.
Cut Your Own Trees
Arader Farm
746 S. Trappe Rd., Collegeville
Explore Christmas trees and other family-friendly activities at Arader Farm. Take a tractor ride into the field to cut down your tree, see Santa's reindeer, enjoy carolers, model trains and food truck treats. No luck in the field? No problem. Arader has pre-cut trees for you, too. Limited supply of Fraser firs, so come earlier in the season! Open Mon.–Thurs., 12 to 7 p.m., Fri. & Sat., 9 to 7 p.m. and Sun., 9 to 6 p.m. AraderFarm.com/Christmas. 
Boswell's Tree Farm
1093 N. Grande Ave., Collegeville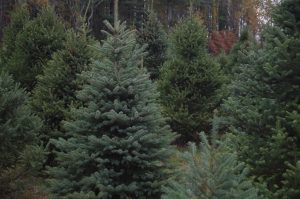 With 70 years of tree service, Boswell's knows how to make your family tree-cutting tradition memorable. Choose and cut down your own tree from a selection of Canaan fir, Douglas fir, white pine, Colorado blue spruce, Norway spruce or white spruce. From $10 to $11/foot, depending on the variety, with a 5-foot minimum. Saws and rope are provided. Cash or check only. BoswellsTreeFarm.com. 
Clark's Christmas Tree Farm
235 Pusey Mill Rd., Cochranville
This family-owned business understands the importance of family traditions. Take a wagon out to cut down your tree — Douglas firs or spruce varieties. Then grab some hot chocolate or coffee and check out the Christmas Gift Shop with goodies like gifts and decor, wreaths and pine roping. ClarksChristmasTrees.com.
Corkum Tree Farm
797 Bridge Rd., Collegeville
Find your holiday tree at this family-run farm. Cut your own tree from a selection of Norway and blue spruce with select Douglas firs (under 9 feet tall). Cut-your-own option on just two weekends, Dec. 3 & 4 and Dec. 10 & 11 from 9 to 5 p.m. (bow saws provided). Fresh-cut trees can be found throughout the season from 6 to 10 feet tall and include Fraser, Douglas, Turkish, Nordmann, silver and Fraser/balsam hybrid firs. CorkumTreeFarm.com.
Hague's Christmas Trees
755 Forty Foot Rd., Hatfield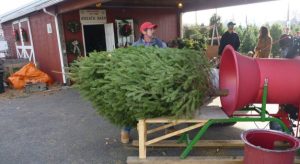 Choose to cut from a variety of Nordmann fir, Scotch pine, white pine, white spruce and blue spruce at Hague's farm. Pick up a saw and cart at the information board and head into the field to find your special tree (pre-tagging trees is prohibited). Fresh-cut Douglas fir, Fraser fir and Scotch pine are also available. Open Mon.–Fri., 1 to 5 p.m. and Sat., 9 to 5 p.m. HaguesChristmasTrees.com.
Linvilla Orchards
137 West Knowlton Rd., Media
Hop on a hayride to pick out the perfect tree this year. Once you cut your tree (saws provided), Linvilla will tie your tree to your car. Any cut-your-own tree is $99.99 plus tax. Choose from mostly 5- to 7-foot Douglas firs and a smaller selection of Canaan firs. Pre-cut trees are also available. Linvilla.com/Pick-Your-Own.
Marsh Creek Tree Farm
301 Marsh Creek Rd., Elverson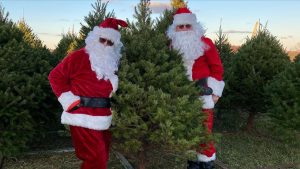 If you're looking for a tall tree this year, head to Marsh Creek Tree Farm and cut your own for trees 15 feet or taller ($13/foot). You can "top" trees — cut what you need from a larger tree ($10/foot, for what you take home). Pre-cut trees between 5 and 10 feet are $17/foot. Choose from Fraser fir, Canaan fir, Concolor fir, Douglas fir (pre-cut only), blue spruce and Norway spruce. MarshCreekTree.com.
Old Stone Farm
688 Strickersville Rd., Landenberg
Visit this scenic, family-run farm for your holiday tree excursion. Warm up with home-grown, hard apple cider before heading into the fields to choose and cut down your tree. Old Stone also has a selection of beautiful Christmas decorations, including handcrafted wreaths. OldStoneFarm.com.
Sitko Tree Farm
1141 Kepler Rd., Pottstown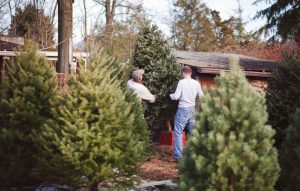 These fourth-generation tree farmers have planted and grown trees for over 50 years. Sitko serves choose-and-cut trees available in Douglas fir, balsam fir and blue spruce. Or pick from their pre-cut tree selection — Fraser, Douglas and balsam fir. For the elderly and disabled, there are unique Home Services — delivering your tree and tree stand, setting it up and removing it after Christmas. SitkoTreeFarm.com.
Spruce Grove Tree Farm
501 Blue Gill Rd., Oxford
Enjoy complimentary hot chocolate, toast some marshmallows and take a hayride at Spruce Grove Tree Farm. The farm specializes in larger evergreens, between 10 and 15 feet tall. The property has farm animals, is Jeep- and pet-friendly, and hosts special events like food trucks and a visit from Santa on select dates. The gift shop has homemade wreaths and holiday decor. SpruceGrovePA.com.
Tricolor Tree Farm
1480 Hall Rd., West Chester
Information for 2022 is coming soon. TricolorTree.com.
Westlake Tree Farms
2421 N. Hill Camp Rd., Pottstown
Holiday spirit is in the air at Westlake Tree Farms. Hop on a wagon, sip your cocoa and experience Christmas joy while exploring the field for your next tree. Cut your own 6- to 8-foot Canaan fir for $17.50/foot. Or purchase a pre-cut Canaan (6 to 8 feet) or Fraser fir (6 to 12 feet) for $15/foot. Open Thurs.–Sun., 9 to 5 p.m. Last day is Dec. 17. WestlakeTreeFarms.com.
Wiggins Christmas Trees
1257 Westtown Thornton Rd., West Chester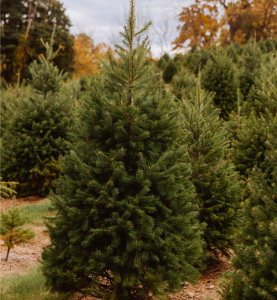 In addition to their popular pre-cut location off Route 3, Wiggins also has a West Chester farm where you can cut your own tree. Take the Christmas Tree Train from Market Street Station to their farm for a magical tree-shopping experience (tickets: $25/adult and $20/kids ages 2–12). Trees purchased will be loaded on the train for the ride back. Wiggins Farm has Douglas firs (avg. 7 feet). Trees are $80 for any size, cash only. Wreaths, stands and pine roping are also available. WigginsChristmasTrees.com. 
Yeager's Farm & Market
1015 Pike Springs Rd., Phoenixville
Cut your own tree, up to 8 feet, starting at $15/foot with a minimum of $75. Choose from Douglas, Fraser, Canaan, Concolor and Nordmann firs. Blue and Norway spruce trees are available after Dec. 10. They also have fresh-cut trees, 5 to 12 feet, individually priced. Hayrides on Sat. & Sun. from 9 to 4 p.m. YeagersFarm.com/Christmas.
Closed for the 2022 Season
As of 11/16/2022
Country Trees Farm
165 S. Church St., Parkesburg
The Parkesburg location is closed for 2022, but their main Christmas tree farm location in Lancaster is still operating this year. More info at CountryBarnMarket.com.
Heylmun's Pine Hill Tree Farm
1174 Sheep Hill Rd., Pottstown
Heylmun's was sold to a new owner and will be closed until further notice.
Schmidt's Tree Farm
1741 Flint Hill Rd., Landenburg
Schmidt's will be closed this year, but keep an eye out in 2023.
back to top