Take Your Pick!
Find the pumpkin of your pie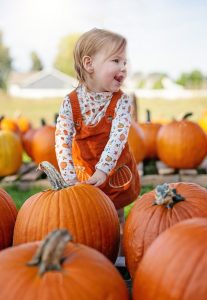 It may be Red October for Phillies fans, but County Lines country is about to look a lot more orange.
Spooky season has arrived, and it's not complete without a PSL in every hand and a pumpkin on every porch. Whether you plan to roast seeds, recreate Grandma's pumpkin pie or make your own fall decor, there are plenty of pumpkins to go around this autumn.
So, roll up the sleeves of your favorite fall flannel and begin your hunt with this list of some of our favorite local patches. The pressure is on to find the perfect pumpkin of your pie!
Glen Run Valley View Farm. At this small, family-owned farm, choose from over 50 varieties and colors of pumpkins, squash and gourds. Wheel a wagon out to the field and snap a fall photo or two. Then, complete your autumn decor with straw bales, corn stalks or mums available for purchase. Be sure to bring the kiddos along for pumpkin-themed games including Pumpkin Putt-Putt, Skee Pumpkin, Jack Slide and more. 280 Lenover Rd., Atglen. GlenRunValleyView.Farm.
Highland Orchards. This 50-year-old family farm began as a table under a sycamore tree and now harvests over 200 acres worth of fresh fruits and veggies! Once you've explored their pumpkin patch, seek out the apple cannons, apple cider donuts and food trucks. 1000 Marshallton-Thorndale Rd., West Chester. HighlandOrchards.net.
Milky Way Farm. You can count on Milky Way Farm, rain or shine. After you find "the one" on the four acres of pumpkins, book a private hayride, visit the farm animals or take a walk through the corn maze. Next, try their specialty ice cream made from farm-fresh milk! 521 E. Uwchlan Ave., Chester Springs. MilkyWayFarm.com.
Olszanowski Farm. Start your visit to Olszanowski by sipping cider and strolling through the sunflower maze. If you're feeling competitive, conquer the five-acre corn maze with its festive farm scene design. Enjoy a scenic hayride to the fields, and once you're in the patch, take your pick of gourds, sunflowers and pumpkins galore, straight from the vine. 315 Pughtown Rd., Spring City. Facebook.com/OlsFarm.
Ramsey's Farm. Bigger is better at Ramsey's. The opportunities for baking, carving and painting are endless with 10–12 acres of fields and about 50,000 pumpkins to choose from. Get lost in the custom-designed corn maze, attend a Night Event or take a pumpkin floral arrangement class. Little ones can paint pumpkins, see barn animals or try the Spookley Trail (a smaller maze). 440 Ramsey Rd., Wilmington. RamseysFarm.com.
Sugartown Strawberries. Don't be fooled by the name — in October, pumpkins are the talk of Sugartown! Hop on a hayride, frolic through the sunflower fields or stop by the Country Store. Then, browse the aisles for produce, farm-fresh jams and jellies, fall decor or their specialty tomato sauce. 650 Sugartown Rd., Malvern. SugartownStrawberries.com.
Weaver's Orchard. Treat the kiddos to a weekend out at this family-friendly farm. Entertain the little ones with all Weaver's has to offer, including face painting, barrel train rides, balloon animals, hay mazes, farm animals and more! Enjoy live entertainment or the delights of Kim's Café (their famous apple cider). 40 Fruit Ln., Morgantown. WeaversOrchard.com.
Yeager's Farm. After 200 years, this family farm is still heartily committed to high quality. Indulge in apple cider and a baked good before you take a hayride to the pumpkin patch. After your pumpkin adventure, take a stroll through the corn maze or check out the decorated greenhouse. Open 9–5 p.m., seven days a week! 1015 Pike Springs Rd., Phoenixville. YeagersFarm.com.
Pumpkin Your Porch
Once you've had your fun and found "the one" (see above!) make sure your farm-fresh pumpkin sits pretty all season long with these tips.
Scrub-a-dub. Sit your pumpkin in the sink and pull out your sponge! Wash away the dirt and grime and give your pumpkin a polish. Carving works best on a clean canvas.
Upside Down. How many years have you carved out the stem first? Well, carve a hole from the bottom instead to better preserve the structure of your pumpkin, because the strength's in the stem.
Pulp, Please! Scrape away all the seeds and pulp from your pumpkin's insides. The more moisture you remove, the longer your pumpkin will last.
Engrave Instead. If you want your pumpkin to last, engrave your design instead of carving out full chunks. It takes some work, but the deeper you engrave, the stronger the light will appear.
Pumpkin Picasso. Not a sculptor? Paint your pumpkin instead. Be sure to apply a paint sealer both before and after painting to prevent chipping or peeling and to give it a glossy finish!
Turning In. When you pull up the covers, pull your pumpkin in, too! Storing your pumpkin inside at night avoids pesky little scavengers turning your decor into a late-night snack.
Snap a Pic! The best way to savor your pumpkin decor is with a photo! When the carving is through, do a photoshoot with your new favorite decor. You'll thank yourself next year.
back to top