Spirited Cooking
Use unique flavors of local liquor to add cheer to holiday dishes
During the holidays we like to jazz things up and add a little something extra. One way is cer­tainly by mixing up a good Moscow mule or hot toddy. But there's yet another way to enjoy added cheer (without the hangover) and that's through the art of cooking.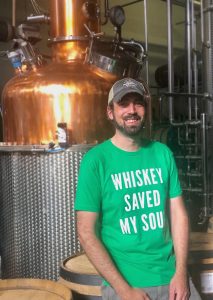 Alcohol is a natural amplifier of flavor and aromas. Its molecular composition can bond to both water and fat, allowing it to enhance the sweetness of tomatoes in a vodka sauce and the gamey notes of a venison stew. And it's not just the novel chemical properties that make it a key component of any culinary arsenal—darker liquors boast some of the most complex and unique flavors you can find.
That rich earthy taste is no accident. For craft distillers like Max Pfeffer, Head Distiller of Manatawny Still Works in Pottstown, every­thing they do from selecting the grains to malting, roasting, distilling and aging builds towards that final coveted flavor profile.
Max, a chemical engi­neering major, postponed getting a "boring job" by enrolling in the Master Brewers Program at UC Davis. He was the lead brewer for Sly Fox Brewing before making the move to hard liquor.
Max says the transition was actually fairly simple, explaining the type of malty whiskey he creates is really just distilled beer. "I was halfway there because I knew how to handle a brewhouse and fermentation. I just had to figure out the distilling and barrel-aging part."
Eight years later, Max still says he's learning each day. But he's already made quite a mark on the craft distilling scene, with award-winning non-traditional whiskey (a unique blend of barley, wheat, oats and rye) and imaginative flavor combinations (including El Murcielago, whiskey aged in tequila barrels). Max and his team are constantly tinkering and innovating and the result is an impressively deep lineup of best-in-class spirits, ranging from gin and rum to their well-recognized line of grain whiskey.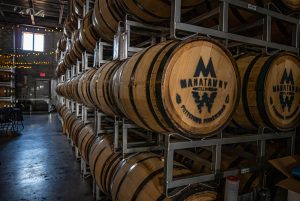 "We're not just trying to emulate what the big guys are doing, but rather, make our own craft whiskey," says Max proudly. Not only has Manatawny succeeded in developing quite a following, they have also caught the attention of bakers, chefs, cheesemakers and more. "Chefs just taste something and become inspired," says Max on how the various partnerships came to be.
Even if you aren't one to sit down with a low ball of whiskey (or even if you are), the deep complex fla­vors may just be that secret ingredient that puts your glazed ham or peach cobbler right over the top. The trick is figuring out which type of spirit to use, when to add it, and how much to add.
Check out our tips in this article to help you create a deli­ciously spirited hol­iday season.
To happier holidays!
back to top