September Publisher's Letter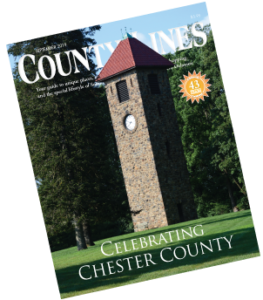 Busy, busy, busy. Schools are opening, theaters beginning, horses showing. We're celebrating with fall festivals. And getting ready for Chester County Day. It's September at County Lines.
Chester County Day—the first Saturday in October—will be presented by the Women's Auxiliary of Chester County Hospital focusing on the southeastern section of the County. The Tour includes many fascinating homes, five of them previewed by writer-photographer Matt Freeman. Read "79th Tour of Tours."
For a stunner with plenty of history, Laurel Anderson takes you on a tour of the "Home of the Month:" a 32-acre compound on Pocopson Road, formerly known as the Padua Estate. There's also a 4-bedroom attached apartment and two separate houses, not to mention two pools and gardens.
When you're done reading, visit "Home Decor" to get ideas for your own home.
Blake Goll of the Willistown Conservation Trust is wondering "Who Will Protect the Environment?" She's looking at our kids and discussing the Rushton Nature Keepers program, an environmental education program exploring four themes including birds and wildlife, sustainable farming, watersheds and healthy habitat.
At the end of the month, the top horses in the world will perform at Devon. It's hard to imagine that dressage, with its pageantry and costumes, was originally a military display. Or maybe it isn't. In any case, Ginny Simon traces dressage from its origins in "Dressage: From Battlefields to International Competitions."
Happily, there are more major equestrian events coming up this fall. Mercedes Thomas gives us a preview—the Ludwig's Corner Horse Show, Devon Fall Classic, Plantation Field International Horse Trials, and Fair Hill International Horse Trials—in "Four Equestrian Shows for the Fall." Horses galore!
I can't wait for opening night at the Resident Theatre Company! Dark, decadent, alluring, a true classic: "Cabaret." Rachael Lutcher takes a look in "Theater Spotlight."
Also, the Main Line Symphony Orchestra, in its 74th season, features the music of Samuel Barber, a West Chester native. For its theme of "Beethoven, Barber and Beyond," the orchestra will perform Barber's "Knoxville: Summer of 1915," "Symphony #1" and "Music for a Scene from Shelley." Oh yeah: Beethoven in included, too.
Fall is her favorite time of year. And Cathy Fiebach of Main Point Books has selected six great books to curl up with this autumn. "Fall Into Books" she says, and fall back in love with reading.
Whether red, rosé, or white, you love it. You love its taste, its aroma, its mouth-feel. But "Is Wine Healthy?" Fred Naddeo has done some of the research. You should probably read it. And do your own research.
Ancient or heritage grains differ from those we commonly eat in taste, composition and nutritional value. Until recently, however, these grains were largely unknown in western cultures. Alyssa Thayer, our new writer for "Brandywine Table," wants to change that. She interviews Mariella Frazier of Malvern's Heritage Flour Baking Company and writes "Baking History: A Tribute to Family Recipes and Great Grains."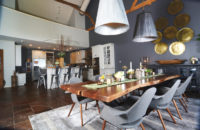 79th Tour of Tours
Chester County Day! This year is the 79th time ticketholders get to visit private homes, public structures and historic sites in the County. This year focuses on the southeastern part of the County, including Westtown, Glen Mills, Willistown, Malvern and Berwyn.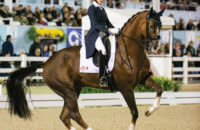 Dressage: From Battlefields to International Competition
If you've ever wondered about the origins of the elite equestrian discipline of dressage, start with knowing that the word is French for training. Dressage is also affectionately and appropriately known as ballet on a horse. It's that quality that draws crowds to Devon each September. But it all originated two millenia ago on the battlefield.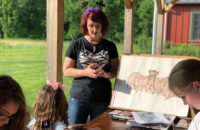 Who Will Protect the Environment?
Hearing a child make a passionate argument for protecting a piece of land for the sake of clean water and wildlife conservation inspires great hope. That's what's happening with the Rushton Nature Keepers, an environmental education program created and hosted by Willistown Conservation Trust in Newtown Square. The program's primary goal is to provide kids with a meaningful relationship with nature.
We hope you'll to subscribe to County Lines. You can do it online or call 610-918-9300. Or get an electronic copy at Issuu.com. For single print issues, try Main Point Books, Wellington Square Bookshop, Wegmans, Paoli News, Bryn Mawr News, Berwyn News or other newsstands. Visiting an advertiser is a great—and free—way to get one: click Get A Copy on the home page of this website. You can also get our free on-line events newsletters by signing up online.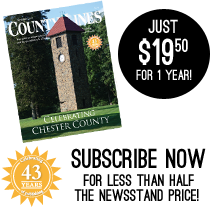 Ed Malet, Publisher
County Lines Magazine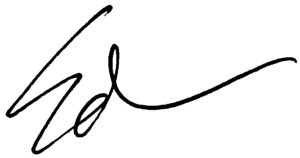 back to top