School Open Houses: How to Make the Most of Them
It's Open House Season at area independent schools—time to take an up-close-and-personal look at the place your child will spend most waking hours.
Maybe you've walked the grounds, attended a soccer game, talked to a graduate, a current student or a parent. Perhaps you've even thought about your own school experience, examined brochures and browsed websites, evaluated test scores, and talked with your own child. If you're diligent, you may have read several articles on our website.
Yet you may—and you still should—have questions. Choosing a school is a major commitment that you and your child will be making. Don't be bashful about getting the information you need.
Making a Schedule
Now is the beginning of the open house season for the 2020-2021 academic year, so it's time to begin. Your first step is to find out when your target schools are holding open houses—most have several to choose from. Many schools plan open houses for October and February, but others are scheduled throughout the year. Check for open houses held at convenient times—mornings, evenings and even weekends. (There is a Guide to School Open Houses here at CountyLinesMagazine.com.)
Then find out if registration is required, or if it's a walk-in-Wednesday-style session, which many schools host. You should be able to visit the several schools on your list.
Planning Your Visit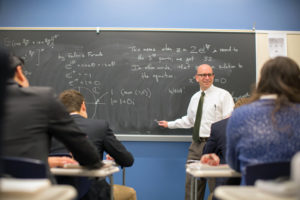 Reviewing your target schools' websites gives you an overview and likely answers preliminary questions. Reading websites may spark other questions and generate questions specific to your child. Make some notes.
Talking to alums or families with children at your target schools may also help you make the most of your visit by giving you more background.
Beyond researching the mission, values and college-acceptance rates, you need to experience the school community in action. Listening to the panels of staff, students and alums is a great start, so long as there's also a walk through the halls and a visit to a class session and other activities.
Take advantage of their offerings, especially as you get more serious. You'll find strengths and weaknesses in areas important to you.
You'll likely have questions about the admissions process, financial aid and your child's special interests—sports, arts, music, for example—that you'll want to follow up on privately or with specific teachers or administrators. Open house sessions may provide that opportunity or at least identify the right contact for an individual session.
During Your Visit
Many parents find that the best measure of whether a school is the right fit for their child is to ask the simple and obvious question: "Would my child fit here?" Your sense of whether your child would flourish and be supported in the school environment is key.
You may get some sense of the answer by seeing if current students are engaged and excited. What's the feeling in the classrooms? How do teachers and students interact? What's the activity level in the halls? Do teachers know each student academically, socially and emotionally? Try to envision your child at this school—sitting in the classrooms, playing on the grounds, interacting with the students you see.
After Your Visit
If you're interested in a school after the initial visit, you may want to—or in some cases, be required to—schedule a visit with your child or have your child visit for a "shadow day" to attend classes.
Even if you're considering enrolling your child in the lower school, you may still want to get a sense of what students are like in middle and upper levels. Most students don't switch private schools, so your decision now may have long-term consequences.
And for a well-rounded view of the school community, consider attending a school play, a basketball game or other event where the entire school community is involved—students, teachers and other parents. That's another way to see the whole school in action and not just during a planned event at an open house.
Schools as Partners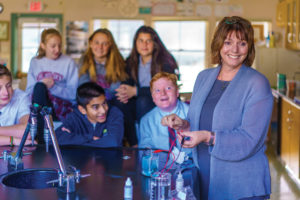 Open houses are key opportunities for schools to connect with prospective parents and students and to display what's distinctive about their approach to education. Over the years, schools have become excellent at helping families decide if there's a good fit.
Admissions staffs understand that the process can seem daunting, and they can help families de-stress. The staff should feel like partners in the process and demonstrate that ability and commitment. Schools as well as parents have a vested interest in finding a good match between student and school.
Through a variety of events—structured and less so, formal and less so, in groups and with individual guides—schools will work to show off their best side and what makes them special.
And schools do their best to help parents stay on track and on schedule during this process with newsletters and updates. Schools will help so that admissions and financial aid forms meet deadlines, tests are scheduled and taken, and transcripts and recommendations arrive on time. Schools are experienced partners in this process.
Final Thoughts
My son, when asked how he chose his college, answered, "the atmospherics." The reply at first seemed cavalier—I thought he'd met a girl he liked—as compared with evaluating the careers of its graduates, reputation, course offerings, quality of student life: the hard stuff.
His test may lack quantifiable data and apparent utility, especially for selecting a lower or middle school. But there's no question that "atmospherics" are important. Whether your child will be successful will depend in large part on whether he or she—and you—like the school's "feel." And, ultimately, the only way to sample "the atmospherics"—that subtle question of whether your child fits—is to spend some time there.
So go ahead and go to the schools' open houses. You'll be glad you did.
For information about open houses see the Guide following this article.
---
What You'll See at Open Houses
Open Houses are the best opportunity for parents and prospective students to get a sense of the school community. Here's what to expect.
Students, faculty, parents and coaches guide you through Archmere Academy's collegiate-style campus, world-class facilities, and elite educational offerings. Families are guided in small groups by student ambassadors, making stops throughout campus, including presentations by department chairs, a 'meet and greet' with coaching staff, and a reception, where visitors hear from graduates attending their first years at their top-choice colleges.

Leah daPonte Lightcap
Director of Enrollment & Admissions, Archmere Academy
Each visitor at Agnes Irwin School will have one-on-one time with current students, parents and our outstanding faculty. Teachers, administrators, coaches and staff are all available to speak with you individually, which is not possible on a typical daytime visit. Our evening program gives you terrific access to multiple members of our community.

Randol Benedict
Director of Enrollment Management, The Agnes Irwin School
Bishop Shanahan is more than just a high school. It's an experience that offers young men and women an educational journey of academic excellence, rich extracurricular opportunities and a community that radiates the Christ-centered values of love, respect and responsibility. Shanahan is proud to offer opportunities that nurture well-rounded 'People of God; People for Others.'

Sister Regina Plunkett
President, Bishop Shanahan High School
Church Farm School helps young men attain an affordable private school education that engages them to become passionate learners constantly pursuing excellence for themselves and their CFS "brothers." Our diverse community allows our students to embrace other cultures, while our small class sizes, coupled with a strong residential and day program, ensure that every student finds their voice at CFS.

Lisa Reynolds Smoots
Director of Admission, Church Farm High School
The Haverford School works to develop the full artistic, academic and athletic potential of each boy to prepare him for a life of meaning and service to others.  We invite families to learn how we are building men of character, virtue and compassion who will serve as role models for our world.

Dr. John Nagl
Headmaster, The Haverford School
Montgomery School's open house begins with informal sessions featuring teachers and students from each division and curricular area. They're followed by walking and golf cart tours of our beautiful, 60-acre campus led by teams of student guides and parents. For those families with young children, we provide storytime, crafts and playtime supervised by staff members, and hosted and staffed by our 5th grade students.

Drew Cocco
Director of Enrollment Management, Montgomery School
At Sacred Heart Academy, our goal is inclusivity —a place where girls can be their true, authentic selves—where all feel welcome, comfortable and thrive in their full identities. A place where people of all backgrounds can feel appreciated and respected for who they are. A place where young women can grow to become the best versions of themselves.

Tammy Hart
Director of Enrollment Management, Sacred Heart Academy
Independent schools are academically advanced, with teachers who are experts in their fields. At The Tatnall School, we aren't confined by a particular curriculum, standardized testing or religious ideology. We educate the whole child. We recognize each child's individual talents and foster a curiosity that sparks a love of lifelong learning and success.

Deanna Bocchetti
Assistant Head of School, The Tatnall School
Tower Hill has been a premier educational institution for the past 100 years, offering a challenging, innovative and student-centered academic environment; dynamic social, global, art and athletic programs; an exceptional student body and faculty; and a welcoming and inclusive community. After visiting past open houses, visitors have commented, "I wish I could go back to school!"

Amy Bickhart
Director of Lower and Middle School Admissions, Tower Hill School
We welcome families to experience an open house that reflects the Villa Maria Sisterhood. Student guides explain why they love Villa Maria and talk about opportunities in the arts, athletics, activities and service. Families will meet our dedicated faculty and walk our beautiful grounds. We hope prospective girls see what an exciting, inspiring and friendly home Villa Maria can be.

Mrs. Jennifer Gentleman Rose
Director of Enrollment Management, Villa Maria Academy High School
At a World Economic Forum, a leader talked about education and what we need to teach our kids. He pointed out that knowledge is important, but the soft skills—such as values, believing, independent thinking, teamwork and compassion —are what will help our kids stay competitive. As a current Westtown School parent, I have witnessed how these soft skills are embedded into the school's curriculum in every division.

Current parent
Westtown School
back to top