Sangria Summer
Red, white or rosé sangria? Try your hand at creating a signature summer sipper.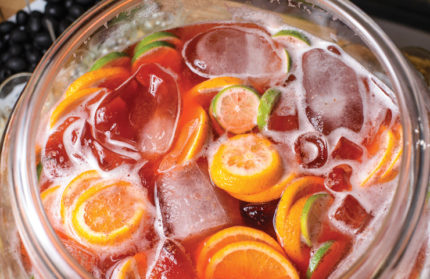 Summer is upon us, and with it comes hot, humid weather. Luckily there are plenty of great warm-weather drinks to keep us cool and quenched.
At the top of that list is an ice-cold glass of sangria. This crowd-pleasing, fruity wine punch is so festive it's a party in a glass. And as a low-alcohol option based on affordable wine (almost any wine works well, so save that fancy bottle) and customizable ingredients, it's a top summer sipper.
As popular as sangria is today, you may not know its long history. Here are a few sips of its story.
Yes, It Began with the Romans
When the Roman Empire expanded through Europe around 200 B.C., an upside was that the Romans introduced grapes and wine making to the countries they conquered. Notably, they planted many red grape varietals, and these grapes grew particularly well in most of Spain.
Historians speculate that the practice of adding chopped fruits to wine likely originated in the Andalusia region of southern Spain, which has an excellent climate for citrus fruits. The climate there was, however, much less conducive to growing red grapes. And so the locals added citrus fruit to their inferior wine and let it steep for a few days.
Because the resulting wine was greatly improved, they began to experiment further, adding sugar, cinnamon, spices and brandy. The Spaniards called these wine punches in all their forms sangria—derived from the Latin for blood—because of its rich red color.
Meanwhile throughout Medieval Europe—from around the 5th through 15th centuries—most of the drinking water was contaminated and unsafe for human consumption. Wine was safer to drink than water because even a small amount of alcohol kills most of the bacteria.
As a result, wine was consumed every day by everyone from children to elders in every social class. It was common practice to liven up the wine and boost its flavor by adding seasonal fruits or berries and spices, like cinnamon, ginger and cloves. These wine punches were known as hippocras.
As time went on, more variations arose. Sparkling sangria was created in the Cava region of eastern Spain. While in the south of Spain, sangria blanco—white sangria made with peaches or nectarines—was popular and was often called zurra. And claret cup punch, popular in 18th-century England and mentioned in Jane Austen's Pride and Prejudice, was another early sangria.
Wine punches proliferated in Europe.
Sangria didn't become popular in the United States, however, until 1964, when it was served at the World's Fair in New York. The Spanish World area served this fruity punch to fairgoers, and the rest is history.
Now you can find sangria at parties of all kinds and at many restaurants, not merely those serving Spanish or Mexican food.
Making Sangria
Today traditional-style sangrias are created primarily from Rioja or other dry red Spanish wine, plus orange juice, soda water, fruit and sometimes brandy or spices. Yet sangria continues to evolve and offers opportunity for variation and experimentation.
You'll find red, white and rosé sangrias with endless combinations of different liqueurs, juices and fruits. One of the best things about this delicious drink is there's truly no wrong way to make a batch.
So I decided to try making sangria myself to create my signature summer drink. What could be more fun?
First, I worked on making red wine sangria. Since I wanted to use blackberries and blueberries (my favorites) as the main fruit, I chose a Monastrell, a dry Spanish red with blackberry flavors on the palate. After making a few batches, I decided on a mixture of blackberry brandy, triple sec, agave nectar with a splash of soda water. Bubbles are always fun!
Next, I moved on to white wine sangria. For this, I chose vinho verde, a semi-sparkling dry white from Portugal, to add carbonation from the wine itself. I used cantaloupe and honeydew as fruits for a summery and refreshing taste. My favorite blend for white wine sangria used pineapple vodka, pineapple juice and agave nectar.
To let the fruit flavors mingle with the juice, I mixed all the ingredients, except the wine, in small batches and placed them in the fridge for a few hours—for both red and white versions. And for the white sangria, I added the vinho verde right before serving to preserve its carbonation.
With that sangria primer, I encourage you to try one of my recipes above. Or better yet, experiment, and mix a batch to call your own. Read some recipes or follow your intuition. You could buy a bottle, already made, but where's the fun in doing that?
Pick your fruit, grab a bottle of wine, and mix up some summer fun!  Cheers! 
Kayleigh Thompson has worked in the wine industry for over six years and has earned the Certified Specialist of Wine certification from the Society of Wine Educators. She works as a Wine Specialist at the Fine Wine & Good Spirits Premium Collection store in King of Prussia, on DeKalb Pk. Learn more at FineWineAndGoodSpirits.com.
back to top