Round, Round, Get Around
There are plenty of ways to get around—with a little help.
Thinking about dear old Dad cooped up in his room, staring at the TV, waiting for lunch or 3 o'clock bingo? The good news is, he's safely ensconced. The bad news is, he's effectively grounded. His driver's license, sadly, has been revoked—voluntarily or involuntarily. He and the roads are safer, at least. But his home isn't so much a happy place as a place where he's stuck.
Frankly, it doesn't have to be that way, at least in County Lines Country. Days of driving may be behind. But Dad's wanderlust can still be satisfied.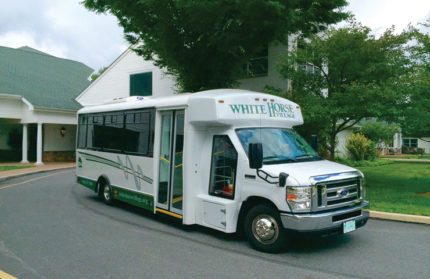 Transportation Options
For instance, there's Surrey Services. They've been providing transportation services for 35 years. Christi Seidel, the Marketing Director, describes three alternatives.
A "shared ride" is offered to members for free, five days per week. Mostly, it transports people to the Surrey Center in Devon—where there's a fitness center, classes, activities and games—or to shopping areas or to attend religious services.
Surrey also offers a private car—"like a chauffer service"—for a fee. And then there's the "volunteer driver" service, again free, that calls on members of Surrey's community to pick up and deliver their charges. Options to satisfy most folks.
Bayada Home Health Care and Angel Companions also provide some transportation services as an adjunct to their at-home health care services.
Services at Private Communities
Another option, the senior communities often provide their own services. For example, White Horse Village in Newtown Square operates a fleet of vehicles, ranging from a 31-passenger bus to a pair of Mercury Marquis, says Rick Tavani, Director of Property & Facilities.
During the week, a shuttle bus circulates the property, taking residents to and from dinner at the Clubhouse. At other times, there's transportation to events planned off-property—mystery lunches, theaters, food shopping, malls.
At The Devon Senior Living, the commitment to transportation is driven (so to speak) by its "Lifestyle 360" approach, emphasizes "resident comfort" and providing an opportunity to "engage with the greatest generation," according to Executive Director Kenneth Williams.
Residents use the services to go to doctor's appointments, individual trips and group trips, visiting mainly "sell-it-all" stores such as Target or Walmart. But unusual requests are met as well, if possible. For instance, the object of one trip was to settle a decade-old casserole dish dispute!
Exton Senior Living also uses its mini-van for shopping, social outings and medical appointments. Residents attend the Yellow Springs Art Show and Immaculata University's Carol Night each year, and regularly take scenic drives in summer and Christmas lights tours in winter.
There's a 12-person van at Barclay Friends, where they plan trips about twice a month. Recently, residents have been taking scenic horticultural tours of the countryside. And they've gone to Linvilla Orchard, Winterthur, Valley Forge and the Black Creek Greenhouse in East Earl.
The staff decides the destination, based on resident suggestions. Elsabet Haile, the Recreation Director, says that "pulling off a trip" can be very challenging. Everyone must be cleared medically—by nursing staff, therapy staff and others—to make sure residents are "medically stable and ready to enjoy" the experience. Luckily, probably because of their planning, they've never had any on-the-road emergencies.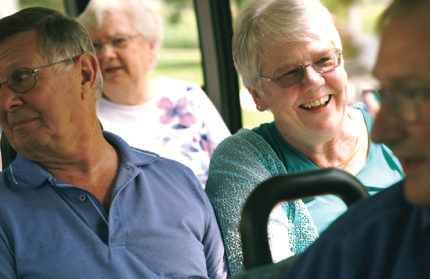 Getting Around in the Country
For our rural communities, transportation is especially important. Pleasant View Retirement's shuttle bus offers transportation to scheduled activities in Lancaster County. Also, there's a private service at an hourly rate.
But, according to Amanda Hall, Sales & Marketing Director, residents can take advantage of more ambitious travel plans. Its bus will often head to Lancaster County's many museums, concerts, theaters and other destinations. Sometimes, the bus heads on a day trip, visiting Gettysburg, Baltimore's Inner Harbor or the capitol at Harrisburg.
Sherri Stolzfus, at the Harrison House of Christiana, works with their two wheelchair vans, offering residents visits to their families, homes and doctors. As a group, though, she and the resident council get more creative: a Lancaster Barnstormer's baseball game, for instance, or one of Lancaster's many restaurants or shops.
Even the smaller communities with limited resources will find ways to help their residents travel. The Zerbe Sisters Retirement Community, in Narvon, has only 49 homes yet their trips are planned at a monthly Coffee Klatch. Their bus heads to the Shady Maple every Tuesday, and, at other times to restaurants, shows, malls, tours and mystery trips.
A "neighbor-to-neighbor" program through Zerbe gets residents to doctor's appointments, sometimes with a volunteer driver. And, for a charge, the community's bus makes the trip itself.
Or Walking
Finally, there's walking to get around. On your feet! Great exercise and no more traffic jams or road rage. Chester County is a great place to walk. After years behind the wheel, maybe the greatest freedom grows out of the escape from the car. 
If You're Still Driving
Did you know fatal crashes increase substantially for drivers over 70? Yet Pennsylvania and Delaware impose no age restriction on drivers.
Even so, there are plenty of reasons why a mature driver might stop driving. According to SeniorLiving.org, a 60-year-old needs 10 times as much light as a 19-year-old, 8 times longer to recover from glare, and 2 times as long to distinguish a flashing brake light. Hearing, reflexes, coordination and general strength also decline with age—all with an impact on driving. Your 80th birthday may be a good time to put away the car keys.
If you're 60 to 80, consider a driving skill evaluation, with an in-car evaluation of driving skills, conducted by AAA. Also helpful, both AAA and AARP offer on-line courses to improve driving skills. These courses may also lower your insurance premiums.
Depending on the outcome of the evaluation, a clinical driving assessment may also be necessary for some drivers. This assessment is conducted by an occupational therapist or a certified driver rehabilitation specialist, costs $200-400, and typically identifies the medical reasons underlying your diminished skill. It can be arranged through the American Occupational Therapy Association.
If You Continue to Drive…
Get your medical check-ups regularly—eyes, ears, other ailments.
Keep your car in good working order.
Drive defensively. You were always supposed to; now it's more important.
Avoid driving in difficult conditions, e.g., storms, darkness, heavy traffic.
Listen to the other's concerns.
back to top