Restaurant Hall of Fame
Birchrunville Store Café
First covered in 2005 as the Best Off the Beaten Track. Later in 2007, 2008 and 2011, it won Best Restaurant. In 2012–2016, Best Destination Restaurant. A very small, very intimate, very out-of-the-way place, specializing in French-Italian cuisine, run by Chef Francis. We highly recommend as life-list worthy.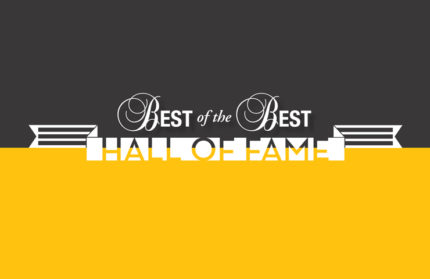 Buckley's Tavern
In 2005, and from 2007–2011, it was the Best Casual place to go. In 2013–2016, it won various awards three more times. A private residence back in 1817, Buckley's has since been a blacksmith, a stagecoach stop, a tollgate, and a taproom and ice cream store. Since the 1950s, it's always been a friendly meeting place, where the cream of Delaware's chateau country can share a brew with the hoi polloi. Plus PJ Sunday brunch.
Majolica
In 2006, it gained attention as Best Newcomer. Since then, Majolica, and Chef Andrew Deery have won an award every year, including Best Chef in 2014 and Most Innovative Chef in 2015–2016. The menu has changed, but the food, service and atmosphere remain the same: sophisticated, local, seasonal, inspired. Started a restaurant renaissance in Phoenixville that lives on.
Margaret Kuo's
From 2006–2013, Kuo's offered the Best Chinese food and in 2010–2015 offered the Best Japanese food in County Lines country. In 2016, it received an award for Best Chinese New Year. For 42 years, Margaret Kuo's restaurants—the Peking in Media's Granite Run Mall, the Mandarin in Malvern, Margaret Kuo's in Media, Wayne and the Farmer's Market on Route 30 in Wayne—have been consistently awarded for elegance, authenticity and fine dining.
Nectar
Consistently, from 2007–2016, the Best Asian Fusion restaurant in County Lines country. Chef Patrick Feury—his credentials include New York (Waldorf, LeCirque), Paris (Les Olivades), Atlantic City (Borgata)—leads a team using the freshest, natural and organic ingredients from over a dozen local farms and artisans. The kitchen also includes Kenny Huang, raised in Canton, China, and Julie Waters as Pastry Chef. They've made their restaurant into a Main Line institution.
Restaurant Alba
Debuted in 2006 in People Are Talking About. Later, since 2008, it's consistently been selected as Best Local/Seasonal Restaurant. Sean Weinberg is the chef; simplicity his task. Using a wood-fired stove and partnering with several local farms to source the best ingredients, Weinberg cooks a casual menu with great surprises. A strong beer and wine list—wines mostly from Alba, Italy—complete the meal.
Sovana Bistro
In 2008, and from 2010 through 2016, Sovana was selected as Best Bistro. In the heart of horse country, it offers hearty sandwiches, burgers, salads, specialty pizzas, pastas, vegetarian delights and elegantly prepared meat and fish. It also sports an extensive wine, beer and cider list, plus a great bar.
Station Taproom
An ever-changing list of 12 beers on tap, plus over 30 in bottles. In addition, about 30 whiskeys and 10 single malt scotches, not to mention its shorter but distinguished wine list. Together with its scrumptious salads, paninis and other plates, just off the Downingtown railroad stop, it's the place to stop for beer and food lovers. Selected as Best Taproom 2014–2016. It owned the category.
Stockyard Inn
You'll have to travel to Lancaster for the Best Steakhouse, 2006–2016, but when you get there, order, you guessed it, the steak! Casual, elegant, a favorite of locals. The filet mignon is best. Or the strip or sirloin or delmonico … And the crabcakes! You'll want to go again and again.
Talula's Table
In 2009–2016, we chose Talula's as the Best Chef's Table. A small market by day: think cheeses, bakery, dairy and prepared foods and meats from local farms. But for their after-hours Farmtable Dinner, 8 courses for 10–12 people, must be reserved a year in advance, but the wait will be worth it! Recognized nationally. Beloved locally.
A Taste of Britain
Since 2007, A Taste of Britain has been named Best Tea Room six times. They recently celebrated a 25th anniversary in August—25 years in business in the Devon/Wayne area at three separate locations. In 1991 it was a tiny shop on Devon's Route 30, then 42 Berkeley Rd. in Devon, then in 2009 they grew into the current space in the Eagle Village Shops in Wayne. Since 2012, owner Debbie Heth serves afternoon tea with their award-winning fare.
Terrain Garden Café
A few years ago, the beloved Styer's Nursery re-opened as Terrain, winning a People Are Talking About mention in 2009's Best of the Best. The new garden store included a lush greenhouse that housed a café, winning our Best Casual award in 2012–2013 and Best Ambience award in 2015–2016. Featuring fresh, local and seasonal produce, meat and dairy products, from nearby farmers, the menu is superb. And the atmosphere is even better!
Victory Brewpub
You probably know that Victory Beer is available nationwide—in fact, internationally—but it's brewed right here in Chester County. At their area brewpubs, you have about 30 beer choices—there are only a few more altogether. It can't be fresher. And the food—essentially bar food—is good too! We selected Victory as Best Brewpub from 2011–2013 and again in 2015–2016.
Yangming
For years, from 2006–2015, it won our Best Chinese award. Thoroughly remodeled in 2016, when it won the People Are Talking About award. Also recognized nationally in 2011 as the "Best Chinese Restaurant in America." Separate rooms, low light and noise, exquisite service, creative and delectable food, owner Michael Wei serves world-class dishes too numerous to mention and too delicious to sample in one sitting. A Main Line mainstay.
back to top