Raise a Glass!
There's no better way to mark a special event than with a glass of bubbly
Raise a glass for a toast at your favorite fundraiser, arts event, charitable get-together and other gatherings. What better way to celebrate than with a glass of festive bubbles?
Yet, with so many options to choose from, it may seem a bit intimidating to find the perfect bottle for that special occasion. Here's a little guidance to help you choose something truly memorable to fit the moment and your taste.
Choose Champagne
Of course, Champagne is the main player in the world of sparkling wine. What really sets it apart from the rest is the quality and care put into making each bottle.
The traditional method for making this bubbly—Méthode Champenoise—is the comprehensive technique in which the magic is done entirely in the bottle—the fermentation, aging, riddling and disgorging.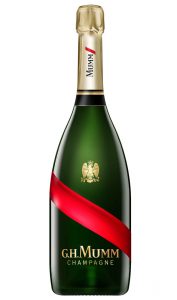 All Champagne—which technically must be produced in the Champagne region of France—is required to age for a minimum of 15 months before it's released, and it must be made with either chardonnay, pinot noir or pinot meunier grapes.
The result is a phenomenal blend of yeasty flavor and soft aroma, creating the perfect bottle of bubbles that has set a high standard for centuries.
For an entry-level Champagne, try G. H. Mumm Grand Cordon Champagne, at $45. With almost 150 years under their belt, this Reims-based company has perfected the art of quality for a fair price.
If you're ready to up your game, choose a bottle of Ruinart Blanc de Blancs Champagne or Billecart-Salmon Champagne Brut Réserve, both non-vintage and priced at $70 and $65, respectively. These labels are ranked highly and will give you all the elegance of a true Champagne to toast the occasion.
Can't Go Wrong with Cava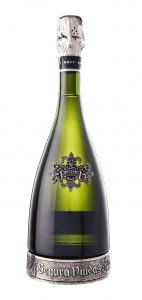 While traditional Champagne may hold the top spot in the eyes of many, modern sippers have discovered the charms of one of its biggest rivals—cava. This sparkler hails from Spain's Penedes region, south of Barcelona, and is an excellent and cost-effective alternative to classic French Champagne.
The native macabeu grape is primarily used to make cava, but you may also see xarel-lo and paralleda blended in, as well as the occasional addition of chardonnay and pinot noir grapes.
What makes cava an admirable substitute bubbly is that producers use the traditional Champagne method to make these wines. The aging requirements, grapes used and a few other rules are less strict for cava, but a similar style is nevertheless the end product.
A personal favorite is the Segura Viudas Cava Brut Reserva Heredad Non Vintage ($30). Not only is the bottle absolutely stunning, the bubbles themselves are some of the best from Spain. For a lovely everyday sparkler, try Freixenet Cordon Negro Cava Brut ($16). This is one of the most popular labels in the world, and the proof is in the bottle.
Prefer Prosecco
Any discussion of bubbles must, of course, include prosecco. This has been the latest and greatest trend in sparkling wines in the last few years. The world cannot get enough of prosecco, in part because of its wonderful affordability and quality.
The production method—the Charmat Method, aka the Tank Method—is easy, simple and cost effective. It's done as it sounds—everything happens in a tank rather than in the bottle.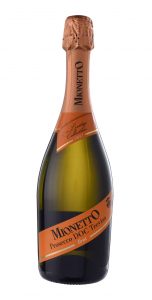 Straight from Veneto, Italy, this sparkling wine has a lighter, fruitier style, which makes it very approachable and appealing. La Marca Prosecco and Mionetto Prestige Collection Prosecco Treviso Brut (both priced at $17) have been very popular bottles. But there are many other affordable options.
Try, for example, I Castelli Prosecco ($10) and Bianca Vigna Prosecco Brut Non Vintage ($15). I Castelli is famous for growing their grapes at the site of Romeo and Juliet's love story, making it truly a romance in a glass! Bianca Vigna along with Mionetto make brut styled sparklers, which are uncommon for prosecco but give that extra touch of dryness that many seek.
And try the new, new thing—rosé-style prosecco. Other sparklers were already on the rosé bandwagon. Pink prosecco should be welcomed aboard.
Brut, Extra Brut Or…
Once you've chosen your sparkler for the occasion, the next question is how sweet or dry. Time to learn about brut, extra dry and other labeling that refers to the sweetness level in the wine.
In order from driest to sweetest sip, the most common indicators are: natural, extra brut, brut, extra dry, demi-sec and doux.
In most traditional Champagne-style bubbles, you'll find brut far more often, while in most tank-method sparklers,there are more extra dry styles. This is why many people refer to prosecco as sweet compared to Champagne. Technically, while some styles are sweeter, don't expect a great deal of sugar in your wine unless you're drinking an asti or moscato.
On the opposite end of the scale, if your taste is for a bone-dry sparkler, look for a natural or extra brut notation on the label.
Most sparkling wines come in a range of sweetness options, but if you have questions, consult your local wine specialist.
A Size for Every Event
For a big celebration, one or two bottles may not be enough. Or maybe you prefer to try just a glass or two. Regardless of your preference, a standard 750 mL bottle—serving about 6 glasses, or 7 for a toast—might not be the best option.
Luckily bubbly comes in a variety of sizes to match every occasion. Many shops carry small bottles—as small as 187 mL (two small, one large glass) or four-packs of 250 mL, for smaller moments. When more is needed, the sizes go up to large format bottles such as 1.5 L (magnum), 3 L (jeroboam), 4.5L (rehoboam), 6L (methuselah) to the super-sized 9L (salmanazar), which equals 12 standard bottles!
Choose whether to have a number of individual bottles for an event or a few larger bottles for personal parties. There's truly a bottle for every occasion!
As always, for recommendations, head to your local wine and spirits shop to learn more about sparkling wine and to find out which bottle is the one for you.
Jessica Roberts has worked with Fine Wine & Good Spirits for six years, taking the position of Wine Specialist a year and a half ago. What began as a hobby soon blossomed into a satisfying career. Jessica works at the Premium Collection store in Phoenixville. Stop by for one of her tastings or just to ask a question. Learn more at FWGS.com.
back to top