Publisher's Letter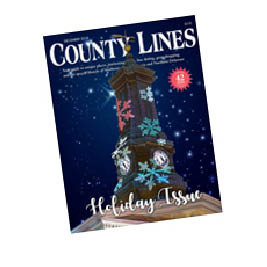 The holiday season is here! Celebrate! At County Lines Magazine, we are.
We'll start with West Chester. Window displays, twinkly lights, ringing bells, the parade, the restaurants, the shops, hot chocolate, carolers, children, family and friends. And more! The town has it all, says Malcolm Johnstone in "The Festive Season in West Chester."
In "All Hearts Come Home for the Holidays," Angela Grabosky and Elizabeth Weaver go beyond West Chester looking for holiday happenings-to Phoenixville, Kennett Square, Wayne, Malvern, Downingtown and Wilmington­-and find the towns ready for fun and all lit up.
Before jumping online or joining the madness at the mall, says Mackenzie Jaros, consider shopping at local businesses. In "Spread the Holiday Cheer and Shop Local This Year," she reports that shopping local offers benefits to country, community and to ourselves. Then there's that extra special "personal touch that comes with a local gift."
While out and about, you should take a house tour of decorated homes. See the best in County Lines Country in "Holiday House Tours." And, before or afterwards, browse some of our favorite shops at "Holiday Window Shopping."
At the Brandywine River Museum of Art, Nicole Kindbeiter shares the charm of "A Brandywine Christmas"-the model trains, decorated trees and a special exhibit highlighting the lovely illustrations from three beloved children's books.
Leslie Finkel of Wellington Square Bookshop has ideas for "Holiday Book Giving" because a book sends the holiday message "I care about you.'" And she makes several excellent recommendations for a wide variety of readers on your list.
Want cookies for the holidays? Lots of them? Host a cookie exchange! What should you bake? Get inspiration from Brandywine Table by Laura Brennan and the staff at County Lines.
In "Festive Wines for Festive Times," Fred Naddeo of Fine Wine & Good Spirits provides a guide to sparkling wines. Champagne, cava, prosecco, petillant naturel-so many ways to celebrate!  
For the holidays, the Resident Theatre Company is presenting Lend Me a Tenor, a madcap, screwball comedy, while Media Theatre Company is presenting the classic Wizard of Oz.   Hmmm. What about a night at the theater for Christmas?
Finally, to get in shape for. during and after the holidays, read our Be Fit column's "Keeping Pace During the Winter Months" by Ray Porreca. He's got tips from experienced runners that will see you through to spring.
At www.countylinesmagazine.com, you can get December's issue on-line. At www.Issuu.com, you can get the issue electronically for $2 per copy. You can also click Get A Copy to find locations to pick up a free print copy.
We hope you'll subscribe to County Lines. Do it online or call 610-918-9300. For single issues, try Wellington Square Bookshop, Wegmans, Paoli News, Berwyn News and Bryn Mawr News. Visiting an advertiser is a great-and free-way to find copies!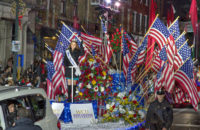 The Festive Season in West Chester
Maybe it's the energy you feel while strolling the downtown sidewalks bordered by small shops and charming restaurants, decorated for the season. Maybe it's the window displays, lampposts, bustling of crowds, or aromas emanating from the restaurants. The Christmas Parade, the Holiday Village, the Jingle Elf Run and so many old and new businesses: all of them make West Chester the place to be for a festive holiday season.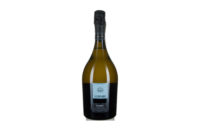 Festive Wines for Festive Times
What better way to celebrate the season than with a bottle of festive sparkling wine? Do you know where the bubbles come from? Read about Champagne-from France and arguably the best; cava-from Spain, somewhat dry; prosecco-from Italy, with a fairly sharp mouthfeel; and petillant naturel-cloudy and natural-relatively new, "pet-nat" was introduced in the 1990s. Their histories and the process of making each one is explored. We also recommend several.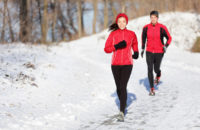 Keeping Pace During the Winter Months
Runners are a special breed if athlete. Cold, rain, snow, ice, dark clouds. It takes dedication and grit to be willing to pound the pavement for miles. But you need to prepare. For one, choice of clothing, and specifically, layering, is required. Second, running trails-Chester County has a few good ones-should be well-maintained, flat, paved and isolated from traffic. Third, run in an organized group and bring a phone. And fourth, regardless of temperature, many suggest staying outside rather than choosing a treadmill. Do it for your mind and spirit. 
As always, we hope you'd like to subscribe to County Lines. You can subscribe online or call 610-918-9300. For single issues, try Wellington Square Bookshop, West Chester Book Outlet, Wegmans, Paoli News, Berwyn News, Bryn Mawr News and other newsstands. Visiting an advertiser is a great — and free — way to get one: click Get a Copy on our website to find locations.
Thank you for reading.
Ed Malet, Publisher
County Lines Magazine
back to top
Notice: Undefined offset: 0 in /www/wp-content/themes/countylines-v2/single-article.php on line 203 Notice: Trying to get property of non-object in /www/wp-content/themes/countylines-v2/single-article.php on line 203
Our Favorite Resources