Publisher's Letter
November 2022

Leaves are turning and falling. Birds are headed south. We're thinking about midterm elections, veterans and Thanksgiving. At County Lines, we're beginning to check our gift lists, too. It's November.
In "Golden November in Southern Chester County," Carol Metzker explores Chadds Ford, Kennett Square, Unionville and Oxford. Finding autumn leaves, baked goods, colorful mums and more, she says there's no better time to sample the region's offerings, take a day trip or spend an afternoon at a favorite haunt.
Not many of us know it, but our national bird is no longer endangered, and the Conowingo Dam near Chester County's southern border is one of the best places to catch sight of this majestic bird. Join the photographers by the dam! The "Bald Eagles of Conowingo" are back!
Fire! There were over 1,200 calls for service at the West Chester Fire Department last year. More in Goshen, Longwood, Phoenixville … Typically, the calls were answered by volunteers, risking their lives to protect our homes, businesses and communities. In our "Local Heroes" column, Shannon Montgomery shines a light on Chester County firefighters.
A Philadelphia tradition, "The 21st Annual National Dog Show" is as much a part of Thanksgiving as turkey trots and pumpkin pie. Elizabeth Hughes writes everything you need to know, from surprising origins to the three new breeds competing for Best in Show this year.
For gardeners with a small space but big dreams, Liesl Barkman of Jenkins Arboretum has several suggestions. In "Small but Mighty," she discusses several native shrubs that are beautiful, easily maintained and ecologically beneficial.
After Thanksgiving, shopping may be just beginning. Lydia Reiss and Peighton Schwalm remind us that "Shopping Small is a Big Thing." They look at area towns to learn how each is supporting small businesses.
On November 30, the Uptown! Knauer Performing Arts Center theater season is opening with The Butterfingers Angel. It's a Christmas story that has "the expansiveness and big heart of the classics." Carol Flannery writes about it and the three-play season in "Theater Spotlight."
Pickleball is all the rage! But, as with all sports, it may cause injuries. Dr. Nicholas DiNuble has recommendations for avoiding the ER and your doctor's office in "The Pluses and Perils of Pickleball."
We all have stories to tell, but some are longer and more interesting than others. By the time you've reached 100, the stories may contain some sage advice. "Living to and Beyond 100" collects what several centenarians have to say. And if you're looking to add to your longevity, consider checking Marci Tomassone's "Guide to 55+ and Retirement Communities."
Sometimes Alyssa Thayer of Brandywine Table can't prepare her meals from scratch. Not all the way from scratch anyway. She found a small business that will do most the prep work. In "Simpler Suppers," she offers tips, tricks and recipes to make meals simple, tasty and family-friendly.
And, in "Wine & Beer Pairings for Thanksgiving," you'll find suggestions for your holiday libations.
As always, County Lines has the Best Local Events and tons for Family Fun.
We hope you'll subscribe to County Lines. Go online or call 610-918-9300. Or get an electronic copy at Issuu.com. For single print issues, try your local library, specialty food stores, Wellington Square Bookshop, Main Point Books, Reads & Company Bookshop or newsstands. Visiting an advertiser is a great—and free—way to get one: click Get A Copy at our website, CountyLinesMagazine.com. And get our free online events newsletters by signing up at the website.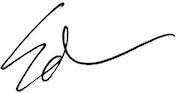 Ed Malet, Publisher
610-918-9300
Bald Eagles of Conowingo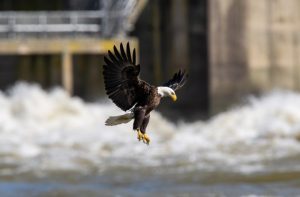 In 1973, the bald eagle was an endangered species. But today, our national bird has been off the endangered list for over a decade. There are believed to be over 300,000 bald eagles in the lower 48 states. Just south of Chester County, bordering Maryland, on the Susquehanna River is a large dam called the Conowingo.  Especially this month, you can see eagles gathering there. Take your binoculars. If you've got one, get out a telephoto lens for your camera. And dress warmly!
Small but Mighty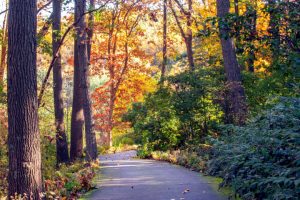 For gardeners who want to have the impact of a large tree, but only have a small space to work with, there are still many beautiful and ecologically beneficial alternatives to plant. Native shrubs that fill the bill include smooth hydrangea, St. John's Wort, summersweet clethra, arrowwood viburnum, black chokeberry and serviceberry. They afford color and can provide habitat for birds, mammals and a variety of pollinators. Plus, they're easy to maintain.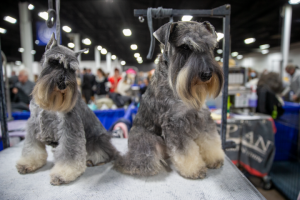 The 21st Annual National Dog Show
When Macy's Thanksgiving Day Parade coverage ends on TV, many of us will tune in to the National Dog Show. This show has become a Philadelphia area tradition over the past 20 years, featuring over 2,000 canines representing 180 breeds. Three new breeds have been recognized this year: the Mudi, the Russian Toy and the Bracco Italiano. Be sure to tune in!
back to top