Publisher's Letter
May 2022

May is a time of celebration in County Lines country. We can open our homes and breathe the fresh air. For students, the school year is ending. For artists, it's time to share their work. For horses, it's a time race. And for flowers, it's a time to bloom under the spring sun.
Alexis Barrick writes, "It's Steeplechase Season and We're Off to the Races." She says it's one of the best reasons to celebrate spring. Three succeeding weekends in May bring the Winterthur Point-to-Point, Willowdale Steeplechase and Radnor Hunt Races. Go! Share in the fun and the traditions!
"The Devon Horse Show Celebrates Its 126th Year." Laurel Anderson describes 11 days of fun. Your family is invited for Family Days on May 26 and 31, but every day is worthwhile. You'll see hunters and jumpers, saddlebreds and hackneys, sidesaddle and leadline, roadster, unicorns, carriage driving and more. It all starts with the First Night fundraiser by the Art Gallery at Devon on May 25 and closes with the Plant Sale on June 5. Check out our Guide.
Head for heart of the Main Line, whether for the Devon Horse Show or otherwise. If it's late afternoon and you're hungry, thirsty or both, there are many places you can visit. And be happy. I'll direct you in "Happy Hours on Western Main Line."
Want a peek inside the charming colonial barns and quaint farmhouses of Chester County? What about learning their histories and stories? Join the tour, says Monica McQuail of Willistown Conservation Trust. She writes, "Barns & BBQ Tour is Back." (And to see some 21st-century barns, see our photo essay on "Dream Barns.")
Spring adds new life and beauty to the world, and the Brandywine Valley art scene does the same in County Lines country. See for yourself. In "Art Gallery Roundup," Danielle Izquierdo takes you to the Yellow Springs Art Show, West Chester Gallery Walk, Wayne Art Center's Plein Air Festival, Chester County Studio Tour, Craft + Mercantile and more. Visit local museums and many, many art galleries, too.
In May and early June, there are countless gardening events and plant sales in greater Chester County to fill your calendar. In "Home & Garden" Associate Editor Marci Tomassone directs you to the best, along with a guide on where to get your outdoor living spaces spruced up in "Landscape & Garden Design."
Our Assistant Editor, Shannon Montgomery, reminds us that breakfast is the most important meal of the day. I believe it's also the tastiest. From diners and cafes to bakeries and coffee shops, she's found the "Best Bets for Breakfast." Try them out.
Elizabeth Hughes plans a special celebration in "Cinco de Mayo Cocktails." She's mixing drinks and has recipes from local restaurants for their specialties: Fuego Verde from Taco Grande, Orange Hibiscus Margarita from Bomba Tacos, Más Fiesta Margarita from Más Mexicali Cantina, and the Spicy Classic from Estrella Tacos y Mas.
For Olga Sorzano, who has roots in Siberia, kombucha, a fermented tea drink, is the taste of childhood and her grandmother's cure-all. It turns out kombucha has amazing healing properties. Buy her kombucha brand, Baba's Brew, at Kimberton Whole Foods or the Culture Factory in Phoenixville. And, in try the recipes in Alyssa Thayer's Brandywine Table column, "Mother Made."
Check out our Best Things To Do section to find plenty of fun for yourself and your family.
Hopefully, you already have County Lines delivered to your mailbox. Save it for future reference. At CountyLinesMagazine.com, you can read the May issue online. At Issuu.com, you can read the digital issue. Or click "How to Get a Copy" on our website to find locations to pick up a print copy.
We hope you'd like to subscribe to County Lines. Do it on our website or call 610-918-9300. For single issues, try Wellington Square Bookshop, Main Point Books or Reads & Co. Bookstore. Visiting an advertiser is also a great — and free — way to find copies!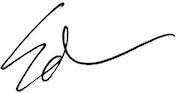 Ed Malet, Publisher
610-918-9300
It's Steeplechase Season and We're Off to the Races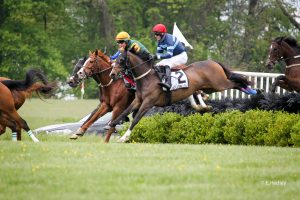 Three local races are taking place in May, featuring horses and festivals that family and friends will enjoy. Make your way to the races for carriage and foxhound parades, great food and drink, lively tailgating and the heart-pounding excitement of steeplechase racing. Each race is steeped in tradition and raises money for good causes — from promoting land conservation to improving water quality to supporting a world-class veterinary clinic.
Art Gallery Roundup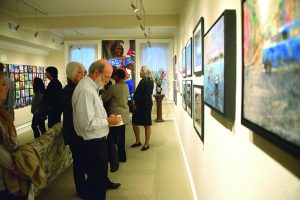 April showers bring May flowers, along with new art tours, shows and exhibits to explore. The Yellow Spings Art Show, Wayne Art Center's Plein Air Festival, Craft + Mercantile in Eagleview, West Chester's Gallery Walk and Chester County Studio Tour supplement the usual assortment of brick-and-mortar galleries and art museums in our area.
Barns & BBQ Tour is Back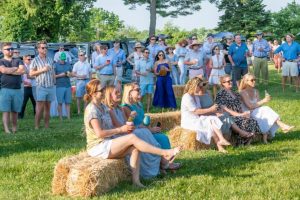 History buffs, conservation enthusiasts, design aficionados and curious neighbors are invited to tour some of the stunning properties that dot the Willistown countryside. It's a unique and intimate sight-seeing journey through a handful of conserved properties and the fabulous barns that complete them. Enjoy their stories, see the design trends and enjoy live music, dinner and the fascinating histories of how the properties came to be protected in partnership with the Willistown Conservation Trust.
back to top