Publisher's Letter
June 2022
It's June in County Lines country. A time to relax, sip a wine cocktail, read a book, enjoy the flowers. You may want to venture out a bit, but still be in your bed at night — enjoy a staycation and the best of our area.
Long days, warm nights. What every flower fan dreams of: gardens galore! In "Bloomin' Beautiful," Carol Metzker visits flower farms and greenhouses in Chester County. She talks to their owners growing zinnias, cosmos, dahlias, hydrangeas, irises, calla lilies, snapdragons, anemones and more. What a lovely summer bouquet!
While we often turn to showy flowers, eye-catching fruit or ornamental bark to add interest to garden designs, we may be overlooking a simple, powerful design tool for our home landscapes — foliage. By applying the principles of design, you can create a gorgeous — and easy to maintain — garden. Stephanie Kuniholm of Jenkins Arboretum & Gardens reveals how it's done in "Foliage Gardening with the Elements of Design."
Cara Corridoni, in "West Chester — Morning, Noon and Night," says there's excitement in the air! Be prepared to party! Try the Fête de la Musique, a new Happy Hour event on Wednesdays, the return of the Gay Street Open-Air Market and plenty of outdoor patio dining at the borough's restaurants. Our Associate Editor Marci Tomassone has put together a "Summer Dining Guide" to help you with choices beyond West Chester.
Considering a vacation, but fuel prices — and restaurant prices, and hotel prices — are going up? Now think about how your backyard can be your best — and free — party venue. Our Assistant Editor Shannon Montgomery talked with local contractors to learn how to go about "Creating an Outdoor Oasis."
Here's a vacation idea only a few miles down the road. Wilmington! I found festivals, live music, theater, museums, the zoo, sports events and plenty of green space. You can "Summer in Wilmington" and still be home for dinner.
When you think about summer, does your daydream include a cold beverage? Jessica Roberts believes it should. In particular, she's thinking about wine cocktails. In "Mixing It Up," she checks out several ready-to-drink kinds, as well as a few DIY.
It started in 1983 when a friend moved, needing to unload a couple of beehives. The business grew. Today Walt Broughton and his three sons are involved, managing as many as 650 hives as Swarmbustin' Honey. In Brandywine Table, Alyssa Thayer writes about "The Accidental Apiary" and shares a few of delicious honey-based recipes.
Shelly Laurence of Main Point Books invites you to "Get Your Beach Read On!" She's picked ten books that are entertaining and still have plenty to say. Happy summer reading!
Check out our Best Things To Do section to find plenty of fun for yourself and your family.
Hopefully, you already have County Lines delivered to your mailbox. Save it for future reference. At CountyLinesMagazine.com, you can read the June issue online. At Issuu.com, you can read the digital issue. Or click "How to Get a Copy" on our website to find locations to pick up a print copy.
We hope you'd like to subscribe to County Lines. Do it on our website or call 610-918-9300. For single issues, try Wellington Square Bookshop, Main Point Books or Reads & Co. Bookstore. Visiting an advertiser is also a great — and free — way to find copies!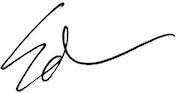 Ed Malet, Publisher
610-918-9300
Bloomin' Beautiful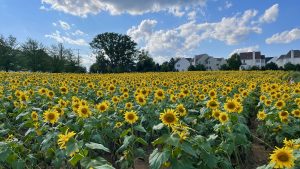 Chester County's flower farms are numerous, and each boasts special varieties of blooms. The Joneses grow zinnias, hydrangeas and more at Front Porch Flower Farm. Sunflowers, of course, grow at Gunther Sunflower Field. At Wildflower Farm, the Heenans grow milkweed — and monarch butterflies — and zinnias. The Rotteveel family tend Chadds Ford Greenhouse, where irises, pansies, primroses and more grow. At Hendricks Flowers, over 70 different flowers are grown by the family. Pink cosmos and snapdragons are at Jen Cauffman's Eden Flowers and the Arts. Round out your tour at Oxford Produce Auction and bid on lilies, roses, daisies and more.
Foliage Gardening with the Elements of Design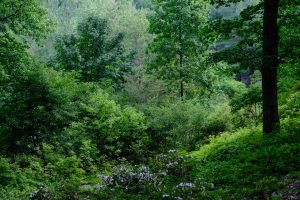 Foliage is a powerful tool in designing your garden. Focus on three primary elements of design — texture, color, form — to achieve a dramatic impact on your landscape. For texture, try a diversity of plants, from the fuzzy leaves of mountain mint to rough leaves of oak-leaf hydrangea. For color, use the many shades or green. For form, choose from tall, upright to rounded and bold, to cascading, vase, mounding or arching.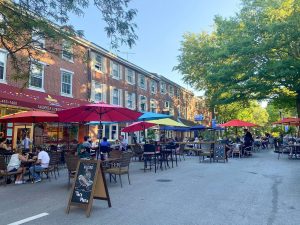 West Chester — Morning, Noon and Night
Come for the new events — Fête de la Musique, Gay Street Open-Air Market, TAPS Happy Hour, plus the restaurants and night life. Hang out by the fountain at 44 West Plaza. Try the chicken at Blazin' J's, the pizza at Pizza West Chester, a snack at the Spicy Pig Café. Enjoy a cocktail at Good Bad & Ugly. They're all new or newly reopened. It's summer in West Chester — enjoy!
back to top