Publisher's Letter
July 2023

It's July! And we're touring County Lines country and beyond, which of course includes the best places for fireworks (see our July Picks section) and plenty of Family Fun in our Best Local Events monthly coverage.
Since this is our Annual Guidebook, we have suggestions galore. Shannon Montgomery writes "Get Away Beyond PA," highlighting Kent Island, Washington, D.C. and two places in Virginia — Shenandoah and Charlottesville. Several hours' drive, but worth it!
In "Recent Discoveries," Laurel Anderson spotlights two New Jersey beach towns, Ocean City and Cape May, with slightly different vibes — family resort and Victorian treasure.
In our "Year-Round Guide to County Lines Country," we visit the "Big Three" — Longwood Gardens, Brandywine River Museum of Art and Winterthur Museum, Garden & Library. Then on to explore Chester and Delaware Counties, Delaware State, Lancaster County and the Main Line. Along the way, visit historic sites, markets, state fairs, parks, gardens and more. Check out Town Tours and Village Walks scheduled for historic neighborhoods in Chester County.
Plan ahead with our "Fall Guide to the Performing Arts" — concerts, theater, dance — and consider an Asian-American recasting of Sam Shepard's True West at People's Light in August.
For new residents, our "Newcomers Guide" introduces you to local businesses, services, school and more — everything you'll need to get settled. And learn where local student-athletes are going to college in "The Allure of Division I." It's a talented group!
Brandywine Table's Courtney H. Diener-Stokes is eating (and shopping) at Ground Provisions: Market & Dining. It's the new vegan spot by James Beard honorees Rich Landau and Kate Jacoby (of Vedge in Philly), right here in the former Dilworthtown Inn Keepers Kitchen.
Need some liquid refreshment? In "Brew Foods," Shannon Montgomery finds area beer gardens and breweries to stop for a cold one, plus tasty food.
Our Best Local Events section is filled with things to do for you and your family this month.
Hopefully, you already have County Lines delivered to your mailbox. Save it for future reference. At CountyLinesMagazine.com, you can read the July issue online. At Issuu.com, you can read the digital issue. Or click "Get a Copy" on our website to find locations to pick up a print copy.
We hope you'd like to subscribe to County Lines. Do it on our website or call 610-918-9300. For single issues, try Wellington Square Bookshop, Main Point Books or Reads & Co. Bookstore. Visiting an advertiser is also a great — and free — way to find copies!
Thank you for reading our July issue. We hope you enjoy it.
Ed Malet, Publisher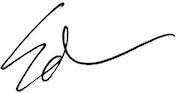 610-918-9300
---
Year-Round Guide to County Lines Country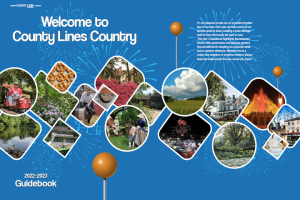 We start with the Big Three: Longwood Gardens, with 10,000 plant species and thousands of acres; Winterthur, with its world-class collection of American materials culture, art, design and history; and the Brandywine River Museum, with art of the Wyeth family, other painters and many works that appeal to children, including paintings and sculptures of animals, N.C. Wyeth's illustrations of pirates and other characters, plus colorful landscape and still-life paintings. From there, we explore Chester and Delaware Counties, drive to Delaware, sample Lancaster County (especially its food) and enjoy the nature and gardens of the Main Line.
Recent Discoveries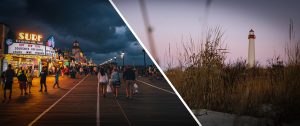 Our recent discoveries — two of them — are less than two hours' drive to New Jersey beach towns of Ocean City and Cape May. In Ocean City, you'll find eight miles of sandy beaches, three miles of boardwalk, fishing, kayaking, sailing, arcades, amusement parks, mini golf and more! Basically, Ocean City has it all in a family-friendly environment. In Cape May, we suggest a trolley tour. Or perhaps a horse-drawn carriage, walking tour or bicycle ride. How about a  pontoon paddle boat? You'll see whales, dolphin, birds, the lighthouse, the sunset … And, when you're ready, sample the restaurants, breweries and wineries.
A Deep-Rooted Connection to Food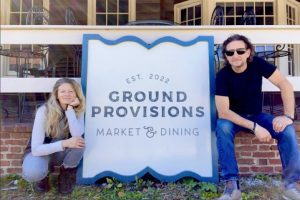 In the little nook of historic Dilworthtown, a market and gem of a restaurant — Ground Provisions — have recently taken residence in West Chester. Rich Landau and Kate Jacoby ran Vedge in Philadelphia, named one of the 40 most important restaurants by Food and Wine magazine. Brandywine Valley diners now have easier access to the couple's vegan cuisine, served up in an intimate dining space that feels like their Chadds Ford home. The veggies are embellished with something unexpected. We offer four of their recipes.
back to top