Publisher's Letter
December 2021

Welcome winter! Low, gray, moody skies, a hint of snow, aromas of hot chocolate and coffee, sounds of bells on the breeze. Decorations festoon the streets and store windows. County Lines is celebrating!
West Chester will come alive with the glow of thousands of holiday lights this holiday season. No Christmas parade this year, but check out the full calendar of events in "West Chester Lights Up with 5 Enchanting Weekends of Holiday Fun."
West Chester's sister towns host their own celebrations. In "Happy Holidays at Home," Lauren Durante and Gabriella Ruggirello tell us what's planned for Coatesville, Downingtown, Kennett Square, Malvern, Media, Oxford, Oaks, Phoenixville, Wayne and Wilmington.
Bring the Christmas spirit into your own home this year as you "Cut-Your-Own Christmas 'Treedition.'" We suggest several places that are ready for your saw.
Ready to start you on your shopping? Associate Editor Marci Tomassone offers suggestions from local sources in "Holiday Window Shopping."
If you're looking for a unique gift, there are plenty of places selling works of art. Let Malcolm Johnstone help by taking you to art markets, galleries and December events in "Choosing a One-of-a-Kind Gift."
In "Shopping Small and Local for the Holidays," I wander among the shops of West Chester, determined to find perfect gifts for everyone on my list. I'm delighted by the variety of what's available—music, a chess set, books, skateboards, clothes, both new and vintage. I realize the shopping experience itself can be a pleasure if you know where to go.
Jessica Roberts is shopping in the wine section, then wanders over to the "bubblies" section, then on to the spirits, considering vodka, cognac and ultimately whiskeys. Read her recommendations in "Happier Holidays Gift Guide."
Alcohol, says Alyssa Thayer of Brandywine Table, is a natural amplifier of flavor and aromas. And the holidays are an excellent time to "amplify." But how? Get tips from Max Pfeffer, head distiller of Manatawny Still Works, and try the recipes for "Spirited Cooking."
Every Christmas table needs a sharp knife. Maybe you need a new one? Or want to renew an old one? In "Knives Out This Season," Matt Freeman teaches how to evaluate knives, sharpen them and care for them.
In "Season's Gifting," Shelley Lawrence of Main Point Books has suggestions for books for the holidays. For younger readers, she recommends a Star Wars-themed book. For the cook, she's got 250 recipes with unique spices and techniques. For the birder on your list—or a bird-hater—she's got a Field Guide to the Dumb Birds of the Whole Stupid World. And more!
It's 2060 and the setting is rife with holograms, robots and artificial intelligence. Model train designer Juniper Blakely experiences a series of life-changing events, realizing that happiness is not about money but about love and following your passion. Local author George Rothaker writes It's a Wonderful Life 2060, reprising the themes of Frank Capra's classic. In "It's (Still) a Wonderful Life." Rachel Thompson tells us more.
The local theaters are back. People's Light is open again with an updated version of "A Christmas Carol." Media Theatre is hosting performances of "Mamma Mia!" Get your tickets now!
Gift-giving, family drama, ubiquitous sweets. How to relieve your holiday burnout? In "Merry Fit-mas," Assistant Editor Madison Meinel is shopping gyms, trainers, fitness classes and self-care. Plus places to buy exercise clothing, gear and equipment. Still thinking about body and wellness? A trip to the spa is another option.
The Holiday Season is here! Our "Best Things To Do" column is filled with family fun, festivals, fairs, food and fundraisers.
Finally, we apologize for the late delivery of the print edition of the magazine. Because of COVID, we continue to experience delays at our printing plant. But our magazine is coming! We estimate it will be out on December 7. Until then, you can read the digital version online. Click on https://issuu.com/countylinesmagazine/docs/zz_county_lines_dec21_issuu.
We hope you'll subscribe to County Lines. You can do it online or call 610-918-9300. Or get an electronic copy at Issuu.com. For single print issues, try Wellington Square Bookshop, Main Point Books, and Reads & Co. Bookstore. You should also look at the Amish Market, Kimberton Whole Foods, Janssen's Market and other area food stores. Visiting an advertiser is a great—and free—way to get one. To find one, click Get A Copy at our website, www.countylinesmagazine.com. You can also get our free on-line events newsletters by signing up at the website.
Thank you for reading. And Happy Holidays!
West Chester Lights Up with 5 Enchanting Weekends of Holiday Fun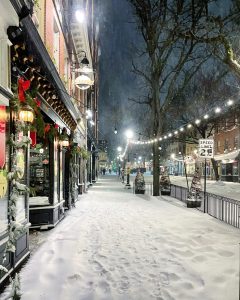 The parade is covid-cancelled again. But, thanks to the support of West Chester's business community, and particularly Chester County Hospital, December evenings have come alive with glow of holiday lights. There are five weekends of holiday fun lined up. Hopefully, you've already taken advantage of Small Business Weekend. Next weekend is Old-Fashioned Holiday Weekend, with the lighting of the Christmas tree on Friday. The following weekend is devoted to First Responders and Health Care Heroes. Then celebrate the Weekend Before Christmas and finally New Year's Weekend.
Choosing a One-of-a-Kind Gift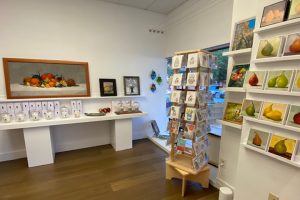 Ideally, choosing gifts, especially for someone special, you'll want to get something unique. And, if possible, you'll want to support a worthy person or cause at the same time. We suggest art! It strikes all the right notes! And there's no place better than Chester County to do your shopping, says Malcolm Johnstone, who will guide you on a tour of Chester County's art events and galleries. Follow his advice and we think you'll find a distinctive gift. And we encourage you to take your time and enjoy what you see!
Knives Out This Season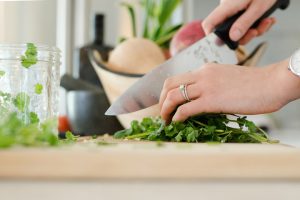 Do you have a sharp knife? Many of us don't. The results are that our cuts are personally dangerous. Our food is damaged. Some say the knives' dullness takes the joy out of cooking. Do you want a sharp, sturdy knife? We'll explore the kinds and brands and offer advice on how to sharpen, on washing and drying, and on sharpeners and cutting boards. We'll also lend advice on how a professional may help.
back to top