Orthodontic Treatment: It's Not Just for Kids!
In fact, one in five orthodontic patients are adults.
Why would an adult consider braces? Whether it's for your dental health or cosmetic reasons, a long-postponed plan or for a special life event—like a wedding—adults are increasingly heading to the orthodontist for a straighter, more beautiful, healthier smile.
Orthodontics can help correct more than just crooked teeth. An improper bite can contribute to gum and bone loss, tooth decay, abnormal wear of the enamel, even headaches and jaw joint pain (TMJ). And orthodontic treatment can correct a wide range of alignment issues, including tooth crowding, extra spacing, underbites and deep bites, as well as issues such as tooth grinding and TMJ/facial pain.
New orthodontic techniques greatly reduce discomfort, decrease frequency of visits to the orthodontists, and can even lessen treatment time. Plus you have options beyond the traditional metal braces you may remember to help achieve your perfect smile.
What's the best age for treatment? There's no "best" age. Benefits of alignment can be reaped at every age. For example, if you had braces as a teen, without proper retention, your teeth may have shifted over the years and now you need new correction.
Maybe your dentist or hygienist is encouraging you to consider orthodontics because crowded teeth are harder to clean, and gums and bones are better supported with properly aligned teeth. Or some patients honestly say "it's my turn," after finishing their children's orthodontic needs. Other adults find themselves dating again and want to put their best selves forward.
There's no perfect time or reason to begin treatment. Straight teeth are beneficial in many ways, both from a health and aesthetic standpoint. You're never too old to correct your smile!
What options are available for adult orthodontics? Most adults prefer more discreet options of Invisalign (clear plastic trays) or lingual braces (behind the teeth), over traditional metal or ceramic braces. Treatment time depends on the complexity of your bite and your overall goals.
How does Invisalign treatment work? Orthodontists are certified by Align Technology to use Invisalign to create customized clear plastic aligners. The Invisalign system uses 3D computer graphics technology to create your individual aligners, using a series of steps to progressively straighten your teeth.
Your dentist gets an exact image of your teeth and bite with a 3D scanner, rather than through dental impressions, so your aligners will fit precisely.
You wear each aligner for one week, removing it only to eat, brush and floss. As you replace each aligner, your teeth gradually move into place until you have the smile you've always wanted. Invisalign achieves the same results as traditional metal braces and may be around the same cost.
What about lingual braces? Lingual braces are brackets and wires bonded to the back of your teeth—similar to traditional braces but in a different location. Also called incognito or hidden braces, they are an aesthetic and discrete option that are virtually invisible.
The adjustment period for adults tends to be more difficult than with aligners. Feeling braces with your tongue takes some getting used to—usually a few weeks. Lingual braces often take longer than traditional braces and are generally more expensive because of the customization and special training required.
And retainers? Everything changes as we age—skin, hair, eyes—and our teeth are no different. Using a retainer is a long-term commitment if you want to maintain the look of your newly straightened teeth. The position and fit of teeth generally change throughout your life, with or without orthodontic treatment, so a retainer is recommended to maintain your desired look.
Retainers can be removable or permanent and most orthodontists recommend both. A permanent, or lingual retainer, is a thin braided wire that's spot bonded to the back of the upper or lower front teeth. Removable retainers are most commonly clear plastic, similar to Invisalign aligners.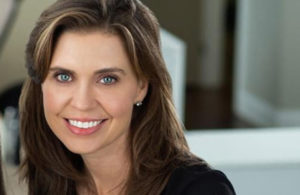 Whatever your motivation, your have options for getting a selfie-perfect smile!
Dr. Catherine Foote earned her Bachelor's degree in Biology, a Doctor of Medicine in Dentistry, and a Certificate of Orthodontics from the University of Pennsylvania. She's also a Platinum Plus Provider for Invisalign and a certified injector of Botox and dermal fillers with the American Academy of Facial Esthetics (AAFE). Her offices are in Bryn Mawr and Wayne, FooteOrthodontics.com.
back to top