Oktoberfest in Your Backyard
Don't let a global pandemic get in the way of a seasonal tradition dating back over 200 years.
As the days begin to cool, the lush, tropical beers that dominate summer tap lists and store shelves give way to crisp, hearty lagers that pair perfectly with roaring bonfires and the revelry of fall.
This year much of the customary merrymaking may be put on hold as we continue to navigate our way through the current COVID-19 concerns. But even a global pandemic doesn't mean we can't create our own gemütlichkeit, or feelings of warmth and good cheer.
It's true that celebrations this fall certainly won't look like they have in the past. Yet we plan to make the best of things with our own at-home fest, full of delicious local beer paired with traditional Oktoberfest bites and some rollicking tunes.
But first, a little background on Germany's Oktoberfest to set the stage before we help you create your own backyard fest as you drink local.
Early History
For as long as there have been humans, there have been party people looking for reasons to celebrate. One reason to party was the October 12, 1810 marriage of Crown Prince Ludwig I and Princess Therese of Saxony-Hildburghausen—later King and Queen of Bavaria. The citizens of Munich joined the joyous occasion, which included a horse race, general fanfare along with food, beer and music, held just outside the city gates.
The site of the event was named Theresienwiese (Theresa's Meadow) in honor of the Crown Princess. It's still called that to this day, though locals often shorten it to Wiesn.
The original festival was so popular a similar event was held in 1811, this time as a celebration of Bavaria's agriculture. And so the Oktoberfest tradition was born. The fest continued to grow in popularity, and in 1819 the city officially took over responsibility for the festival, ensuring the event would take place for many years to come.
Modern Oktoberfest
Over the past two hundred-some years, Oktoberfest has grown into the largest Volksfest (people's festival) in the world, with over six million international visitors flocking to the fairgrounds each fall. The modern festival lasts between 16 to 18 days, beginning in late September and culminating on the first Sunday in October.
To kick things off, a grand parade winds through the city of Munich, ultimately arriving at the Wiesn. Over 8,000 participants typically join the parade, many dressed in traditional dirndls and lederhosen, along with a half dozen lavish horse-drawn brewery floats from Munich breweries. Think Budweiser Clydesdales but with even more extravagant costumes!
And speaking of beer … Once the parade arrives at the fairgrounds, the mayor taps the first keg with a celebratory "O'zapft is!" ("It's tapped!"). And drinking and merriment ensue.
Festival goers pack food and beer tents, the largest of which belongs to Hofbräu and can hold close to 10,000 revelers. Tents are sponsored by the six Munich breweries: Augustiner (Munich's oldest brewery dating back to 1328), Hacker-Pschorr, Hofbräu, Löwenbräu, Paulaner and Spaten.
Only beers that adhere to the Reinheitsgebot—a 1516 ordinance limiting beer ingredients in Germany to just water, malt and hops—are served at Oktoberfest. No pastry stouts or milkshake IPAs here.
Just how much beer is consumed during Oktoberfest? In 2018, visitors consumed 7.5 million liters of beer. That's 1.98 million gallons or over 66,000 barrels of beer in just 16 days—enough to fill nearly three Olympic-sized swimming pools. Anyone else thirsty?
Märzen Beers
When you envision a classic fall beer, it's likely crystal-clear, deep orange and served up in a large, dimpled stein. That's a märzen or festbier, styles of lagers that have gained worldwide acclaim.
These beers have their roots in Bavarian laws that dictated beer could be brewed only between September 29th and April 23rd. Märzen was a style brewed in March—not surprisingly märz is German for March—with more hops and a slightly higher alcohol content to allow it to last beyond the April-brewed beers. Marzens were the traditional beers of Oktoberfest.
Today, breweries all over the world are making Oktoberfest-style beers, including many that can be enjoyed in your own backyard.
DIY Oktoberfest
With the cancellation of most festivals this year, it's no surprise that the world's largest fest would also be put on hold for 2020. Oktoberfest may not be happening on a grand scale, but you can throw your own mini-fest, no plane tickets required.
Here are a few pairing ideas to get you in the Oktoberfest mood.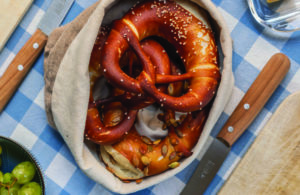 Be on the lookout for the latest seasonal release by Tröegs to pair with an oversized pretzel and spicy mustard. Lucky Holler Hazy IPA features Citra, Galaxy and Simcoe hops with a soft, bright body resulting in juicy flavors of pineapple and passionfruit. Hints of hoppy bitterness help refresh the palate after a few indulgent bites of pretzel, while the tropical notes complement the zing of a good spicy mustard.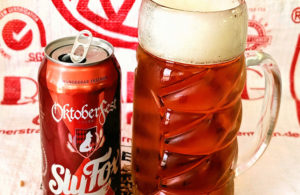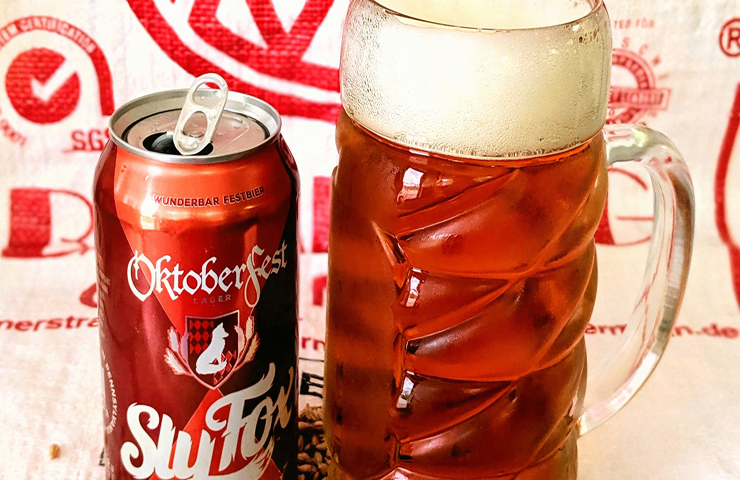 Another beer you'll want to pick up is Sly Fox's Oktoberfest, even if the name didn't persuade you. A seasonal gem that can hold its own against Germany's greats, this traditional lager is brewed with imported Vienna malts and German noble hops resulting in a smooth, malty brew that's crisp and satisfying. The hearty malt character of this classic brew pairs well with a savory bratwurst straight off the grill, topped with a heap of tangy kraut. There hasn't been a more satisfying combo since peanut butter and jelly!
Finally, be sure to grab some Dogfish Head Punkin Ale. Some beer drinkers may still be scarred by their experience in the early 2010s when rampant pumpkin ales overtook store shelves for months at a time. But don't hold that against this flavorful brew. This spiced brown ale is a dessert all on its own. Pair it with a slice of decadent German chocolate cake, and you'll forget any pumpkin qualms you may have had.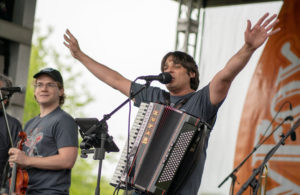 Finally, no festival is complete without a little music. If you've had the pleasure of attending the Sly Fox Bock Fest in the past couple of years, chances are good you saw the talented Alex Meixner take the stage. He and his accordion tackle traditional tunes, but he also has fun renditions of modern hits with a classic polka spin. Stream on Spotify, listen on YouTube or download your favorite beer-drinking music to set the mood.
So there you have it. Three local beers, three delightful dishes, and some lively tunes that'll get you in the Oktoberfesting spirit without leaving town. Stay safe this fall while enjoying all the area has to offer. Prost!
Sarah Jagiela is the Events & Marketing Manager at Sly Fox Brewing Company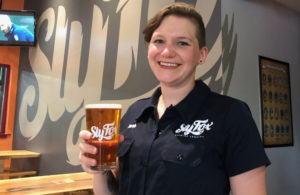 handling everything from organizing the annual Bock Fest & Goat Races to new product development. Sly Fox is celebrating its 25th anniversary this year and is proud to produce consistently excellent beers that range from traditional lagers to trendy IPAs. 331 Circle of Progress Dr., Pottstown. SlyFoxBeer.com.
back to top