October Publisher's Letter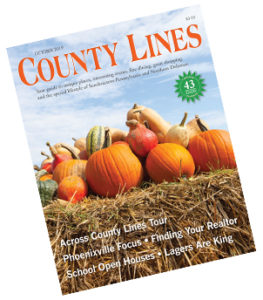 It's October. Leaves are changing, temperatures are dropping and pumpkins are taking center stage. County Lines country is aglow.
Every fall, we stand back and take in so much of what is special about our area. Mercedes Thomas found great shops, interesting dining, historic landmarks and fun events. In "Across County Lines," she describes some of her favorite destinations and sights.
Carol Metzker noticed that young professionals and empty nesters were flocking to Phoenixville, and was wondering what the fuss was about. She shares her discoveries in "Phoenixville: Dawn to Dusk."
Ever heard of the Brandywine Creek Greenway? It includes more than 100 publicly accessible parks and preserves within Chester and Delaware Counties. And there's a new free app to help you explore them. Read Nicole Kindbeiter's "Increase Your 'App–Etite' for the Great Outdoors."
Agent, realtor or broker? When buying or selling your home, finding someone who's both professionally qualified and easy to work with takes time and effort. In "Finding That Right Real Estate Agent," Laurel Anderson reports what the experts advise.
Take a look at private schools in our Guide To Area Independent & Private Schools. But first read my advice on what to look for in "School Open Houses."
From the annual cycle of renewal and decay to the long-term growth of species over time, gardens are growth incarnate. Chris Fehlhaber of Chanticleer Gardens sees parallels in the human experience. Read his essay, "Always Keep Growing."
In "Lagers, The King Of Beer," Ethan Buckman of Stickman Brews in Royersford, says that this inherently drinkable beer is actually a gateway to the wide world of craft beer and much more than a bland party beer.
Back in the day, Pat and Terry Brett of Kimberton Whole Foods were pioneers in the local food movement. Now at six locations, they've stayed true to their mission of supporting regional agriculture and cultivating a vibrant network of producers, growers and makers. In "Brandywine Table" Alyssa Thayer tells their story and samples recipes from their new cookbook.
Mercedes Thomas previews Media Theatre's upcoming production of "Matilda: The Musical," while Shelly Gill interviews Beth Wilson-Parentice about her book, "You Glow, Girl!" In other columns, Laura Brennan sheds light on independent college counselors and Dr. Peter Famiglio on wisdom teeth.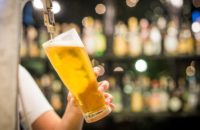 Lagers, the King of Beer
Lagers are the most widely consumed beer. In a world inundated with gimmick, the lager remains king. As a term, lager is incredibly broad, but ultimately refers to two things: 1) the family of bottom fermenting yeast used to make a lager and 2) the cold storage technique used to create lager's clean flavors and crisp finishes. Almost every professional brewer opines that making a good lager is the most challenging thing to do in a brewery.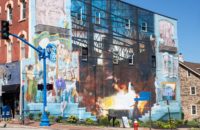 Phoenixville, Dawn to Dusk
They come for fun and stay, they say, because of each other. The mix of generations is creating a strong community spirit in Phoenixville. Whether you're a millennial or a boomer, and your quest is hot coffee and croissants at dawn or cool jazz and cold brew at dusk, the town named after the firebird is soaring.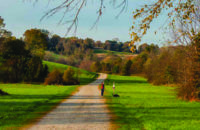 Across County Lines
This fall take a drive through stunning landscapes and small towns. We call it home. West Chester, Downingtown, Exton, Chadds Ford, Kennett Square, the Main Line, Delaware County, Wilmington … and beyond. If you're looking for great shops, interesting dining, historic landmarks or fun events, we'll let you in on what we know.
We hope you'll to subscribe to County Lines. You can do it online or call 610-918-9300. Or get an electronic copy at Issuu.com. For single print issues, try Main Point Books, Wellington Square Bookshop, Wegmans, Paoli News, Bryn Mawr News, Berwyn News or other newsstands. Visiting an advertiser is a great—and free—way to get one: click Get A Copy on the home page of this website. You can also get our free on-line events newsletters by signing up online.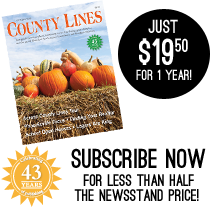 Ed Malet, Publisher
County Lines Magazine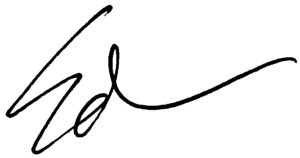 back to top