"Nurse! Come quick!"
From Florence Nightingale to COVID-19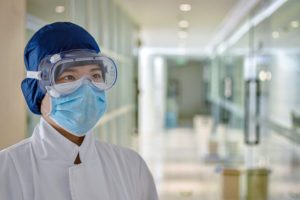 "Nurse! Come quick!" That cry can be heard in emergency rooms, in nursing homes or in our own homes where people are hurt, disoriented or suffering. And it's heard more often now in the time of COVID-19.
Nurse practitioner John Waters says hospital staff are "overwhelmed and overworked" even in the best of times. Elaine Scott says "new information every day about COVID demands different approaches." Often nurses working in hospitals don suits, gloves and masks.
As doctors have increasingly become our mentors and guides to health care, nurses have become our front-line against disease and pain. It's ironic that this year earmarked to be a major celebration—the International Year of the Nurse and Midwife—should fall on a year of their dire necessity.
Once There Was Florence
Born in 1820, Florence Nightingale is credited with beginning the nursing profession and a major reason the World Health Organization designated 2020 as this special year. Of course, much has changed in the profession over 200 years.
For one, the number of nurses has spiked. In 1900, there were just under 11,000 nurses. Today, it's about 3 million—71,000 in the Philadelphia metropolitan area alone—and the number of nurses is expected to increase at about 12% annually for the next decade. Yet, their numbers will fall short by about 200,000 of the growing need. And that doesn't factor in another pandemic like this one!
The media asks us to celebrate them as heroes. But who are these heroes? They're people like Debbie Thomas, a Registered Nurse (RN) who worked as a maternity nurse in Lankenau, Lancaster, Bryn Mawr and Chester County Hospitals. She enjoyed every moment. Her daughter, also a nurse, is now working on front lines of the COVID outbreak.
Healthcare Booms … and Specializes
A nurse's duties in Nightingale's day included bathing, feeding, keeping order, monitoring and dispensing the very limited medicines of the day—relatively simple tasks. In the 20th century, as a myriad of medicines and procedures became available, nurses became more than caring assistants. They became facilitators of these health-giving processes. And only after mid-century did education of nurses flower, involving initially two-year, then four-year and finally advanced degrees and certifications.
Today, nursing is less a single vocation than a constellation of health care specialties. By far— about 92% or 71,000 nurses—in the Philadelphia area are RNs. They're the backbone of nursing, filling most of hospital nursing positions. Advanced practice nurses (APRNs), with masters' degrees, serve as midwives, anesthetists, clinicians and practitioners. There are over 5600 of them in our area today.
For 20 years, Elaine Scott worked as an RN. For the past 15, she's worked as an APRN, primarily giving vaccinations and performing physicals in group practices. As an APRN, she has broader authority, though it may depend on her supervising physician. She says her advanced training allows her to apply a "more complete range of her diagnostic and treatment skills."
Even an RN, though, has much more specialized training than years ago. "Medical News Today," for instance, lists 50 nursing specialties, ranging from burn care to psychiatric, from neonatal to geriatrics, from obstetrics to emergency care.
Some nurses now work in COVID research. But none were trained as "COVID nurses." They've had to learn about COVID on the job, under daunting conditions.
Other factors have also created a rising demand for nursing skills. The aging of our population has increasingly led to living with deteriorated health and the need for more medical care. Technology has also improved, and with it, the need to use, monitor and interpret medical data.
The 20th century brought medications, precision instruments, x-rays, ventilators, dialysis, magnetic resonance indicators, artificial limbs, organ and tissue transplants, and more. Each eventually has called on a nurse to implement its applications and be the final link to the patient.
The Good Nurse
Training, however, doesn't entirely define a good nurse. At the core, a good nurse has qualities that aren't learned in school—compassion, sympathy, patience plus stamina and resilience—skills sorely tested in the coronavirus era.
Nurses must deal with patients, as well as their families and friends, during difficult times to help them confront uncertainty, trauma and pain. COVID exacerbates all these. Patients may resist treatment. They may be nervous about upcoming procedures. Against this background, a good nurse must project calm and answer questions in terms that patients and family can understand.
Attention to detail and the ability to prioritize are also important. On the job distractions can be enormous. Yet, without focus, nurses may put lives at risk.
It's not often mentioned, but a nurse's physical and psychic endurance are also key. Typically, on their feet, under stress and time pressure, working with ambiguous information, they must work long days. Yet they must make exacting decisions. They must be physically and mentally fit.
Finally, in a world of scarce resources—even more scarce as COVID has taken it casualties— the ability to synthesize and integrate often fragmented and changing information is probably the good nurse's most important skill. Physicians are in limited supply. Critical thinking will help determine whether and when their intervention is needed.
Year of the Nurse
Nurses, on the whole, report fulfilling careers. The COVID crisis, however, has called on them to "dig deeper"—to the roots of why they serve: the challenge of the enormous swell of patients; the shortage and rationing of equipment, testing kits and ventilators, the endless hours, the concerns of patients and the pull of nurses' own families.
In normal times, one complaint is with the business of medicine. Staffing ratios are an oft-cited sore spot. Often, nurses find themselves at war with the demands of an institution's bottom line.
Another is with the attitudes of their workplace. They would prefer not to be viewed as merely "physician extenders" or "mid-level" professionals.
But these complaints are on the back-burner for now. The nurse—even a good ones—may seem rushed and impatient. Some will feel angry. But rarely will the full world of concerns be visited on a patient. More likely, the good nurse will be available when needed, projecting warmth, sympathy and competence under the most trying of circumstances. Most importantly, the good nurse, by training and disposition, will make you feel better.
Let's take a moment and mark the International Year of the Nurse and Midwife. They certainly deserve at least that!
Learn more about this 200 year at WHO.int.
back to top
Our Favorite Resources
Lower Bucks Hospital
Roxborough Memorial Hospital
Surburban Community Hospital