November Publisher's Letter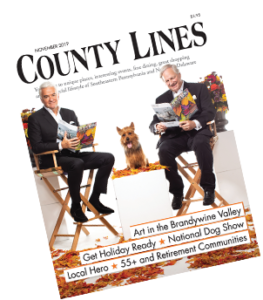 In County Lines country the year is winding down. Aside from colorful leaves and the aroma of roasting turkeys, we're thinking about giving, seniors … and dogs.
Recognize anyone on the cover? That's John O'Hurley—Mr. Peterman of Seinfeld fame—and David Frei, dog show host. It's a reminder that, on Thanksgiving Day, between the Macy's Day parade and afternoon football, there's yet another tradition: watching the broadcast of the National Dog Show, which takes place two weeks before nearby in Oaks. Mercedes Thomas previews the fun of the dog show and all the events leading up to it in "The National Dog Show."
Take a look at our seniors. They're helping others in all kinds of ways. I write about what some are doing in "Senior… But Not in Body or Heart." Then check out our "Guide to 55+ and Retirement Communities and Services" for places to live. It's full of ideas.
Also, we've selected another "Local Hero." This year, it's the Chester County Food Bank. Think about what a full stomach means to those who rarely have one. And how you can contribute or volunteer.
Colorful autumn leaves turn, alas, to fallen leaves … eventually. If you have the urge to bag them, read what Tara Vent of Jenkins Arboretum writes. She has a more environmentally sound approach and in "Preparing Your Garden for Winter," she shares this and other pre-winter tips.
The holiday musical Panto at People's Light is a beloved, madcap seasonal tradition. In its 15th year of song, dance and hilarity, the panto this year is Little Red Robin Hood. Read about it and mark your calendar!
Meanwhile Elf: the Musical is playing at the Media Theatre. A young orphan named Buddy accidentally falls into Santa's bag and finds himself in the North Pole. Then the magic happens. Hania Jones previews this holiday classic, based on the movie.
Thinking about gifts, Carol Metzker is enamored with the Brandywine Valley. In "The Artful Life," she visits its many galleries, shops, restaurants and other venues to find beauty for homes, body and soul.
In "Spread Cheer Locally this Year," Casey Meyer notes that American Express started a movement in 2010 with Small Business Saturday, and that West Chester, Kennett Square, Phoenixville and Media are among excellent locations to celebrate and shop.
You'll also find our "Holiday Gift Guide." Great ideas for you or someone you care for.
For Thanksgiving, Alyssa Thayer of "Brandywine Table" recommends, not just turkey, but heritage turkey in "Grazing Gobblers." She's looking for the best, and talks to Axel Linde of Lindenhof Farm about raising turkeys without hormones, antibiotics or artificial flavor enhancers. Check out the recipes.
And don't forget our photo contest: "Capturing Chester County." Vote on Facebook for your favorite.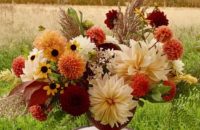 The Artful Life
In the beauty of the Brandywine Valley, there's art all around. And Southern Chester County, home to Longwood Gardens and the Brandywine River Museum of Art, artists, artisans and creatives in all fields bring inspiration and splendor to area galleries, shops and unexpected venues to shape an artful life.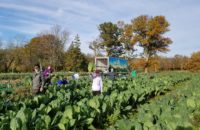 Local Hero: Chester County Food Bank
For more than 75,000 of our Chester County neighbors fresh, healthy fruits and vegetables are a luxury they can't afford. But the Chester County Food Bank has worked for the past 10 years to help these individuals and families, and envisions a better future beyond hunger for everyone in Chester County.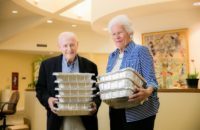 Senior ... But Not in Body or Heart
Seniors and retirees are increasingly involved in the greater community. As volunteers they are engaged in all kinds of activities: teaching, gardening, preparing meals … And their volunteer efforts help not only the community but also themselves, letting them exercise their skills while keeping them active and engaged.
We hope you'll to subscribe to County Lines. You can do it online or call 610-918-9300. Or get an electronic copy at Issuu.com. For single print issues, try Main Point Books, Wellington Square Bookshop, Wegmans, Paoli News, Bryn Mawr News, Berwyn News or other newsstands. Visiting an advertiser is a great—and free—way to get one: click Get A Copy on the home page of this website. You can also get our free on-line events newsletters by signing up online.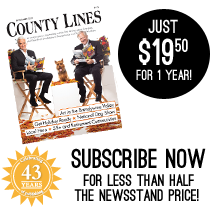 Ed Malet, Publisher
County Lines Magazine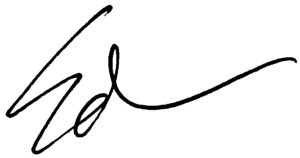 back to top