North Hill Farm
A piece of paradise in Chester Springs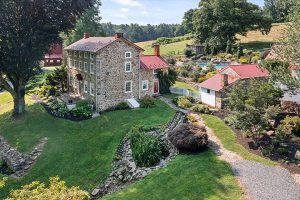 "This is a place that needs a family to enjoy all it has to offer," says the owner as she takes in the view from the gate to the pool area. "Even though I'll miss throwing parties here, like our July 4th gathering, it's time."
The view is across the lush 64-acre Chester Springs property, dotted with a historic house, iconic stone barn, red-painted chicken coop/converted playhouse, charming springhouse and striking stone ruins of a bygone barn. And the focal point is the glimmering pool—with waterfall and Jacuzzi—encircled by tasteful hardscaping, stone walls and flowering hydrangeas, cone flowers, crepe myrtles and butterfly bushes attracting more than their share of flitting butterflies.
Purchased about 15 years ago to be a family gathering spot for children and grandchildren to enjoy, the property had previously been a dairy farm, as the huge barn attests. Plans were to raise llamas, alpacas and livestock, along with corn and other produce befitting life as a gentleman farmer. But life happens, and plans change.
Now North Hill Farm is ready for its next family to make it home.
A LITTLE HISTORY
As sometimes happens in this history-rich neighborhood of West Vincent Township, the 1797 stone manor house on North Hill Farm that Thomas Rooke built is just down Fellowship Road from his brother Robert Rooke's house, at the intersection of Horseshoe Trail. Both members of an old Chester County family, the brothers constructed solid 18th-century fieldstone homes that were later expanded over time to evolve into the stately Georgian houses you see now—classic structures gracing quiet roads throughout Chester County.
Robert's house, Mill Farm, was added to the National Register of Historic Places in 1973, while Thomas's house, part of the West Vincent Township Historic Atlas Project, wears its heritage more loosely as it became a family retreat.
THE MAIN HOUSE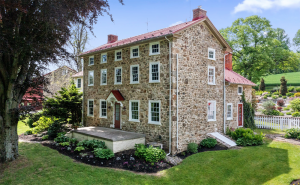 Take in the property and its private, pastoral setting as you drive up the hill toward the cluster of structures, sheltered by the towering specimen copper beech tree on the north side of the manor home. Other old-growth trees include a massive ginkgo near the stone barn.
A still-visible datestone on the exterior marks the heritage of the original 1797 structure, expanded in 1837 and renovated in 2001.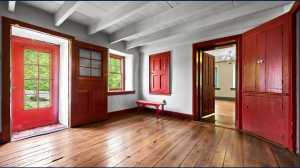 The meticulously maintained main house includes five bedrooms, three full and one half bath, and two fireplaces (one with wood stove) on three floors above an unfinished basement. The obvious good bones of the home are evident in the original hardwood floors, thick plaster walls, built-in cupboards and bookcases, as well as some original hardware and window panes.
Red metal standing-seam roofs on all the buildings, recently repointed stone on the barn, and fresh interior paint speak to the loving care of the property, inside and out.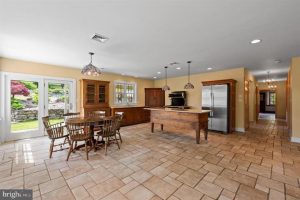 Charm and character are what you'd expect in the original section of the home, where the living room, dining room and den are located (plus a second-floor bedroom with separate curved staircase).
The newer addition includes the spacious kitchen, ready for its new owners to design to their exact specifications. Views of the countryside and access to the pool through French doors are already there, along with sunny southern exposures.
This huge kitchen space—with the opportunity to expand into the adjacent sitting room—can easily be converted into a dream kitchen with open-space great room. A convenient butler's pantry and laundry room are nearby.
A comfortable primary suite—with sitting/dressing room and en suite bath—sits above the kitchen on the second floor. A southern-facing picture window frames the pool view. Completing this floor are two more bedrooms and two full baths.
On the third floor are the fourth and fifth bedrooms.
CARRIAGE HOUSE, BARN, SPRINGHOUSE …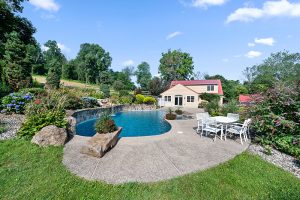 An oversize carriage house now boasts a large, comfortable pool house with half-bath on the lower level, perfect for relaxing or entertaining. Also on the first level is a three-car garage.
Upstairs is a large one-bedroom guest suite/apartment with kitchen and living room. The cathedral ceilings and pool views make it a welcoming space.
For the equine enthusiast, the huge multi-level stone barn could be converted to a 12-stall equestrian complex. That leaves plenty of room on the upper level for storage, or better yet, a gigantic party barn space, office, art studio, yoga retreat or home gym. Endless possibilities …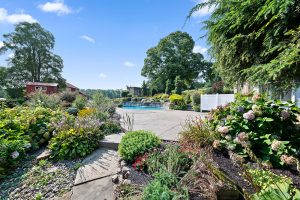 A barn-red former chicken coop near the main house is now a two-level playhouse and hang-out space for kids or grandkids.
There's even a charming two-room stone springhouse, with chimney, which could be converted into a home office or other retreat. And the stone ruins on the hill above the pool are yet another inviting entertainment space.
"Although it will be hard to let go of North Hill Farm, we'll always have our memories of this special property. It's time for the next lucky family to make their own memories here," says the owner, in her farewell.
For more about this 64-acre private oasis (with 43 acres of open land) in Chester Springs, under PA Ag Land Preservation Easement (allowing for commercial equine activities and another residence), offered at $3.5 million, contact Karen Nader at Brandywine Fine Properties Sotheby's International Realty. 484-888-5597; KNader@bfpsir.com.
back to top