New Pubs & Breweries
Check out some of our favorites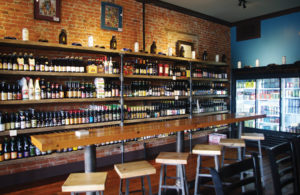 If you followed this column in 2016, we've covered toast-worthy stories of the regional beer scene. From finding great beer (January) and choosing the perfect beers for the perfect occasion (April) to sampling hot breweries (July) and showcasing award-winning breweries (October).
With the New Year upon us, it's time to take a look at some of the newer establishments either making or serving up great beer in our area, beginning with the most recent to open.
Berwyn Brewpub
Berwyn welcomed a highly anticipated brewpub last October, situated directly across from the train station. La Cabra Brewing Company is run by head brewer Dan Popernack, general manager Chuck Golder and executive chef John Hearn.
Popernack's brewery is tapping well-made beers that run the gamut from German pilsners to barrel-aged fruit beers that showcase the kitchen's atypical brewpub fare. Take the Juno Blonde Ale—with rosemary and lime—for example, and a plate of Jerk Chicken Tacos with cilantro lime crème to underscore the marriage of the kitchen's and brewery's talents. Creative takes on Shrimp & Grits, Crispy Pork Belly and Chimichurri Flank Steak also impress.
Watch for more barrel-aged sour beers over time—a passion of Popernack's, as his basement of 100 new oak barrels begin to produce results. For atmosphere, the second floor is the place to while away winter nights with comfy sofas in front of the stone fireplace and dart boards and ring toss nearby. Live music will eventually be added to the equation.
New Brews in Media
In July, Brick & Brew opened on State Street in downtown Media, a town already rich in beer. It so quickly became a neighborhood favorite that word must have spread from the Havertown location less than ten miles away.
The attraction may have been from the Brick component—with a dozen creative pizzas coming from the oven, such as Jumbo Lump Crab with asparagus and Short Rib with gorgonzola. Or from the Brew part—a variety of 12 on tap from local breweries and beyond. Or just as likely from the open atmosphere that flows invitingly from the front door to the countertop seating in full view of the brick oven. In nice weather, the patio is perfect seating as well.
Try the highly recommended Crispy Duck Sliders. Then grab a Sly Fox Rauchbier or Dogfish Head 90 Minute IPA on tap for the perfect meal. Quality whiskies, wines and tequilas are plentiful, too.
Downingtown Bottle Room
Downingtown got another notch on its beer belt in May with The Bottle Room, owned by Sean McGettigan, of the adjacent Station Taproom. He and general manager Kerry Watson are Downingtown locals and friends that go back nearly 20 years and share a passion for beer.
Watson has a history organizing popular beer events in the area. Now he manages 16 taps and upwards of 500 bottles that cover the most solid local beers from the likes of Free Will, River Horse, Tired Hands and Victory to beers from farther abroad like Blackberry Farm, Drie Fonteinen, Hof ten Dormaal, Logsdon Farmhouse and Russian River.
A small menu of meats, cheeses and dips from the kitchen shared with Station Taproom complements the beers. One television hangs in the room and takes over the speaker system on game days. With its own developing following, The Bottle Room benefits from overflow crowds next door. Watch their calendar for special tap takeovers and bottle releases.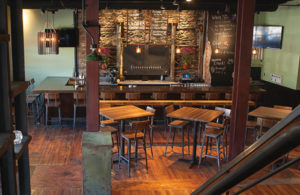 Spring City's New Tunes
The Schuylkill River Trail (SRT) is starting to look more like the Sudsy Rehydration Trail. There's Manayunk Brewing Company, near the end of the trail in Philly, and Conshohocken Brewing Company new in 2014. Iron Hill has one of its 12 spots in Phoenixville, where the trail crosses the river. And as of last summer, Spring City is now on the map.
Tuned Up Brewing Company has a heavy emphasis on guitar-centric blues and great beer served up by three colleagues—Clint Tichnell, Andy White, Jeremy Burke—who met at the Trappe Fire Company and playing in the band, The Fermenters.
Expect to find fan favorites such as Black IPA, Irish Red, Raspberry Acid Freakout and Love Me 3 Times Tripel at the comfortable bar—formerly a tattoo shop, lingerie store and tavern—built mostly with sweat equity by the partners, friends and family. Reclaimed wood pallets create a nice backdrop at the bar and the open mic encourages freelance jamming.
Expect to see the brewery grow at a controlled pace in tandem with what's hoped to be a resurgence in the borough.
More in Media
Sterling Pig is the oldest on this list, having opened in July 2015. Co-owner and Brewmaster, Brian McConnell, left a longtime position at Rock Bottom Restaurant and Brewery in King of Prussia to open Sterling Pig within walking distance of his Media home. He started the inviting brewpub with business partner, Loïc Barnieu, owner of other State Street spots.
McConnell's experience in the brewhouse, which added three new 30-barrel fermenters to double future output, is evident in the extremely well-made beers. The food menu matches up well with these solid beers by offering perfect pairings like Salciccia Wood Oven Pizza with Shoat hoppy American pilsner, Chipotle Smoked Wings with Big Gunz Double IPA, and BBQ Pulled Pork Sandwich with Pata Negra schwarzbier.
In January, look for the popular Piggy Stardust Tripel annual release, more entries in their single hop series, as well as increased distribution to local retail outlets.
The local brewing scene continues to grow with no slowdown in sight. By the time you read this, there may be another handful of new beer destinations to check out. Cheers to that! 
Bryan Kolesar, local to Chester County, has been writing about beer for over ten years and maintains a blog, BrewLounge.com. His book—Beer Lover's Mid-Atlantic—is a complete 416-page guide to breweries, brewpubs, beer bars and homebrew of PA, NJ, MD and DE.
BEER EVENTS IN 2017
Feb. 25, Kennett Winterfest. 600 S. Broad St., Kennett Square. KennettBrewFest.com.
Mar. 4, Philly Craft Beer Festival. Navy Yard, 4747 S. Broad St., Phila. PhillyCraftBeerFest.com.
* Mar., St. Pitty's Day Pub Crawl. In Media to benefit the DelCo. SPCA. ProvidenceAC.org.
Apr. 8, Rails & Ales–Railroad Museum of PA. 300 Gap Rd., Strasburg. RailsAndAles.org.
Apr. 29, Pottstown Firkin Fest. Memorial Park, 75 W. King St. PottstownFirkin.com.
May 7, Sly Fox Bockfest & Goat Race. Pottstown. SlyFoxBeer.com.
* May, Brandywine Val. Craft Beer Festival. E. State St., Media. IronHillBrewery.com/Media.
* May, BrewFest at Mount Hope. PA Renaissance Fairgrounds, Manheim. PARenFaire.com.
June 2–11, Philly Beer Week. Philadelphia and suburbs. PhillyBeerWeek.org.
* July, Blues & Brews. PA Renaissance Fairgrounds, Manheim. PARenFaire.com.
July 22, Newark Food & Brew Festival. NewarkFoodAndBrewfest.com.
* Aug., Lancaster Craft Beerfest. Downtown Lancaster. LancasterCraftBeerFest.com.
* Sept., Newtown Sq. Pints in the Square. Rts. 3 & 252. PintsInTheSquare.com.
* Sept., Malvern Harvest Oktoberfest. Burke Park, Warren Ave. Malvern-Festivals.com.
Sept. 9, Historic Odessa Brewfest. 201 Main St., Odessa, DE. OdessaBrewfest.com.
* Oct., Conshohocken Beer Festival. Garthwaite Stadium. ConshohockenBeerFestival.com.
* Oct., Kennett Brewfest. 600 S. Broad St., Kennett Square. KennettBrewFest.com.
* Oct., Pottstown Brewfest. Manatawny Park, 75 W. King St. PottstownBrewfest.com.
Oct. 5, 7, KOP Beer Fest Royale. 690 W. DeKalb Pk., King of Prussia. KoPBeerFest.com.
* Dec., Valley Forge Beer Festival. Greater Phila Expo Center, Oaks. ValleyForgeBeerFest.com.
*Dates to be determined.
back to top