Mixing It Up
Wine cocktails are in season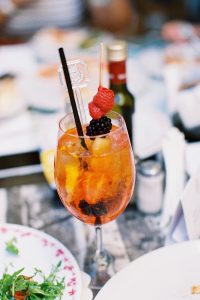 When you think about a perfect summer day, does that daydream include a cold beverage? It should. For some an idyllic day would be better with an ice-cold mug of favorite beer, while for others it's a chilled glass of wine.
Lately, more fun summer days are improved with the addition of premade and canned cocktails. High Noon is a brand that's leading the market now with their flavored vodka seltzers. Many other companies are following suit, including some big names such as Jack Daniel's, Absolut, Bacardí, Crown Royal and Jose Cuervo. But spirits companies aren't the only ones making headway in this market — there's demand for wine-based cocktails too.
Why the hype — and surprising growth — surrounding this emerging category of drinks? Many reasons, but the main one is convenience. Your image of a relaxing weekend likely doesn't include buying a long list of special ingredients to whip up one or more summer drink recipes. You might prefer to let a bartender do the work and order from a bar. But with premixed cocktails, you just open a bottle or can, and pour it into a glass, and enjoy! Easy as a summer's day.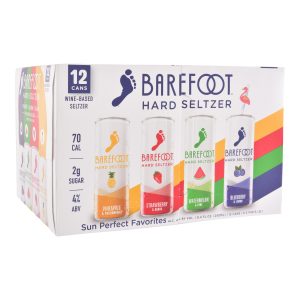 While there are many brands that have jumped into the wine cocktail ring, here are a few worth checking out — or should I say sampling?
Barefoot has released a line of wine-based seltzers that come in four flavors: pineapple passion fruit, cherry cranberry, strawberry guava and peach nectarine. Yum. These light drinks pair well with a poolside day. You can buy one can, a four-pack or a variety pack. With the variety pack ($19.99), you can try three of each flavor as you search for your favorite and share them with friends.

If cans aren't your style, try options in bottles. Flybird and Rancho La Gloria make lines of margarita-styled wine cocktails. For $11.99, Flybird comes in an attractive bottle as colorful as its four flavors — Baja lime, strawberry, passion fruit and watermelon. These drinks are 100% agave, use all-natural ingredients and have bold fruit profiles. They're a little heftier in alcohol, so please drink responsibly.
Rancho La Gloria wine seltzers are also made with 100% agave and real lime juice and are gluten-free. Grab mango, blueberry or watermelon for $10.99.

If you're looking for a more bubbles in your drink, give Bae a try. Buy their peach, watermelon or pineapple wine seltzers for $7.99, and plan your own private party at home with friends. These are sweet, light and uncomplicated, perfect for a day in the sun.
Ready-to-drink products are a great help for parties, vacations or a lazy, low-key day. Just open the bottle, and you're ready to go. But if you're in the mood to make something from scratch, there are many options out there.
A perennial favorite is the mimosa. This is the perfect summer drink for those who love a little citrus in their glass. I recommend half De Perrière Blanc de Blancs Brut, available for $9.99, and half orange juice with a splash of Grand Marnier in a champagne flute. Garnish this with an orange slice, cherries or any variation of fruit.

If you prefer something more traditional, try the French 75. Use the same sparkler as for the mimosa or upgrade to an old-school Champagne such as Moutard Grand Cuvée Brut, available for $31.99. For this drink, you'll also need gin, fresh lemon juice and simple syrup. Combine all the ingredients, except the bubbly, into a shaker and shake it vigorously. Then pour into a Champagne flute. Top it off with the bubbly and garnish with a lemon twist. Experiment by adding cordials from St-Germain, Cointreau or even an herbal liqueur like Amaro.
It would be very easy to endlessly carry on about wine cocktails. There are so many recipes and variations available online that you'll need more than a few friends to help you try them all!
As always, please enjoy responsibly. Cheers!
Jessica Roberts has worked with Fine Wine & Good Spirits for six years, taking the position of Wine Specialist a year and a half ago. What began as a hobby soon blossomed into a satisfying career. Jessica works at the Premium Collection store in Phoenixville. Stop by for one of her tastings or just to ask a question. Learn more at FWGS.com.
back to top