Make Mine a Martini
Local bars and restaurants share special recipes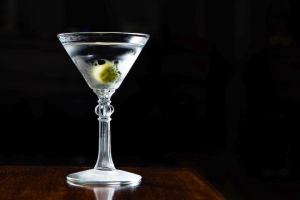 Is there anything more elegant than a martini? And by martini we mean a gin or vodka cocktail served straight up in a martini glass.
Though cocktails come in and out of style, the classic martini remains timeless. So timeless, in fact, that even its origins have fallen into the realm of legend.
There's fierce debate among martini lovers and historians about the origin of the drink. Many believe it was invented in San Francisco, in the late 1850s or early 1860s, by the Occidental Hotel's famed bartender "Professor" Jerry Thomas for a miner headed for Martinez, California. Originally consisting of sweet gin, vermouth, bitters and Maraschino liqueur, the recipe — and name — have since evolved. Others attribute the martini to a bartender at New York City's Knickerbocker Hotel, who made the cocktail for John B. Rockefeller in 1911.
Regardless of its history, it's clear that the martini has become a truly iconic cocktail. Though purists believe it should only be made with dry gin and just a hint of vermouth, martinis are now commonly mixed with vodka and other spirits, and creative bartenders have come up with endless martini variations.
Here are a few special recipes from local bars and restaurants, including some that are perfect for fall. Cheers!
Apple Cider Martini

From Amani's North in Downingtown
2 oz. local apple cider (Northbrook Orchards recommended)
1.5 oz. Boardroom Spirits vodka
½ oz. Boardroom Spirits orange liqueur
½ oz. lemon juice
1 tsp. honey-thyme syrup
Apple slice
Cinnamon sugar (optional)
Fill shaker with ice, then add apple cider, vodka, orange liqueur, lemon juice and honey-thyme syrup.
Shake, then strain into a martini glass.
Garnish with an apple slice and, optionally, cinnamon-sugar rim.
Dirty Martini
From Pietro's Prime Steakhouse & Martini Bar in West Chester
6 oz. vodka
1 oz. olive juice
Olives, preferably blue cheese-stuffed
Add vodka and olive juice to a shaker with ice.
Shake well. Strain in a martini glass.
Add olives for garnish.
The Flirtini
From The Fenix Bar & Lounge in Phoenixville
1.5 oz. Tito's vodka
¾ oz. Chambord
½ oz. prosecco
Splash of pineapple juice
Add vodka, Chambord, prosecco and pineapple juice to a shaker.
Shake, then strain into a martini glass.
Irish Espresso Martini
From The Towne House in Media
1.5 oz. Jameson whiskey*
½ oz. Guinness Demerara syrup
½ oz. coffee liqueur
1 shot fresh Lavazza espresso
3 dashes cocoa bitters
Add all ingredients to a shaker.
Shake, then double strain into a coupe glass.
*Note: Many espresso martini recipes use vodka, but this is an Irish-inspired take on the drink.
Limoncello Martini
From La Verona in Kennett Square
1.5 oz. Ketel One citrus vodka
1 oz. Cointreau
1.5 oz. Pallini limoncello
½ oz. simple syrup
½ oz. fresh-squeezed lemon juice
Add vodka, Cointreau, limoncello, simple syrup and lemon juice to a shaker with ice.
Shake for 30 to 35 seconds.
Rim glass with sugar. Strain drink into a martini glass.
Garnish with lemon wedge or peel.
Pumpkin Spice Martini

From Black Powder Tavern in Wayne
1 C. ice cubes
2 oz. vanilla vodka
1 oz. Irish cream liqueur
1 oz. pumpkin spice syrup
1 pinch ground cinnamon
1 pinch ground nutmeg
Fill a cocktail shaker with ice.
Pour in vodka, Irish cream liqueur and pumpkin spice syrup over ice.
Cover and shake until the outside of the shaker has frosted.
Strain into a chilled martini glass. Garnish with ground cinnamon and nutmeg.
The Classic Martini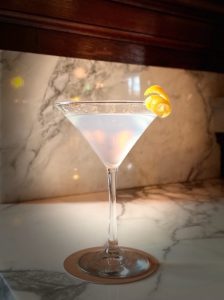 Over the years, the martini has sparked extensive debate — dry or wet, shaken or stirred, how to garnish. This summer, Christopher Nolan's Oppenheimer introduced us to the titular scientist's special recipe: extra dry, in a chilled glass rimmed with lime juice and honey.
We asked James Coleman, beverage manager at Le Cavalier in the Hotel Du Pont, how he serves a classic martini. His preferred gin-to-vermouth ratio is 5:1 — 2.5 oz. Monkey 47 gin and ½ oz. Dolin Blanc vermouth, along with a dash of orange bitters. He makes it "stirred with a twist," or garnished with a lemon peel.
back to top