Ludwig's Corner Horse Show
What better way to say goodbye to summer than with a horse show.
The Details: The Ludwig's Corner Horse show takes place every year on Labor Day weekend. It's one of the longest running horse shows in the area—75 years and going strong! Events in the ring and the County Fair run all weekend, from 8 a.m. to dusk. Check out the wide range of competitions from Jumpers to Fox Hunters to Side Saddle.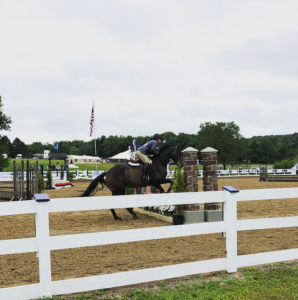 Truth be told, it had been 3 years since my last horse show, when I watched my older sister compete. I thought I'd be a good sis and take my horse-loving sibling to a community horse show for some bonding time over Labor Day. And she could provide the play-by-play commentary.
My party and I rolled up to the horse show at a civilized holiday weekend hour—around 11 a.m. Parking was the only fee to see the action in the ring and the fun at the Country Fair. And 11 o'clock was perfect timing to watch just a few riders compete before heading off to grab lunch from one of the food stands. Vendors provided plenty of different options­ from barbeque to cookies and coffee to a tiki bar at the far end of the show grounds. Stickman's Brews had a tent at the show for those in the mood for a lunchtime brew and we thought it best to support the local brewery.
It was a cloudy day but that didn't stop the festivities. Our post-lunch stroll was just in time to watch the pet parade—absolutely as entertaining as it sounds. Most parade participants were different types of dogs—yes, every pet within miles must have been there. The highlight was one young lady who decorated her miniature horse as a unicorn with a blue and purple mane. The effort alone was worthy of a blue ribbon.
The action in the ring continued despite the appearance of a unicorn not far away. The sleek thoroughbred competed during all the other excitement nearby. Yes, there's plenty to see for horse fans and fair fans alike.
Even though some may not find a horse show as exciting as watching an Eagles or Flyers game, there's something thrilling about watching—and if you're like me, holding your breath—to see if a horse will knock over one of the polls of a jump or clear it cleanly. Or if the horse completes the whole circuit of jumps in the ring without stopping and creating a fuss or tear for the rider.
You can feel the whole crowd express a silent "Oooo" when a mistake is made. And erupt in applause when a rider recovers from a misstep and completes the event. And if riding in a ring and jumping over obstacles weren't enough, somehow riders in the next competition managed to do all of that while riding sidesaddle. Incredible. You won't see that in football or hockey.
For more tricky riding, there's the mounted archery competition where riders shoot arrows from a galloping horse—event that could be straight out of an episode of Game of Thrones.
Family Fun alert! When it's a cloudy September day and you're looking for something new to do with the kids, my advice is to try a local horse show. Honestly. It's a calm morning/afternoon/evening of sitting and watching talented riders on their horses, including some very young riders. Your kids are likely fascinated enough by the animals to sit still. Your dog (yes, many horse shows are dog-friendly, too) likely too afraid of the big animals to do anything but lay at your feet.
And when either gets bored you can head on over the tents of vendors to paint, jump on the trampolines, or pet the baby kittens for sale. Some families even attended specifically for the bouncy house and other fun activities for kids at the Country Fair.
While the kids are having fun, mom and dad can shop. Check out the vendors offering cute outfits, handcrafted jewelry, woodcarvings and more for sale for your home. There's even an animal rescue tent. And that beer tent I mentioned earlier.
The entire horseshow is family friendly and perfect for a simple and fun outing on Labor Day weekend. Parking wasn't a hassle either, and it's well organized for a quick exit.
Even though it was a spur of the moment decision, I definitely won't be a neigh–sayer of this event. I highly recommend checking it out. And I'm not even horsing around! Sorry, I did hold that in until the end, though.
back to top