Living to and Beyond 100
Advice from centenarians
A few of us have lived long enough to have the necessary life experience to give useful advice. After living through the Great Depression, two World Wars and a few more, the moon landing, 9/11 attacks, the Covid pandemic … maybe these centenarians are worth listening to.
Here are some reflections that area residents shared with us about their lives.
Former Rockette Hits 100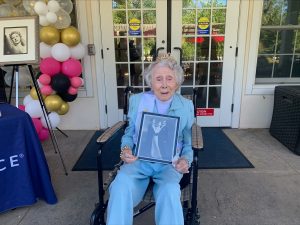 Born in Connecticut in 1922, Irene Jones was an avid dancer her entire life. She made a career joining several dance companies, including the Radio City Music Hall Rockettes. Irene credits dance as her secret to longevity — that and eating healthy, avoiding stress and being happy.
Irene married her husband Jay and had one child. Today she's thrilled to be the grandmother of two and great-grandmother of five. Her family, Irene declares, is her greatest achievement.
To younger generations, she advises, "Sleep well, be conscientious, make friends that will always be there for your and don't smoke." At her current home, Arbor Terrace Willistown, Irene thanks the "compassionate caregivers that take care of me every day."
Three Farmgirls Hit (And Pass) 100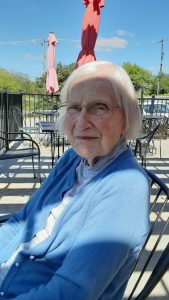 Winifred "Wyn" Norris celebrated her 100th birthday on Valentine's Day at Hickman Friends Senior Living. Born in the small farming town of Jackson, Pennsylvania, Wyn recalls the post office was in a neighbor's home and her mother taught in a one-room schoolhouse.
In high school, Wyn met Paul and married him in 1946 — she says it was her "best decision." As a military test pilot, Paul led Wyn around the world: Louisiana, Arizona, Japan … Through the many moves of military life, Wyn was "the force that held the world together," says her daughter. "She adapts easily and is quite content as long as her favorite snacks — Fritos and chocolate — are at hand."
Today, Wyn is blessed with three children, seven grandchildren and five great-grandchildren, who call her "GG" for Great-Grandmom.
Ultimately, Paul and Wyn settled in West Chester. As lifelong members of the Baptist Church of West Chester, Wyn volunteered for decades, true to her mother's mantra to "be useful and be kind."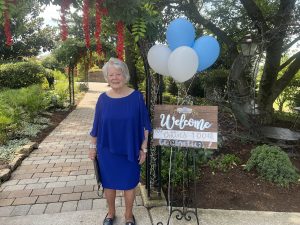 September 6th was Dorothy "Dottie" Hey's 100th birthday. As a child, Dottie lived on a farm in Quakertown and recalls racing across the cornfield to the tiny schoolhouse when the school bell rang. When she was 8, Dottie moved to Philadelphia, where her father ran Huss and Sons Bakery, and Dottie took orders from customers and babysat her siblings. She graduated from Olney High School and went to night college for engineering.
Dottie always loved having a big family. She raised five children and now enjoys 11 grandchildren and 16 great-grandchildren.
In her early 70s, Dottie became a resident of White Horse Village, initially teaching water aerobics classes there. Now her days consist of attending exercise class, lunch with friends, talking on the phone and never missing the 11 o'clock news. She attributes her long life to staying in touch with friends and family and maintaining a daily routine.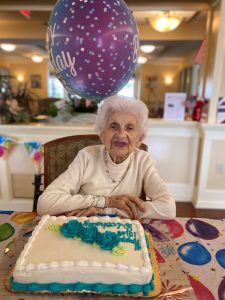 Louella Strantz grew up on a dairy and corn farm in Conestoga, the sixth of nine children. She remembers getting electricity and lights for the first time and attending a one-room schoolhouse. After graduating from Columbia High School, she was married to Walter Strantz for over 50 years. Although she worked a short time, she mainly stayed home with her children, involved in PTA and church work. Louella was a great seamstress who also loved to crochet and make clothing for the children. An avid walker and gardener, she mowed her own grass until she was 92!
Now a resident at Homestead Village, Louella never talks poorly of anyone and is described as a sweet and kind spirit, loved by the staff and residents there.
Investment Manager at 100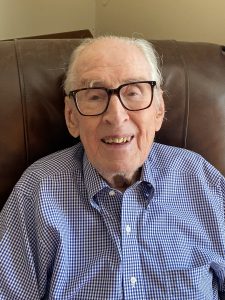 Born in Drexel Hill, Donald Solenberger turned 100 earlier this year. He attended the George School and was married to his wife Ann for 58 years. They had two children, as well as three granddaughters and two great-granddaughters. After three years at the University of Pennsylvania, Don went into the Army. After his service, he graduated from Penn.
Don worked in business investments and held 14 state licenses over 50 years. His hobbies include playing tennis, following politics and keeping up with current events. He also enjoys watching football and basketball.
Now settled at Riddle Village, Don says being 100 "is truly remarkable." He savors memories from when he was younger, like sledding down 69th Street in Upper Darby, which at that time was a pine forest. Don says wistfully, "Those were the days."
Born Actress Turns 101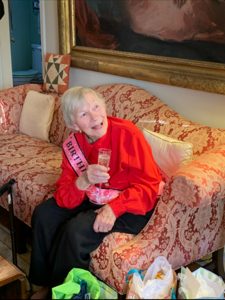 Mary Sohier was born in Cambridge, Massachusetts in 1921. She's an avid reader and spent many happy summers at her family home on the coast of Maine. Before moving to The Mansion at Rosemont in 2021, Mary lived in Malvern.
In high school, Mary was part of the Concord Players, a community theater where her mother was an actress and comedian. Mary loved seeing her mother on stage and now hopes for a role of her own at her new community's next play.
Mary attended the Eastern School of Music and then Radcliffe College, where she majored in music. Although Mary never played in public, she continued to play "for personal enjoyment."
Mary's love story includes meeting her husband at Harvard. The couple had three sons. "One of my greatest accomplishments," Mary says, was raising them.
At 102, They're Still Walking, Still Swimming
Marjorie Snyder, 102, lived most of her life in Bucks County before moving to Wallingford to be close to her daughter.
She credits her longevity mostly "to luck." But her daily long walks, a habit she's continued since moving to Plush Mills Senior Living several years ago, may have something to do with it.
That exercise routine and a twice-daily "scoop of ice cream" she enjoys are just two ingredients in her recipe for a long, happy life.
When Eleanor Parsons turned 100 in July 2020, in the midst of the pandemic, her family coordinated a drive-by celebration at Dunwoody Village. Now, at 102, she attributes her longevity in part to being a swimmer. "I used to swim at Dunwoody even before I moved in," she says. Her advice? "Just keep moving. Stay interested in things."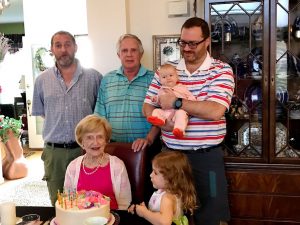 Eleanor lived in Devon, has two sons, three grandchildren and four great-grandchildren. She had a career in real estate, having owned an apartment house with ten rental apartments. And she enjoyed volunteering at St. David's Episcopal Church and the West Chester YMCA.
For her 90th birthday, her sons asked what their mom wanted. Eleanor said she wanted a trip down the Colorado River. So they took her. Says her son, "Mom has always been very determined and a wonderful role model for all in her family."
Happy Homemaker at 103
Born in Wilkes-Barre, Helen McHenry turned 103 in September. She still walks to the dining room at Lima Estates every night for dinner.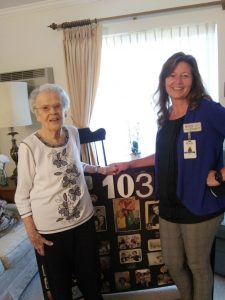 Helen met her husband Bob after World War II. They met in November, were engaged on Valentine's Day and married in June. The couple settled in Springfield, where they raised two children. Today, Helen is a grandmother of five and the great-grandmother of ten.
In addition to being a "happy homemaker," Helen went to work at Mac and Sam's, a family business in Clifton. She has fond memories of her involvement in St. Matthew Lutheran Church, the Springfield Athletic League, playing bridge, bowling and socializing at the Rolling Green County Club.
"I have no secret that I can share as to why I'm living this long," Helen laughs. "I just get up every day, climb out of bed and thank the good Lord to be here."
Helen did say that living independently is a job at her age. She must keep active both mentally and physically. Helen follows her own advice by rocking in her rocker and reading a good book.
And Now She's 104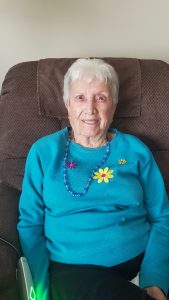 Ida DeCastro was born in 1918 in Manhattan, where she spent most of her life. The best advice Ida received was "simply to take one day at a time, and that's just what I do." She tries "not to worry about things too much."
As a young woman, Ida worked at Woolworth's as a "Million Dollar Girl" — that's what Woolworth's called their female employees then. Later, in 1940, she met and married Herman, with whom Ida raised three wonderful children.
Three years ago, Ida moved to Glen Mills Senior Living and was there for only a few months when the pandemic started. It was a huge adjustment to be quarantined, but the "staff were great, and we made it through." She's made many friends and especially enjoys the pinochle club and happy hours.
At County Lines, we're wishing all our centenarians a happy birthday, and hoping for many more to come.
back to top