Light Reds & Easy Drinking
Something new to sip during these transition months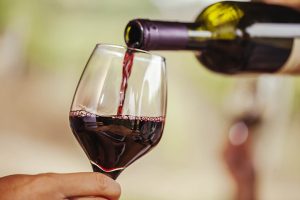 When you walk into your local wine shop, what's your buying plan? Do you look at bottles all neatly lined up and choose a few, with the intention of drinking them right away?
Or do you think about finding gems now and aging them in your cellar? Many reds from places such as Bordeaux, Napa and Tuscany need a little extra time in the bottle before you can fully enjoy them. If those are your preferences, you likely buy now to savor later.
Although some people prefer to age their wine, the majority of wine purchased in the United States is opened and consumed within just a few days. Just a few days! This quick-drinking trend has become increasingly popular in the last ten years as many people want to enjoy their wine soon after buying it.
Aging, Tannins and Young Reds

The main difference between a young wine and an old wine is the amount of time and the type of vessel it has been aged in before being placed on the shelf.
A lot happens during the aging process. For example, grapes with high amounts of tannin, such as cabernet sauvignon or nebbiolo, tend to soften when they go through several years of aging. Yet most of the desirable antioxidants found in wine are there because of the tannins. Unaged or lightly aged red wines retain these qualities that people tend to seek out, making them a desirable category of wine to enjoy.
Light reds are also sought out as a nice transitional wine to sip as the warm months turn into cooler months. These versatile wines are often described as vibrant, fresh and fruity and can be enjoyed either slightly chilled (50⁰F–60⁰F) or at room temperature.
Drink these wines with light to medium food. Meats such as chicken, turkey or ham, as well as a variety of vegetables or heartier salads complement young red wines. They can also be enjoyed on their own, mixed in a wine cocktail or in sangria.
Some recommendations

So many enjoyable young red wine options are available, it's hard to know where to start! A few notable grapes at the top of your list should include pinot noir (New Zealand or France), unaged tempranillo (Spain) and cabernet franc (France or New York).
If you're ready for something more adventurous, check out zweigelt (Austria), gamay (France), país (Chile) or dolcetto (Italy).
Gamay is commonly grown in the Beaujolais region of France and is one of the lightest reds out there. Many people are familiar with the very popular Beaujolais Nouveau, which is fermented for just a few weeks before being released for sale on the third Thursday in November. We'll revisit this wine closer to Thanksgiving.
For now, let's look at several other wonderful gamay wines that come out of that region. The 2019 Domaine Dupeuble Beaujolais Rouge is full of bright, fresh berry notes and a silky-smooth finish. This wine is just $17.99 with a 90-point rating from James Suckling—a fantastic find.

País is a personal favorite, so I was excited to see one of these wines included in Pennsylvania's Chairman's Selection Program.
The 2019 Morandé Pionero País Reserva from the Maule Valley region of Chile has notes of juicy raspberries and light spices. This wine is very affordable at $8.99, so be sure to pick up a few bottles while it's here. Give it a slight chill and enjoy with light foods or on its own.
Rioja, Spain is known for its incredible tempranillo. This grape can be expressed in many ways, depending on age. Look for the words "unaged" or "joven" when searching for a younger styled tempranillo.
The 1808 Valcavada Tempranillo Rioja from 2019 has only six months of aging, giving it a dark cherry note while still holding onto its bright and fruity character. Enjoy this wine on its own or with pizza for $15.99.

Austria is a growing wine section in many stores and for good reason. Zweigelt is a popular red from this country that also fits the bill for lighter reds.
The 2019 Pfaffl Vom Haus Zweigelt, priced at $14.99, is a little beefier but can still be enjoyed right away. It has a bit of spice alongside a dark Bing cherry note. This wine was only aged six months, mostly in stainless steel, to conserve the true flavor of this grape.
These are just a few options out of thousands. Speak with your local wine specialist to further explore new bottles you can bring to the table. These wines are ready for your glass so be sure to take them with you to your local BYOB restaurant, family event or special evening.
As always, please drink responsibly and enjoy!
Jessica Roberts has worked with Fine Wine & Good Spirits for six years, taking the position of Wine Specialist a year and a half ago. What began as a hobby soon blossomed into a satisfying career. Jessica works at the Premium Collection store in Phoenixville. Stop by for one of her tastings or just to ask a question. Learn more at FWGS.com.
back to top