Juneteenth Events
Ways to celebrate Juneteenth in Chester County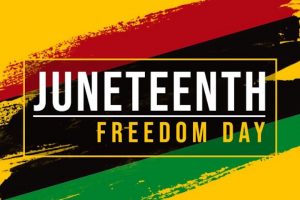 Juneteenth National Freedom Day takes place on June 19. To learn more about this holiday, read this article by Malcolm Johnstone of the Chester County Historical Society.
June 4
Pennypacker Mills
Meet Harriet Tubman
Arrive between 1 and 3:30 pm to explore the property on a Treasure Hunt activity. The Harriet Tubman performance at 4. Free. 5 Haldeman Rd., Schwenksville. MontCoPA.org/PennypackerMills.
June 16–19
Chester County History Center
The Center will join the Chester County Juneteenth Festival, Journeying Through Freedom. All events are free.
June 16, "A Night with Dane E. Tilghman," 6:30 pm.
June 18, "A Celebration of Freedom with Nahjee Grant," children's program, 1 pm.
June 18, "A Lifetime of Service: A Conversation with Rev. Anderson Porter," 6:30 pm.
225  N. High St., West Chester. MyCCHC.org.
June 17–19
Voices Underground Presents
June 17, An Evening with Dr. Eddie Glaude, Jr., 6 pm. Longwood Gardens, 1001 Longwood Rd., Kennett Square.
June 18, Journey to Freedom Juneteenth Festival, noon to 8 pm. The Creamery, 401 Birch St., Kennett Square.
June 19, Freedom's Table: A Dinner of Friendship with Adrian Miller. Lincoln University, 1570 Baltimore Pk., Lincoln University.
For details, visit VUProject.org/Juneteenth.
June 18
Kennett Underground Railroad
Open house with Kennett Heritage Center, a walking tour of the area around the Kennett Heritage Center, two-hour Heritage bus tour of points of interest. 120 N. Union St., Kennett Square. KennettUndergroundRR.org.

June 18
Delaware Art Museum
Beyond Juneteenth Egungun Festival
Enjoy live performances, along with food trucks, arts and craft vendors, 1o am to 4 pm. Free. 2301 Kentmere Pkwy., Wilmington. DelArt.org.
June 19
Juneteenth Celebration at the Melton Center
The celebration features a Flag Raising Ceremony, A Moment of Silence, Ceremonial Planting of a shrub or tree, Dedication of the Freedom Branch and more. 9 am. 501 E. Miner St., West Chester. MeltonCenter.org.
back to top