June Publisher's Letter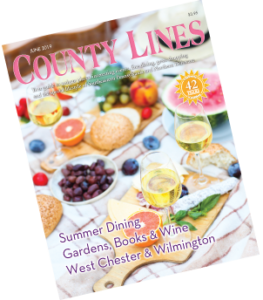 Summer is right around the corner! At County Lines, we're caught between day trips to local venues, planning summer projects, or just enjoying a rum punch by the pool.
Malcolm Johnstone of West Chester's Business Improvement District (the BID) takes us on a tour of the Borough in "Art, Artists and Galleries in West Chester." Besides galleries, he encounters art at boutiques, studios, shops and elsewhere downtown. There's also a guide to West Chester's top events and best summer dining.
There's "no better place for timeless fun, festivals and fairs than Wilmington,"
writes Carol Metzker "In the Good Ole Summertime." Check out the Clifford Brown Jazz Festival, Delaware Burger Battle, Delaware Shakespeare and more. Did you know that Bob Marley called Wilmington his home?
For more Jamaican flavor, try johnnycakes, curry chicken, fried plantains, rum cake … some rum punch, too. Mmmm! Laura Brennan devotes her Brandywine Table to Jamaican Cooking with the help of the folks at Miss Winnie's in West Chester.
For her Home of the Month feature, Laurel Anderson headed for Charlestown Township to visit a charming 1820s Chester County farmhouse, updated in the 1930s and 1950s. The current owners wanted more—they wanted to enjoy "all the amenities in a home that was comfortable and luxurious, but not ostentatious." See what they've done at "Beagle Hill Farm."
Stephanie R. Kuniholm of Jenkins Arboretum is a fan of azaleas, and not just the common pink ones that announce spring in our area. With red-orange, pink or white flowers, many are fragrant and bloom into summer. In fact, there are 16 species of deciduous azaleas native to the East Coast. All but one will thrive in our region. Read about them in "Go Native with Azaleas," and see more on site at Jenkins Arboretum.
The school year is drawing to a close and a look at our independent schools reveals students have been hard at work on some very interesting projects—in art, psychology, medicine, robotics, and other areas— and earning national and regional prizes. Read about them in my "Painting, Writing, Science & Robotics—Such Talent." And try not to be too jealous.
Looking around County Lines country, there's one feature missing—mountains. But that won't stop Ray Porreca. In "Ain't No Mountain High Enough," he checks out several places that will teach you to climb. And, perhaps, a yodeling or two will be permitted.
We all look forward to summer. But with high-stress highways and airports, cumbersome luggage and crowded beaches, your trip may be less than a dream getaway. So, why not skip the stress and update your backyard? Think treehouses, bar-sheds and pools—let your imagination be your guide. For ideas and inspiration, read "Backyard Staycations" by Mercedes Thomas.
Our "Outdoor Design" feature has more ideas for your home. And, if and when you need a break, Marci Tomassone's "Summer Dining Guide" offers an awesome collection of area restaurants to sample.
Thinking of what to read this summer? Mike Wall of Wellington Square Bookshop looks for books that have "a narrative drive that never flags and characters, real or imagined, with whom readers can blend their own experiences." He suggests several in "What is Your Book Club reading?"
Fred Naddeo wants some lighter choices of white wine with summer seasonal fare. In "Something Different for Summer," he suggests rieslings, gewürztraminers and chenin blancs for a change to your usual go-to whites.
As always, we have the Best Local Events coverage, including top picks for June and a full page of ideas of Family Fun.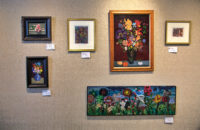 Art, Artists & Galleries in West Chester
Where are the galleries, and who are the artists that give West Chester its artistic vibe? We check out some of galleries, studios and shops around town. For galleries there's Visual Expansion Gallery, Church Street Gallery, and the Art Trust. Two artists' studios worth visiting are John Hannifin's and Erica Brown's. And as for shops, check out The 5 Senses, Green Eyed Lady and Sunset Hill Jewelers & Fine Arts Gallery. This town supports them all. Check them out this summer!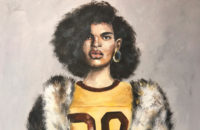 Painting, Writing, Science & Robotics—Such Talent
Students at our independent schools scored awards at the most important national and regional contests. Several won Gold Medals at the national Scholastic Art & Writing Awards. Others were first place winners at the Delaware Valley Science Fair. And several competed with student teams from over 60 countries— 1200 teams winnowed from 24,000— at the VEX robotics competition, and came in third!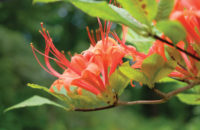 Go Native with Azaleas
When we think of azaleas, we often picture the ubiquitous shrubs, whose bright pink blooms mark the arrival of spring. They are a mostly hybridized evergreen and originally from Asia. But the East Coast boasts 16 native varieties, many fragrant and blooming throughout the summer. With blooms in yellow, red-orange, pink or white flowers, many of these can be purchased at local nurseries specializing in native plants, including the Plant Shop at Jenkins Arboretum.
We hope you'll to subscribe to County Lines. You can do it online or call 610-918-9300. Or get an electronic copy at Issuu.com. For single print issues, try Wellington Square Bookshop, Wegmans, Paoli News, Bryn Mawr News, Berwyn News or other newsstands. Visiting an advertiser is a great—and free—way to get one: click Get A Copy at our website, www.countylinesmagazine.com. You can also get our free on-line events newsletters by signing up at the website.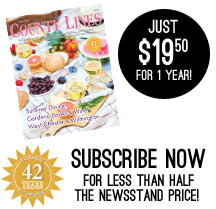 Ed Malet, Publisher
County Lines Magazine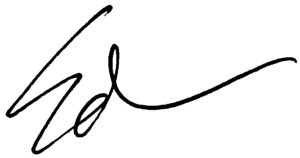 back to top