I'll Do it Myself
When is it time to consider more options—from in-home care to senior communities?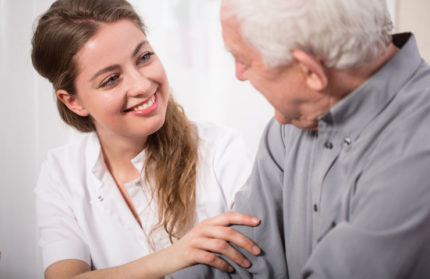 I'll do it myself! No, you won't! Yes, I will! No, you can't.
Perhaps the hardest part of getting older is figuring out what we can and can't do, swallowing our pride and mustering the courage to ask for help.
For children of seniors, the hardest part may be acknowledging their aging parents' growing need for assistance and care. With compassion, children will try to do all they can. But, at some point, they can do no more.
As the issues involved with independent living become greater, we need to consider other option: extra services, assisted living, a nursing home, a continuing care community, a hospice or other respites. But, too often, raising these options just raises more disputes.
We can't seem to square safety and proper care with independent living.
Someone to Listen to the Stories of Our Lives
The health care and senior care systems can seem intractable. Is it time to re-locate? Can we locate near our family? Are the medical specialties we need available? What will insurance and savings allow?
What we could use is an advisor: someone who will treat the issues objectively but compassionately. Someone who will listen to the "story of our lives," in the words of Brian Duke, System Director, Senior Services of Main Line Health (MLH).
Though, in general, patients prefer to stay at home—according to AARP, a full 82% prefer it—some seniors find home "isolating," according to Terre Mirsch, the Director of MLH's HomeCare & Hospice. In these cases, seniors would prefer better access to care and the supportive social environment offered by a specialized community.
In general, the professionals at MLH suggest consulting a medical social worker. You can reach one at MLH's Senior Care Line, which is a free service. Each situation is different, but a medical social worker should be able to recommend a care plan, tailored to individual needs, focused on maintaining and improving quality of life.
For a list of senior communities and services, see the Senior Guide following this article.
Homecare Options
Even if we decide to stay at home, at least for the foreseeable future, we may still need supplementary services. Today, homecare involves a wide variety of professionals, including doctors, nurses, therapists, pathologists, nutritionists and others who come to our homes, assess the situation, provide services and make recommendations.
Many groups provide in-home homecare. MLH serves about 1400 people in their homes, either short-term, because they are temporarily unable to visit a facility, or long-term, because of a long-term or chronic condition that doesn't require specialized facilities.
Bayada Home Healthcare is another such organization, but without an affiliation to a specific hospital or healthcare system. Formed over 40 years ago, Bayada has about 300 offices nationwide—at least a dozen offices in County Lines country—and it and its providers are licensed, certified, competency-tested and background-checked. Bayada offers medical services—wound care, ostomy care, intravenous management, for example—as well as a variety of non-medical services.
Given the number of aging Baby Boomers, it's not surprising that there are many other groups to choose from. Chadds Ford-based Criticare, for example, provides services based on an individualized plan of care, prepared, monitored and updated by a registered nurse in consultation with the client's physician.
Most such service providers, however, are either small—doctors who still make house calls—or are limited by licensure requirements to providing non-medical services.
Non-Medical Service Providers
Non-medical services—light housekeeping, meal preparation, grooming, transportation, shopping, recreation, companionship—are less regulated, and consequently can be provided more widely than medical services. In general, though, medical insurance doesn't cover non-medical services.
One example of this type of organization is Comfort Keepers, based in West Chester and Chadds Ford, consisting of 70 or so caregivers. Karl Muller, its founder, calls the services, "Honey can you …?" Honey can you make a sandwich? Honey can you help me up the stairs? Shopping for groceries, doing laundry, housekeeping, transportation: the list goes on. Bonded and background-checked, these caregivers are trained to respond to "anything that you would ask loved one to do." 24 hours, 7 days a week.
Another example is Angel Companions, with 200 caregivers working out of Devon and more in Valley Forge, Ridley Park, Wilmington and elsewhere. Although the focus is non-medical, the caregivers—all employees, not contractors—are thoroughly screened and background checked.
Visiting Angels, Always Best Care, Seniors Helping Seniors, Senior Helpers and others also provide non-medical services. For seniors and their children, these groups represent the opportunity for independence and peace of mind.
Volunteers
Another option for care is offered by Surrey Services, with locations in Devon, Broomall, Havertown and Media. Founded in 1981 by the late Jeanne LaRouche—deemed a "remarkable woman" by Christi Seidel, Senior Director of Social Impact—Surrey Services relies on its staff of 30 employees, 80 caregivers and over 1000 volunteers to serve more than 6000 individuals.
Fetching groceries, running errands, doing paperwork and transportation are just a small part of what Surrey Services does. They will also partner with others—accountants, nutritionists, lawyers, for example—to help clients. In addition, Surrey's offerings extend to other benefits such as lectures on health, fitness sessions, various classes and clubs. Their member seniors, says Seidel, "don't want to be isolated."
The House Call… Reinvented
Once upon a time—at least 50 years ago, I estimate—doctors regularly made house calls. I know because, as a child, I had to wait in the car while my dad, the doctor, visited his patients. He treated and advised, observing his patients in their home environment. Typically after a visit, my dad left with a snack or a meal—sometimes a whole lasagna—as a thank you.
Today most doctors don't make house calls. Instead numerous services are offered by a range of professionals, delivered in the seniors' homes.
Although this may not be as personal as a visit from your family doctor, these new services offer freedom. Freedom to enjoy the benefits of modern medicine, certainly, but perhaps, more importantly, the freedom to enjoy some independence and the comfort of our own home—at least for a while longer.
For more information about Senior Communities & Services, see the Guide online.
back to top