Happy Hours on the Western Main Line
Your excuse to eat, drink and socialize
One of our favorite things about the Devon Horse Show is not the world-class horses and riders or even the fun-filled Country Fair. It's that when you go, you're right in the heart of the Main Line, with its host of fine eating and drinking places.
Around 4 p.m. most weekdays, generally until about 6 p.m., as the afternoon blends into evening,  an inviting collection of bars, saloons and restaurants within a few miles of Devon will serve you beer, wine, cocktails and food at substantial discounts from their normal prices. It's a great time to step out … and step in!
First, we'll stop at Devon, then head east to Wayne and Radnor, and back west to Berwyn and Malvern.
Devon
Amis Trattoria is right across the street from the Devon Horse Show grounds. For years the site of Waterloo Gardens, the Urban Outfitters' development is now called Devon Yard and is home to Amis Trattoria along with a few other shops and eateries.
Happy Hour at Amis is Monday to Friday, 4 to 6 p.m. Draft beer and wine are $2 off, and you can sip a glass of sangria or an Aperol spritz for $8. Snacks, such as cacio e pepe fries or crispy eggplant chips, are $5, while Shared Bites, such as crispy Brussels sprouts or stracciatella bruschetta, are $8.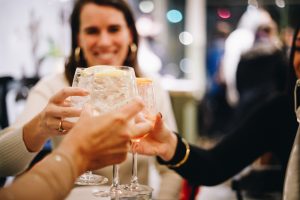 Also in Devon Yard is Pizzeria Vetri, one of its four locations (also in King of Prussia, Rittenhouse Square, Philadelphia's Art Museum area). Happy Hour here is every weekday, 4 to 6 p.m. Enjoy $5 beers, $6 glasses of wine, $7 cocktails (including a house margarita) and three kinds of pizza for $10. And pizza, as the name suggests, is a specialty. Made with dough fermented for four days and baked in 650° ovens. Delicious!
Wayne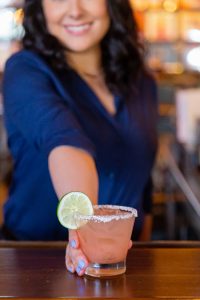 About a mile and a half to the east of Devon is Autograph Brasserie, serving a Happy Hour menu from 4 to 6 p.m. on weekdays. Draft beer is $6, wine is $7, and you can get a Blackberry Smash, Cosmopolitan, Grey Hound or Margarita for $8. Food ranges from $6 for bacon-wrapped dates or truffle Parmesan fries, to $9 for salmon tacos or mussels, to $12 for a burger. Plus, you can order a half dozen oysters for $6.
Continue east another mile or so on Lancaster Pike to White Dog Café, marked by a statue of, yes, a white dog. (There are more, many more, dogs inside.) This is one of four White Dog locations so far (including University City, Haverford, Glen Mills) with a fifth planned for the former Vickers Restaurant location in Exton. On weekdays, from 4 to 6 p.m., there's a long Happy Hour menu — for what they call the "Happiest Hour" — featuring $6 draft beers, $7 glasses of wine, half-priced bottles of wine, $8 selected cocktails, plus red or white sangria. For food, choose from 11 dishes, from fried pickles to mushroom soup to yellowfin tuna tartare, priced from $6 to $12.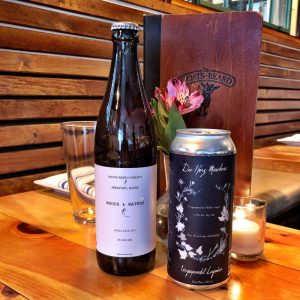 Next, there's Goat's Beard, just off Lancaster Ave. at the main intersection with North Wayne Avenue. At Happy Hour, from 4 to 6 p.m. on weekdays, try the Goat's Beard Alpha Acid Trip, specially brewed by Conshohocken Brewing for $5. For $6, choose Bulleit and Bulleit Rye mixed drinks. And for $7, they will pour you a glass of pinot grigio or pinot noir.
A block north on Wayne Avenue is the Great American Pub, one of three locations in the area (also in Phoenixville and Conshohocken). From 4 to 6 p.m., they serve a pizza or quesadillas for $6, plus beer and wine at $1 to $2 off the regular price.
A landmark on Lancaster Pike, the Wayne Hotel is home to Rosalie, a fine Italian restaurant and bar, where you'll find its "Happiest Hour," 4 to 6 p.m. on weekdays. Draft beer is $5, wine is $6 and cocktails are $7. For food, choose from six apertivo and three pizzas for $7 to $15. On Friday evenings, enjoy live music.
Off the Lancaster Avenue strip and north of Route 202 is Black Powder Tavern, known for its hospitality and great bar. Find draft beer or house wine for $6 and most appetizers for $7, including crispy sprouts, fried pickles, Cajun nachos, bacon-wrapped pretzel dog and beer-baked pretzel sticks, plus $8 for southwest chicken meatballs, and Alsatian flatbread for $9. Happy Hour is 4 to 6 p.m. on weekdays.
Radnor & Villanova
Estia Greek Taverna is just north of Lancaster Avenue and features a later Happy Hour, from 3:30 to 6 p.m. Sunday to Friday with $5 beers, $8 glasses of wine and $10 cocktails. On the food menu are five kinds of seafood — oysters, shrimp, calamari, mussels, salmon tartare—for $10 to $18 — and assorted Greek specialties, like eggplant and zucchini chips, spanakopita and cheese saganaki for $10. If you're really hungry, order chicken or shrimp souvlaki large for $22 or $25.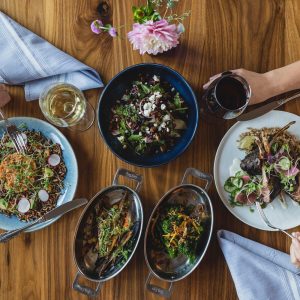 A bit farther north from Lancaster Pike, you'll find 333 Belrose Bar & Grill, a sophisticated place to while away the late afternoon. From 4 to 6 p.m. on weekdays, enjoy six kinds of bar snacks, including a burger, pulled pork, fried chicken, calamari, quesadilla, spring rolls for $9 to $17. You can also get four kinds of chicken wings, five kinds of French fries, three kinds of nacho plates, three kinds of sliders, from $5.50 to $14. With that menu, you can likely skip dinner. It also offers ten cocktails at $11 to $14.
Finally, heading east from Devon, is a recently redone spot on the Villanova campus, The Refectory, now managed by the folks from Ardmore's Ripplewood Whiskey & Craft. Every day, from 4 to 6 p.m., there's Happy Hour, featuring cocktails, including an Augustinian Old Fashioned, for $6 to $10, draft beers for $5 and wine for $7. Snacks —  oysters, sliders, flatbreads, mahi taco, deviled egg — are all $5. Stop by and feel like a student … with more spending power.
Berwyn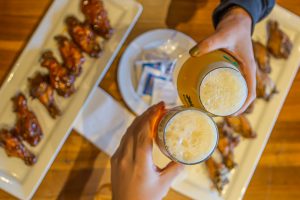 The town of Berwyn is about a mile to the west of the Devon Horse Show grounds. It's home to one of our favorite local breweries, La Cabra Brewing, serving Happy Hour from 4 to 6 p.m., Tuesdays to Fridays. Wings are half-price. And half-pints of its own Hipster Catnip are $4.
Nearby you'll find 30 Main, offering Happy Hour from 5 to 7 p.m., Tuesday to Sunday, meaning including weekends! The menu is extensive but changes often, so check the website.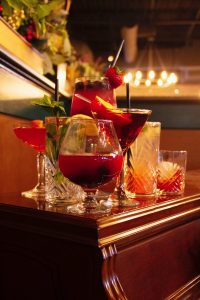 Close to the train station on Lancaster Avenue is Berwyn Tavern. This spot filled with locals of all generations offers Happy Hour, but again, the menu changes often and you need to ask about it when you stop in.
If you're really hungry, try newly opened Will's + Bill's. From 4 to 6 p.m., all week, they serve fondue, wings, lamb meatballs, calamari and burgers plus five other dishes, priced from $6.50 to $9.50, along with oysters, clams and shrimp at $1.50 to $2.25 each. That's in addition to pints of beer for $5, high balls for $6, and glasses of wine, martinis, manhattans or cosmos for $7. A real bargain! You'll have to leave Lancaster Pike, though. It's by Route 202, about two miles to the north.
Malvern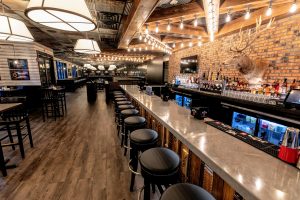 Finally, Malvern. Our first stop is General Warren, a historic inn — the building dates to 1745 — about six miles from the Devon Horse Show. On Tuesday through Friday, from 4 to 5:30 p.m., join them for Happy Hour. Spend the time enjoying draft beers for $4, bottled beers at $2 off, and house wines for $5. Cocktails and mixed drinks are $2 off. Choose from 12 small plates, from snapper soup at $7 to a Malvern dip sandwich at $20. Sit outside on the terrace, if you can.
Stove & Tap, also in Malvern (and West Chester), has a "Tappy Hour" from 4 to 6 p.m., all-week. The food menu changes, but all of its "bites" are priced at $8. Drinks are $6, domestic draft beers are $3, craft draft beers are $5, wine is $4 and well spirits are $6.
Don't get me wrong. The Devon Horse Show is always entertaining and exciting. Yet, in the late afternoon, if you find yourself yearning for something beyond the pizza, burgers and fries at the snack stands, head for one of the many places within just a few miles to whet you whistle and satisfy your appetite.
Where to Find Happy Hours
Amis Trattoria, 138 W. Lancaster Ave., Ste 140, Devon. 610-590-4782.
Pizzeria Vetri, 138 W. Lancaster Ave., Devon. 484-207-6663.
Autograph Brasserie, 503 Lancaster Ave., Wayne. 610-964-2588.
White Dog Café, 200 W. Lancaster Ave., Wayne 610-225-3700.
The Goat's Beard, 103 N. Wayne Ave., Wayne. 484-584-4979.
Great American Pub, 4 N. Wayne Ave., Wayne. 610-964-9535.
Rosalie, 139 East Lancaster Ave., Wayne. 610-977-0600.
Black Powder Tavern, 1164 Valley Forge Rd., Wayne. 610-293-9333.
Estia Greek Taverna, 222 Radnor Chester Rd., Radnor. 484-581-7124.
333 Belrose Bar & Grill, 333 Belrose Ln., Radnor. 610-293-1000.
The Refectory, 222 Radnor Chester Rd., Villanova. 484-581-7124.
La Cabra Brewing, 642 Lancaster Ave., Berwyn. 610-240-7908.
30 Main Bistro, 660 Lancaster Ave., Berwyn. 610-220-2367.
Berwyn Tavern, 625 Lancaster Ave., Berwyn. 610-889-9352.
Will's + Bill's, 324 Swedesford Rd., Berwyn. 484-318-8538.
General Warren, 9 Old Lancaster Rd., Malvern. 610-296-3637.
Stove & Tap, 245 Lancaster Ave., Malvern. 484-450-8890.
back to top