Happy Hours in West Chester, PA
The party is just beginning...
The clock is ticking down. It's been a long day. You're thirsty, hungry. Where can you go?
If you're in West Chester, you're in luck because there are great Happy Hours happening on just about every block of the downtown district. Often you'll find more than one!
Choose from breweries, when you would expect every hour to be a happy hour, to places with bar or pub in their names. Not enough choices? We've got more recommendations at restaurants and other eateries.
Cheers to Happy Hours everywhere!
Breweries
There are three self-proclaimed breweries in town, plus a few other places that brew on site, but those are in the next sections.
Artillery Brewing
This is a small, new-ish brewery on an alley near downtown with a great selection at $2 off its craft beers for Happy Hour. They're "brewed right," says one pleased customer. Also, $2 off appetizers, such as soft pretzels, pulled pork nachos, beer cheese, and hummus. Monday to Friday, 4 to 6. 333 Granite Alley, ArtilleryBrewing.com.
Iron Hill Brewery & Restaurant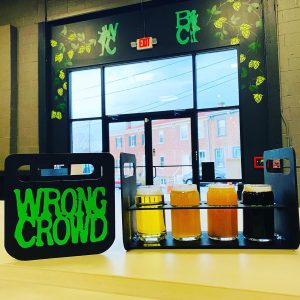 Buffalo chicken eggrolls, quesadillas, Brussels sprouts, $3 sliders, and $9 pizzas, fish tacos or cheeseburgers, it's all good! With $2 off draft beers—they usually have six, like pig iron porter, Philly phavorite, or brambleberry—you'll drink and eat to your heart's content. Monday to Friday, 4 to 6. 3 W. Gay St., IronHillBrewery.com.
Wrong Crowd Beer Company
On the west side of downtown but very accessible, this friendly, spot has good variety for a small craft brewery. It celebrated its one-year anniversary in November. Stop by for Happy Hour on Wednesday and Thursday, from 4 to 6, and on Friday, from 3 to 5, when beers sell for $4. 342 Hannum Ave., WrongCrowdBeer.com.
Places Named Bar or Pub
Granted some of the places in this group may be better known for the great restaurants hosting the Happy Hours, and one is an oyster bar, but we're trying to impose some order on the many, many options for Happy Hour.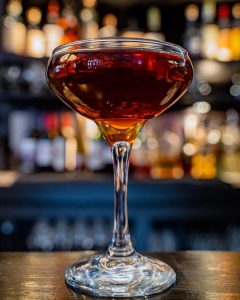 Bar Avalon
On Wednesday, Thursday or Friday, between 4 and 6, you'll get a real treat here. First, the drafts are $5, and wines—chardonnay, cabernet, pinot grigio—are $8. You can also sip sangria for $6. But the real pleasure is the food: marinated olives for $5, meatballs, calamari, fried cauliflower or roasted long hot peppers for $9, penne vodka for $14, or cheeseburger and fries for $15. 116 E. Gay St., AvalonRestaurant.net.
Greystone Oyster Bar
The best oysters in town are served at Greystone and, between 4 and 6, Monday through Friday, they're only $2 each. Choose from a variety of apps—from fries to a cheeseboard. With a beer at $4 and wine at $6, you'll quickly leave the workday behind. 7 N. Church St., GreystoneOysterBarWC.com.
Jitters Sports Bar
Jitters is small, friendly, local and intimate, except on game days. It offers Happy Hour 4:30 to 6:30 every weekday. That's $1 dollar off drafts and well drinks. And, it offers half-off on "appetizer stuff." 146 W. Gay St., Facebook.
Kildare's Irish Pub
Kildare's specializes in loud, especially on game day. Soccer is always on. Rugby, too. The Eagles, Sixers, Flyer, Phillies … There's Happy Hour all week between 4 and 6. No specials on food, but $3 off all drinks. 18 W. Gay St., KildaresPubWC.com.
Mercato Ristorante & Bar
For sophisticated southern Italian fare, step into Mercato. At Happy Hour, Monday to Friday, 4:30 to 6:30, you'll find Miller Lites for $3, drafts for $6, wine for $5 and cocktails average $8. For food, enjoy salads, pizzas, fish tacos, short rib tacos and crostini. 33 W. Market St., MercatoWC.com.
Rams Head Bar & Grill
An American version of a British pub, with Happy Hour on Tuesday through Friday, 5 to 7, relax with draft beer at $2 off, house wines for $5 and martinis for $7. No specials on food but there are daily specials, such as tacos on Tuesday for $8, half-prices for wings on Wednesday, and half-price on all apps on Fridays. 40 E. Market St., RamsHeadBarAndGrill.com.
Ryan's Pub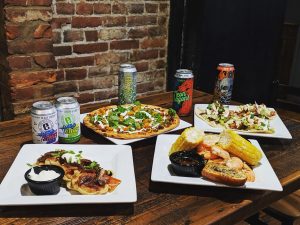 Ryan's Pub is a classic Irish pub, packed on Friday with WCU students. Join the crowd for Happy Hour, Monday to Friday, from 5 to 7. Drafts, cocktails and wine are $1 off. The food menu is on the bar: $5 wings, quesadilla, nachos. 124 W. Gay St., Ryans-Pub.com.
Side Bar & Restaurant
You have to wait until Wednesday for Happy Hour at Side Bar. But then they offer their house wine for $5 and their draft beer for $4, plus a Tito's drink for $5. For now, though, you'll have to pay full price for your food. 10 E. Gay St., SideBarAndRestaurant.com.
More Happy Hours
Yes, some of these places are known as bars, or have cantina, taverna, saloon and taphouse in their names. But we had to split this long list up somehow. So bear with us.
Barnaby's
They don't have a formal Happy Hour at Barnaby's, though special prices run all the time, and there are themes each day. For example, on Taco Tuesday, you can get a Corona for $3. Wednesday is Wing Night along with $3 for Yuengling Lager pints. Thursday, have nachos and $3 Miller Lites. More on Monday, Fridays, weekends. For those who don't want to watch for the magic hour. 15 S. High St., BarnabysWestChester.com.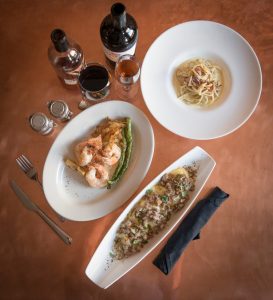 Dolce Zola
Dolce Zola makes it simple—20% off beer, 20% off wine (except bottles), 20% off cocktails, 20% off all their antipasti and insalates including burrata, carpaccio, polenta, whipped ricotta toast, caprese, peperlizia, Caesar salad, and grandma's meatballs. Mmmm! 134 E. Gay St., DolceZola.com.
Más Mexicali Cantina
Thinking of a Mexican beach—Acapulco, Cancun, Puerto Vallarta? Más offers Mexican drafts for $3 and special food from 5 to 7 on weekdays. But Happy Hour can be spread out a bit. For instance, all day every day, $3 gets you a Bud Light, $4 a shot of a margarita, or $5 a tequila sunrise. Try a $4 Modelo all day Monday, $6 for a 24-ounce can all day Wednesday, or $4 all day for a Corona can. Other specials too. 102 E. Market St., MasMexicali.com.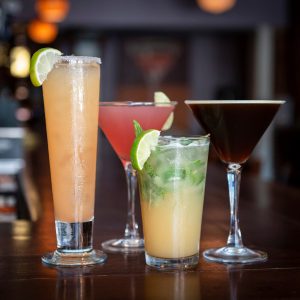 Opa Taverna
The menu and hospitality draw from Greece: cheese saganaki, haloumi, avgalemono, lamb and beef flatbread. You'll pay $10 for select appetizers. From Monday to Thursday, 3 until 6, you can get select cocktails for $8. 40-44 E. Gay St., OpaTaverna.com.
Pietro's Prime
The work day's done and you're ready for a drink, maybe some light piano. Pietro's will treat you right. Enjoy your drink of choice at the beautiful bar, at $1 off. Check out the martini list! And half price on its upscale apps menu, including black & white tuna, Pietro's crab cake or Shanghai calamari. Happy Hour is from 5 to 7, Monday–Friday. Don't miss it! 125 W. Market St., PietrosPrime.com.
Saloon 151
For you laggards, happy hour starts—and ends—a little later here. It lasts from 5 until 7, Monday to Friday. You'll get half-off on their craft drafts. Wine-drinkers pay $5. For hard seltzer, it's $4 for a White Claw or $5 for a High Noon. Flatbreads and seafood bowls—mussels, clams—are half off. The live music is free! 151 W. Gay St., Saloon151.com.
Sedona Taphouse
So you're hankering for the Great Southwest. Aim for Sedona Taphouse between 4 and 6, Monday through Friday. It offers half-price on bottles and cans of beer and $6 for glasses of wine and sangria. Best of all, $7.90 is the price for all its bites: truffle fries, guacamole, goat cheese and bruschetta, mussels, flatbreads and sliders. 44 W. Gay St., Ste. 1, SedonaTaphouse.com.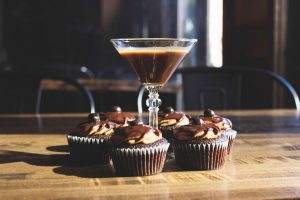 Slow Hand
Meander into Slow Hand between 4 and 6 on any weekday. Order some hush puppies, baked mac 'n' cheese, pigs 'n' blankets, deviled eggs or mussels. The beer is $1 off and the wine is only $5. Take in the low-key ambiance. Relax. It's Happy Hour. 30 N. Church St., SlowHand-WC.com.
Stove & Tap
Nachos, pork belly bao buns, flatbreads, fried cheese curds, mac'n'cheese, fried Brussels sprouts, crispy calamari: they're all $8. Domestic draft beers are only $3. The house red, just $4. All week, from 4 to 6. At 3, you'll be counting the minutes. 158 W. Gay St., StoveAndTap.com.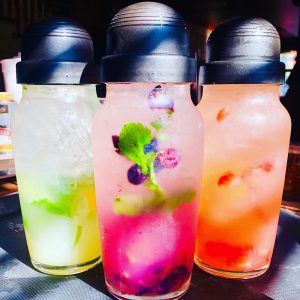 The Social
Step right in! Featuring a wraparound bar, comfortable sofas, music and a friendly attitude, The Social is a great place to relax and enjoy the Southern hospitality. On Wednesday and Thursday, from 4 to 6, and Friday, 3 to 6, enjoy $4 drafts, $4 glasses of wine, and $5 small plates. 117 E. Gay St., TheSocialWC.com.
Split Rail Tavern
Monday through Friday, between 5 and 7, you can experience old-world charm at a discount. For $8, you'll feast on crispy sprouts, a hummus plate, tomato pie, mussels and other select appetizers. Get a glass of pinot grigio or pinot noir for $5. And the select craft drafts are only $5. 15 N. Walnut St., TheSplitRailTavern.com.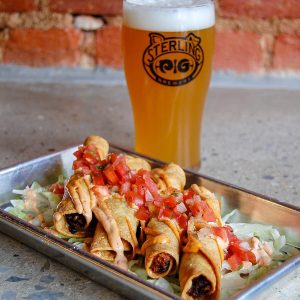 Sterling Pig Public House
Sterling Pig brews all its beer in-house. But since their name isn't brewery, we put them here. Try their IPAs, porters, stouts, pilsners. For Happy Hour, stop by 4 and 6, any weekday. You'll find half-price on select appetizers, like brisket poutine and Texas taquitos. Plus enjoy $2 off glasses of beer and wine. Thirsty? Get $4 off a keg! 113 W. Market St., SterlingPig.com.
To view our map of downtown West Chester dining, click here.
back to top