Going outside. Looking inward.
Kids learn life lessons beyond stewardship of the land.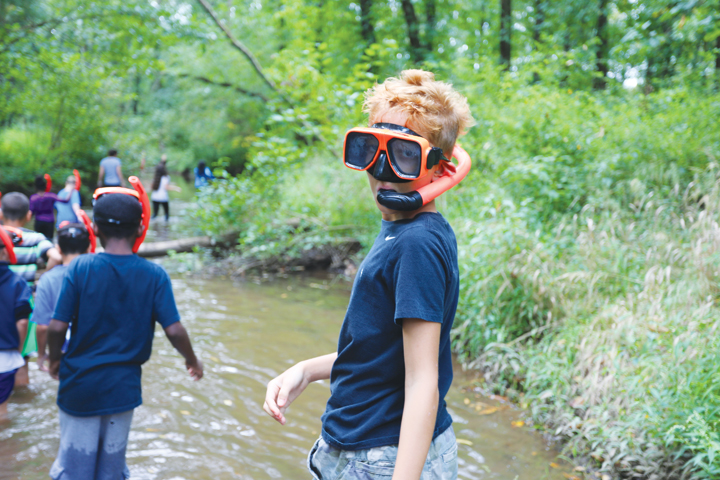 A battered window air-conditioner labors noisily to pump cool air into Bob Steininger's office, a small room in a brick building that was once a Catholic elementary school in Phoenixville. It's been a hot, sticky summer so far.
But Bob uses even the weather as a teachable moment. "I tell these kids, 'If you can handle working outside in 95-degree heat and 100% humidity and stay focused on your project, you can do anything.'"
Bob is the director of Chester County Youth Programs with Trellis for Tomorrow, a nonprofit that creates transformative, real-world opportunities for youth who have faced social and economic disadvantages. Through the lens of sustainability, young people learn to make choices that foster health and well-being for themselves, their communities and the environment.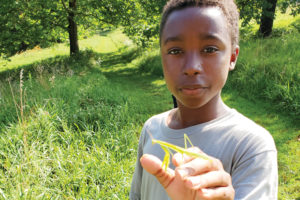 Since 2009, 4,500 kids have been part of Trellis' programs—one of which is still in its infancy but is off to a great start. The Youth Environmental Stewardship (YES) program focuses on creating the next generation of land stewards.*
Supported in part by funds raised through Natural Lands' Campaign for Humans and Nature, a small group of 13- to 17-year-olds work on conservation projects at two of Natural Lands preserves: Binky Lee and Bryn Coed.
Projects in the YES program include planting trees, trail maintenance and construction, invasive species removal, and beautification projects. The program emphasizes conservation and allows participants to explore possible career opportunities in the field.
Connecting people—especially young people—to the outdoors has become an increasingly essential part of Natural Lands' work. "Studies have shown that spending time outdoors increases a child's interest in and care for the environment," says Oliver Bass, president of Natural Lands. "Part of our job is to cultivate the next generation of conservationists. Getting them outside for hands-on experiences has a far greater impact than simply teaching them about the importance of the natural world in a classroom."
Every weekday morning during the six-week program, Bob drives his van around northern Chester County to pick up a dozen youth from Spring City and Phoenixville, then drives them to meet with Natural Lands Preserve Manager Darin Groff. They work for four hours on whatever tasks Bob and Darin have selected.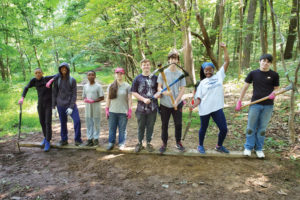 While the students benefit from real-world work experience, Natural Lands' preserves feel the love as well. "Help from the YES kids means my staff can focus on other projects we might not get to otherwise. Our staff is working on a lean budget to manage over 600 acres on these two preserves alone—every bit of help counts," says Gary Gimbert, regional director of preserve stewardship.
Participants must apply to the program, which offers a carrot of a $7.50-an-hour paycheck. But Bob says the kids also join YES to try something new, to have something to do for the summer, to meet people, or—and this really excites him—to learn more about environmental stewardship.
At face value, the YES program looks like many others that offer kids from underserved communities career training and hands-on work experience. But Bob makes each experience on the preserves a metaphor for the real world.
"At the heart of this program, we want to provide young people with a safe place to make mistakes. We provide tools and skills—accountability, time management, problem solving, punctuality, perseverance—that will translate to job success later on."
Bob adds, "It changes the trajectory of their lives."
Natural Lands is dedicated to preserving nature's wonders while creating opportunities for discovery in the outdoors. As the Greater Philadelphia region's oldest and largest land conservation organization, Natural Lands—which is member supported—has preserved more than 125,000 acres, including 44 nature preserves. Some 2.5 million people live within five miles of land under its protection. Land for life, nature for all. NatLands.org.
* Editor's Note: Plans for these programs are evolving along with health and safety protocols for the pandemic.
---
CHALLENGING CHOICES
Natural Lands has also developed a partnership with NorthBay, a leading outdoor education and character development program provider. The result is Powered by Nature—an innovative, outdoor-focused educational experience that helps youth discover the choices they make have the power to transform the planet, their community and themselves.
The program began as a pilot with the Pottstown School District, which serves an economically challenged community, working with students for three consecutive years beginning in fourth grade. In their final year of the program, kids experience a five-day intensive residence at the NorthBay facility in Cecil County, Maryland, where activities focus on environmental investigations and character education. When they return, the students develop a research project to complete at a Natural Lands preserve, their school or a nearby stream.
"Today was awesome," said a fifth-grader at Pottstown Middle School after a trip to Crow's Nest Preserve in Elverson, where students explored French Creek. "We went snorkeling, we saw a lot of little clams and fish, and most of all we were doing team building. This is the best day of my life!"
At the end of each season, YES program participants complete a survey. One question asks, "How did this program change you?" Here are a few of their answers:
"I didn't know how important plants were."
"I look for invasives on my own now."
"I consider how my actions affect the natural world."
"I learned how to push past obstacles."
back to top