Food Towns: West Chester
We Love Local Dining
Andiario
106 W. Gay St., West Chester
484-887-0919 / Andiario.com
What can you say about a restaurant that's at the top of everyone's list? Philly Inquirer's Top 10, Philly Mag's #12, plus accolades from local foodies. Interestingly Chef Anthony Andiario, who was poised to become a national star, used the pandemic to reassess and take a break from his 60k Instagram followers. First he turned to takeout, then to limited $75 prix fixe dinners four nights a week, with changing seasonal menus released each weekend. It's still a celebration of local food, now linked to Baguette Magique's bakery offering surprises—meals of ricotta gnocchetti with oxtail ragu. The narrowed focus includes live-fire cooking, hand-crafted pastas and dishes like beef collar with radicchio and melon. Sign up for email alerts. Now!
Bar Avalon
116 E. Gay St., West Chester
610-436-4100 / AvalonRestaurant.net
(Location in Bryn Mawr)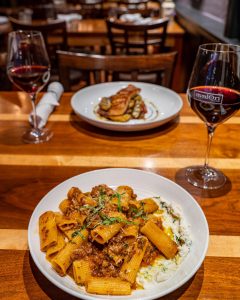 There's never a dull moment in the Bar Avalon kitchen with Chef/owner John Brandt-Lee cooking up trendy and creative ideas to keep customers wowed. Brunch better at Bar AV with their take on a breakfast charcuterie board featuring a Mimosa version (fresh fruit, granola parfait, French toast bites, mini muffins) and the Bloody Mary version (hot sauce, shrimp, cheese-stuffed olives, bacon strips). Or host a party in their newly renovated Bourbon Bar, the perfect space for cocktail and intimate dinners. Stay up to date with all Bar AV's latest creations on their social media pages—fun in themselves! And plan a visit to the newish sister location in Bryn Mawr.
Four Dogs Tavern
1300 W. Strasburg Rd., West Chester
610-692-4367 / TheFourDogsTavern.com
Among quaint homes in historic Marshalltown, you'll find Four Dogs Tavern. While the setting's casual enough to bring your pup, its food is no ordinary pub grub. Savor wild Burgundy snails or mushroom soup with white truffle essence by the fireplace or seasonally outdoors by a fountain flowing over mossy rocks. Try a grilled Reuben with rutabaga sauerkraut. At the classic Chester County bar, kick back with a local draft beer—The Four Dogs Tavern Brew from Stolen Sun in Exton or another from Media or Delco breweries. Walk the grounds and the Marshallton Village Heritage Center to build your appetite for sinfully rich Six-Layer Chocolate Cake. A long-time favorite.
Iron Hill
3 W. Gay St., West Chester
610-738-9600 / IronHillBrewery.com
(Locations in PA, DE and beyond)
We think of Iron Hill as a go-to restaurant in West Chester. It's where we send visitors and go ourselves. It feels like West Chester. Kevin Finn, Mark Edelson and Kevin Davies founded Iron Hill as a craft brewery and scratch kitchen in 1996 and opened their second location in West Chester back in 1998. Now it's hard to think of West Chester without it. Dine on the patio to watch the action on Gay Street or inside by the tall vats and sip a Pig Iron Porter. Choose from an extensive menu—from pub burger to crab cake sandwich, Cajun fettuccine to char-grilled rib eye, from cheesesteak egg roll to Triple Chocolate Hill sundae. You'll always leave happy. And want to return.
Limoncello Ristorante
9 N. Walnut St., West Chester
610-436-6230 / LimoncelloRestaurant.com
(Location in Chester Springs)
Celebrating its 15th anniversary, Limoncello feels like a permanent part of the local dining scene, with its authentic Italian food and hospitality, now managed by the second generation of Mingrinos, with a newer location in Chester Springs. Pivoting to more delivery, takeout and curbside business, Limoncello's Family Style Takeout meals (4 course feed 5 for $65) and Sicilian pizzas are legendary. All the classics—arancini to cannoli, plus lobster ravioli, chicken parm and saltimbocca, too. Not to be missed, the signature Chicken Limoncello (asparagus, crab, white sauce), Limoncello cake (soaked in the liqueur) and the limoncello recipe on the website (takes 28 days). We're yearning for the return of the lunch buffet.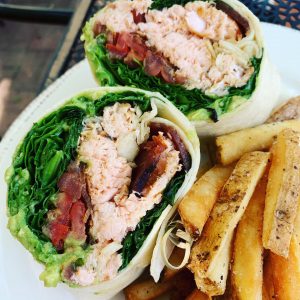 Mae's West Chester
39 W. Gay St., West Chester
484-887-0062 / MaesWC.com
Josh Taggart, a highly acclaimed chef (once winning Esquire's Best New Restaurant of the Year), opened his family-friendly, farm-to-table restaurant named for his mother and daughter in, aptly, May 2020 with wife Erin. The seasonal menu is ever-changing and always tempting, with sandwiches a special favorite—a Cuban on ciabatta and seared salmon wrap with bacon, cabbage and green goddess dressing. Entrees, both sophisticated and satisfying, include braised short ribs with sweet potato puree, roasted carrots and red wine jus and chicken breast with herb stuffing, caramelized shallots and garlic pickled pepper sauce. Their cooler offers to-go items and you'll find surprises like chocolate bombs there, too. May they become a West Chester mainstay!
Más Mexicali Cantina
102 E. Market St., West Chester
610-918-6280 / MasMexicali.com
Three floors celebrating Mexico, with well over 120 tequilas and major margaritas. It's mas in every way. During the warm months, the rooftop is where you'll relax with the best view in town to watch the sunset and sip a pitcher of sangria. Start with wings and honey chipotle or nachos and fresh guac. The burritos, chimichangas, enchiladas, ensaladas, tacos and fajitas are all muy bueno and muy grande, seasoned with just the right amount of chili to light your fire. Their Taco Tuesdays add a side of trivia to the fun. So grab a Corona, Modelo or something wet to balance the heat and start the countdown to Cinco de Mayo.
Mercato Ristorante & Bar
33 W. Market St., West Chester
610-701-6326 / MercatoWC.com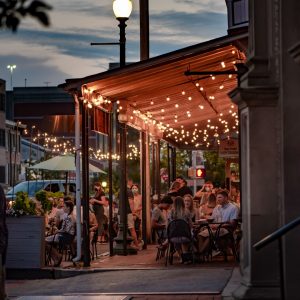 "Born in Italy, served in West Chester," says Mercato Ristorante as they offer up southern Italian cuisine, from brick-oven pizzas to handmade pastas. Dine inside the sleek space or brave the elements on their heated patio under string lights. We love the specialty pizzas, like the Mercato, topped with sweet peas, pork belly, caramelized onions, buffalo mozzarella, organic egg and a drizzle of truffle oil. Or choose pasta dishes, including pappardelle Bolognese with wide fettuccini, pork and beef ragu and whipped ricotta. Pair your meal with a cocktail (Mercato Bellini, pomegranate martini, blood orange Cosmo) and enjoy a bit of Italy right here.
Miss Winnie's Jamaican Jerk
211 E. Market St., West Chester
484-266-0508 / MissWinnies.com
Y' say you want some Jamaican, mon? There's a little place called Miss Winnies on the east side of town where you can get jerk pork, jerk chicken, jerk wings or even beef oxtail stew or curried goat on some weekends. In short, very authentic, filled with the earthy spices of the Caribbean. They offer patties, jicama slaw, plantains, rice and rum or guava swirl cake that will move you and remind you of the rhythms of the islands. Chefs Bert and Nick Johnston (Bert's son) run the kitchen. One taste and you know Bert learned to cook these dishes from his mother and with love.
Opa Taverna
40 E. Gay St., West Chester
610-696-4100 / OpaTaverna.com
If you're looking to stay true to a Mediterranean diet, then head for the Greek restaurant so popular that it outgrew its small space a few years back. Opa Taverna offers a broad selection of expected street food options—kababs, gyros—plus substantial entrees like lamb chops and grilled fresh fish. The Opa chips are a must—crispy zucchini and eggplant chips with tzatziki—as are the octopus and haloumi. It's all there—from souvlaki to saganaki to spanakopita. Order a bottle of Greek wine and pretend to be half way around the world. Just remember to save room for the baklava.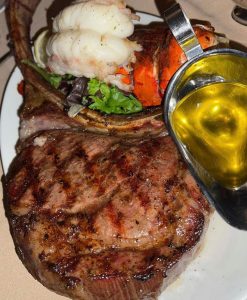 Pietro's Prime Steakhouse & Martini Bar
125 W. Market St., West Chester
484-760-6100 / PietrosPrime.com
The best steak—a 16-ounce New York strip grilled to perfection, served rare—after a gloriously cold Bombay martini, buffalo fried oyster appetizers, Kennett mushroom soup, caramelized onions and au gratin potatoes on the side, followed by a creamy slice of cherry ricotta cheese cake. The piano tinkles lightly; there's live music three nights a week. We can't think of finer dining. Eating light? Then the fresh prime steak salad is for you. Off red meat? There's plenty of seafood and chicken on the menu. Just a few reasons why co-owner Marisa Giunta's family has served the community well for over 80 years.
Roots Café
133 E. Gay St., West Chester
610-455-0100 / RootsCafeWC.com
Wend your way through the charming dining rooms of Roots Café to the back door where a colorful flower-painted wall announces your arrival at the garden. Sunlight through the leaves beckons hungry breakfast and lunch customers to tables and chairs near a small bubbling fountain. On chilly days, stay indoors at the warm wooden tables. Indoors or out, the friendly smiles, congenial atmosphere and scrumptious breakfast burritos, Belgian waffles, beet salads and Roots Hot Chicken always delight us (dinner servers Thursday–Saturday). Morning or afternoon, the Mimosa or Bloody Mary cocktails make a lazy or crazy day brighter.
The Original Spence Café
131 N. High St., West Chester
610-918-1272 / Spence.cafe
The fish on the sign may prompt you to order seafood—baked oysters Spence (spinach, bacon, Pernod), seared halibut, the cioppino—but all parts of the menu display the experience found in the kitchen. Chef Andy Patten does it all and does it well. Ask anyone who's tucked into his braised short ribs. There's consistent quality from this BYOB that chooses to focus on the food, as each well-presented plate offers a balance of flavors, textures and colors complementing the entree—no upselling side dishes here. The chef presents the perfect saffron risotto, Yukon gold mashed potatoes or wild rice pilaf to accompany your main course. A complete pleasure with every forkful.
Teca Italian Restaurant
38 E. Gay St., West Chester
610-738-8244 / TecaRestaurants.com
(Location in Newtown Square)
Merging the meanings of pinacoteca (panini bar) and enoteca (wine bar), Teca combines delicious Italian small plates and an award-wining wine list, for a must-go dining spot in downtown West Chester. The bar is eye-catching with multi-colored tiles and a striking overhead lighting fixture. Taking inspiration from all regions of Italy, Teca serves authentic entrees like spaghetti all'Amatriciana flavored with pancetta and caramelized onion and pork Milanese with baby arugula, lemon estate olive oil and shaved Parmigiano. And dinner isn't complete without a selection from their extensive wine list, selected specifically to complement every dish.
Two Birds Café
653 Downingtown Pike, West Chester
610-222-6200 / TwoBirdsCafeWC.com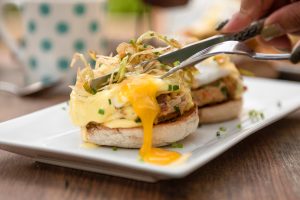 The short version: Two Birds Café = 5 stars, even from notoriously picky Yelpers. Longer version: This cozy neighborhood spot on the outskirts of West Chester specializes in crowd-pleasing, homey, seasonal breakfast, brunch and lunch. Husband and wife, Justin and Jess, blend their talents for cooking and baking, letting you choose to eat healthy or not. Regulars recommend ordering the cinnamon rolls immediately, then leisurely savoring the options: toasts (avo, beet, salmon), plates (burrito, pancakes), omelets (brisket, Greek), Benedicts (classic, Cali) for breakfast, plus greens, grass-fed burgers, buttermilk fried chicken and more for lunch. Enjoy from 7:30 to 2, with breakfast served all day. We're in love!
back to top