Food Towns: Phoenixville
We Love Local Dining
Avlós
258 Bridge St., Phoenixville
610-455-4110 / AvlosGr.com
At a pretty blue-and-white sign on Phoenixville's Bridge Street, discover Avlós. The two-year-young restaurant serves superb home-cooked Greek dishes on sidewalk tables decorated with succulents bearing messages including "Peace" and "Relaxation" written in Greek, and indoors on white tablecloths by a red brick wall adorned with pretty scenes of Greece. On warm evenings, dive into the octopus lauded by noted food critic Craig Laban. In winter, order cumin-scented meatballs or lamb chops. All year around, give in and ask for a bucket of tzatziki and a Mount Olympus-sized order of fresh pita—it's that good.
Bistro on Bridge
208-212 Bridge St., Phoenixville
610-935-7141 / BistroOnBridge.com
Grab stools by a window at Bistro on Bridge to watch Phoenixville's outdoor excitement while chowing down cheesesteak eggs rolls and double onion cheddar burgers. Imbibe Wolfe's Neck IPA, sweet Chocolate Milk Stout or bourbon specially selected for the Bistro. Enjoy Southwest salads with blackberry margaritas or pear martinis. For more fun and games, climb the steps—past the tap handle-chandelier—to second-floor picnic tables by the rooftop's VW van. Find live music, late night snacks and drinks at a "beer lover's paradise," as one fan put it. On Sundays, brunch on Belgian waffles and mimosas. There's so much to love here.
Great American Pub
148 Bridge St., Phoenixville
610-917-3333 / TheGreatAmericanPub.com
(Locations in Wayne and Conshohocken)
A Bridge Street landmark, the Great American Pub is a one of three family-owned restaurants, this one in the historic Columbia Hotel. We're big fans of the friendly, welcoming outdoor spaces—both the porch and side patio—along with the gaslight bar and cozy dining rooms. The versatile, affordable menu is stuffed with vegan, GF and meat-lovers options. Enjoy bar food classics—wings, fried pickles, giant pretzels, quesadillas—along with mesquite barbeque ribs and smoked brisket served many ways, including over fries. And come for the fun—open mic comedy, bingo, quizzo, karaoke, corn hole tournaments or whatever will engage the community.
Steel City Coffeehouse & Brewery
203 Bridge St., Phoenixville
484-924-8425 / SteelCityCoffeehouse.com
Laura Vernola and Ed Simpson took over the coffeehouse—now styled as a café, brewery and listening room—in 2016. Since then, it's become a haven for local musicians, with performances scheduled, generally on Saturday nights. Steel City's simple but excellent food is available at breakfast, lunch and, on Thursday open mic night, dinner. They serve eggs, sandwiches, flatbreads, muffins and cookies but watch for the specials like spicy Thai peanut noodles. The small brewery features Steel Mill Stout, plus there's Maple Springs wine and New Liberty Distillery liquor. A community gathering spot, seven days a week.
Stone House Grille
1300 Hares Hill Rd., Kimberton
610-933-1147 / StoneHouseGrillePA.com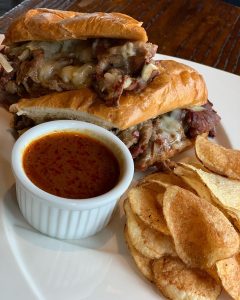 A neighborhood gem in the crossroads town of Kimberton, Stone House Grille is a self-described "groovy vibe American restaurant" with tempting specials, live music and seasonal beer garden. The main source of beer here (previously BYOB) is Hares Hill Brewery, named for the restaurant's address. There's brunch, the Happiest Hour (starts at 2 on Saturdays, at 4 other days), and a standard menu of burgers, tacos and grits. It's the specials, and organically and locally sourced ingredients, that make the pilgrimage worthwhile: Ba-Boom pork chop with oyster mushrooms and savory brown butter, short rib nachos with shrimp grits, beef tips stew with lemon whipped mashed potatoes. Go before it's discovered.
back to top