Food Towns: Media
We Love Local Dining
Azie
217 W. State St., Media
610-566-4750 / Azie-Restaurant.com
(Location in Villanova)
Step into a world transformed. Lights, mirrors, lacquer, glass. You'll feel a bit hipper when you enter. The three-chef team—Jose Villanueva, Akihiko Takeshima San, Ken Dumrongkitmun—offers a menu that's decidedly Asian—sushi, sashimi, nigiri, tempura, with global influences. So many choices—from classic and signature sushi rolls (try the Azie, New Philly or TNT), rice and noodles, main courses (crispy duck, kobe beef burger), to poke bowls and tempura cauliflower bowl. Specialty and signature cocktails or draft and bottled beers are best enjoyed on the rooftop deck, in season of course, as you take in the view of State Street.
Brick & Brew
26 W. State St., Media
484-443-8441 / BrickNBrewPub.com
(Locations in Havertown and Malvern)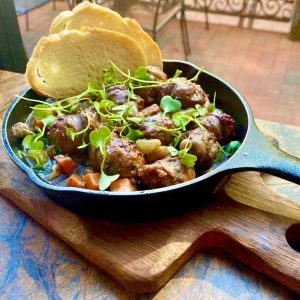 The Media location was the second of the group of B&Bs, after Havertown and before Malvern. Each place has a distinctive vibe, matching its hometown, like the cozy feel in Media's location in "Everybody's Hometown." A tempting beer list is on tap, including Troegs' Sunshine Pils and Cape May IPA Nitro, along with fun cocktails (Darby Road). The apps—stuffed pineapple with pulled pork, Delco barbecue sauce and avocado salsa—and upscale bar food are the reasons to go. Grilled octopus salad, fried pickles, pulled pork sandwich, belly pork burnt ends, short rib pizza, will grab and fully satisfy. Maybe Mare of Easttown would have been happier had she dropped in…
Margaret Kuo's Kitchen
1109 W. Baltimore Pk, Ste. A, Media
610-891-8880 / MargaretKuosKitchen.com
(Location in Wayne)
Asian food fans are familiar with Margaret Kuo. Starting with the Peking at Granite Run Mall in 1974, and adding locations in Wayne, Media, Malvern and the Lancaster Farmer's Market, her restaurants won numerous awards: from the Wine Spectator, Zagat's, Philly Mag and others. But although some locations were sold or closed, last year Margaret Kuo's Kitchen at the Promenade at Granite Run opened. Master Chefs Su Lin and Sean Wei, both long-time veterans with Kuo, were in command. The aroma and taste of Peking duck, mu shu pork, cumin sauteed lamb and hundreds of other Szechuan and Cantonese dishes sang from the menu. We're delighted she's back in Media.
Pinocchio's Restaurant & Beer Garden To Go
131 E. Baltimore Ave., Media
610-566-7767 / PinPizza.com
Since 1955 Pinocchio's has been a family-friendly destination as well as Delco's first pizzeria and first bottle shop, now run by its third generation. And it's as a bottle shop that its popularity grew, drawing beer fans to talk brews, mix and match six-packs, and fill growlers and crowlers from 25 rotating taps. Boasting 1,000 varieties of beer, with 200 coming from craft or international breweries, this is indeed a beer mecca. They get new beers in every weekday, so stop in and see what there is to discover in the long line of display cases. A rainbow of bottles and cans to delight beer nerds and new fans alike.
The Towne House
117 Veterans Sq., Media
484-445-2041 / TowneHousePA.com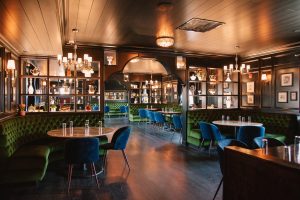 All Delco was relieved when the iconic D'Ignazio's Town House, site of 65 years' of meals and memories, reopened under new management in late 2020. Diners have gotten to know Town House 2.0 and found their favorites among the five reimagined spaces, giving raves for the décor and ambiance: Idlewild's outdoor courtyard with light fare and summer drinks, Shebeen's Irish pub with 300+ whiskeys, Colony Club's sophisticated velvet lounge, Towne House's farm-to-table update, and Towne Hall's event space with stage. Food and drink are properly themed for each space, with a clear nod to Irish fare—Irish breakfast to traditional fish & chips.
back to top