Food Towns: Malvern
We Love Local Dining
Classic Diner
352 Lancaster Ave., Malvern
610-725-0515 / TheClassicDinerPA.com
Who doesn't love food from an iconic diner? At Malvern's cozy, upscale Classic Diner, plates are loaded with your favorite brunch foods with creative twists and seemingly infinite scrumptious choices. Add apple sausage to egg platters, or deliciously thick smoked salmon slices and heaps of mushrooms to egg and cheese sandwiches. Ask for tomatoes—or not—on avocado toast with chia seeds and sprouts on multi-grain bread. Indulge in the chia pudding parfait with vanilla, maple, berries, pears, nuts and more. Try delivery, pick up or dine in at booths and counters looking out sunny windows or into the servers' galley.
Dixie Picnic
215 Lancaster Ave., Malvern
484-320-8024 / DixiePicnic.com
Dixie Picnic is still serving up down-home comfort food and—as its sign says—sunshine, even when it's cloudy. Whether you're eating in or taking out, the smell of lip-smacking, Southern family cooking greets you when you open the door. Known and loved for weekday boxed lunches and "upcakes" (upside-down cupcakes with more surfaces for frosting) slathered in sweet buttercream icing, the restaurant also offers salty Smithfield ham biscuits, pimento cheese sandwiches with ham and cucumbers, pulled pork with Georgia barbecue sauce, caramel applesauce, deviled eggs and soups from scratch when the weather turns cold. Bette, Bucky and Mama—kin whose original recipes are used today—would be proud.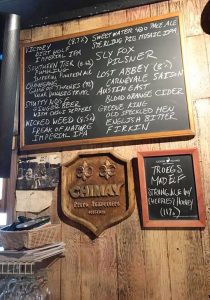 The Flying Pig Saloon
121 E. King St., Malvern
610-578-9208 / Facebook.com/TheFlyingPigSaloon
Looking for a place "where everybody knows your name…"? We found one on King Street in Malvern. If you haven't been, make a resolution to visit The Flying Pig to experience the hip, cozy atmosphere where 20-somethings and 60+-somethings hang out together and rub elbows at the bar that harkens back to a small town pub. Sip a craft beer from their stellar selection (some hard-to-find surprises), or have an old-fashioned cocktail. Then tuck into their surprisingly good bar comfort food and specials, like pork belly kabobs. Enjoy live music and a collection of pigs decorating the interior.
General Warren
9 Old Lancaster Rd., Malvern
610-296-3637 / GeneralWarren.com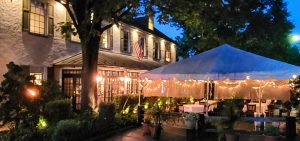 You have to look back to 1745 for the origins of the Inne, which became the General Warren Tavern in 1825, named after Dr. Joseph Warren, the first American general killed in the Revolution. As a stage coach stop, post office, temperance hotel and nursing home, it survived until the 1950s, when it again opened as a bar and inn. Since 1984, it's been a restaurant, one of the finest in Chester County, offering 275 years of hospitality. Dine in the tavern or restaurant, on patio or terrace—it's all white-table-cloth excellence. Proprietor Patrick Byrne makes sure every detail is perfect, from your Old Fashioned at the bar to your beef Wellington at your table. Whether it's a wedding, anniversary dinner or Wednesday night out, every visit is memorable and why we love it.
Restaurant Alba
7 W. King St., Malvern
610-644-4009 / RestaurantAlba.com
The best restaurants evolve with the times, and Restaurant Alba has done just that. Starting in 2005 as a small BYOB serving dinner near the train station, it's grown to adding lunch service along with a well-curated wine list highlighting Italian wines. Adjusting to recent conditions, its always hyper-local menu (think arancini with Birchrun Hills cheese and Chester County honey) has turned more rustic, featuring homier dishes. Throughout the years the focus has remained on food cooked on the wood-fired grill and handmade pastas—grilled bruschette topped with burrata, grilled grass-fed flank steak and hand-cut tagliatelle. They've earned their three bells from The Inquirer's food critic.
Tonino's Pizza & Pasta Co.
235 Lancaster Ave., Malvern
610-240-9566 / ToninosPizzaAndPasta.com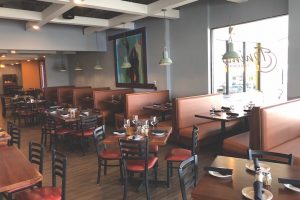 The Sotto family's 40+ years of hospitality experience creates your fulsome dining experience at Tonino's. Some mistake it for a mere pizza joint, in part because the Neopolitan pies, lined up as you enter, are a major draw—thin, crispy-crust goodness, with gourmet varieties, a 30-inch option and Granma's square pie bring in those searching for pizza perfection. But there's so much more at this BYOB with a private room in the back—fresh semolina house-made pasta, eggplant stuffed ravioli, seafood specials like branzino, plus chicken and veal Italian classics of marsala, piccata, parmigiana, pontevecchio. Come for the pizza but come back for the pasta and seafood.
back to top