Food Towns: Kennett Square
We Love Local Dining
Byrsa Bistro
127 E. State St., Kennett Square
610-444-5050 / Kennett.ByrsaBistro.com
(Location in Glen Mills; opening in West Chester)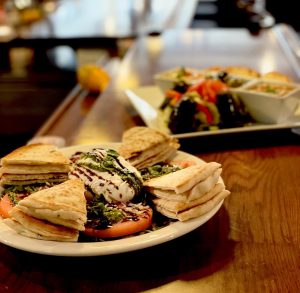 Locals cheered Byrsa Bistro's 2020 return to Kennett, bringing its savory western Mediterranean menu, spanning Spain, Morocco, Italy, Tunisia and more. Its been a regular among the outdoor dining spots on State Street, serving up fresh, healthful dishes like paella, lamb shank and branzino along with its popular Mediterranean sampler (hummus, veggie dip, olives, stuffed grape leaves) and flatbreads. Owner Ahmed Chraga is a welcoming presence here and at the Glen Mills location in the historic train station. Fans should check out the new Byrsa Pizza location on Street Road in West Chester.
La Peña Mexicana
609 W. Cypress St., Kennett Square
610-925-2651
What it lacks in ambiance, La Peña more than makes up for in authenticity and affordability.
For 15 years, this humble one-story striped building painted the colors of the Mexican flag has been the site of great eat-in and take-out delights attracting the attention of no less than the Inquirer's Craig LaBan, who included it in his 2017 Best of the 'Burbs. Whether you go for LaBan's rec of a flaky smoked pork chop chimichanga, the owner's fave of green chili enchilada with chicken, or the popular taco al pastor, you'll find your perfect pick among the wide range of options. Simple food, well prepared, in generous portions. Love it!
La Verona
114 E. State St., Kennett Square
610-444-2244 / LaVeronaPA.com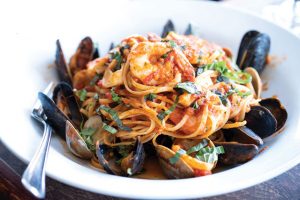 If northern Italian food is your passion, La Verona has you covered here at home. Owner/general manager Sam Mavraj makes you feel like a special guest the minute you open La Verona's front doors with beveled glass windows. Chef/co-owner Jack Mavraj ensures your taste buds get the royal treatment as you dine on grilled octopus under the stars for date night or sample gluten-free pasta inside for a weekday lunch. From the moment you pick up your sensational thin crust Mediterranean pizza—topped with spinach, tomatoes, feta and olives—at the gleaming wood bar for a late evening snack, you're planning your return.
Lily Asian Cuisine Sushi & Grill
104 W. State St., Kennett Square
610-925-3700 / LilySushiAndGrill.com
Peek into the white-trimmed arched windows of Lily Sushi on State Street. Glowing Asian lanterns and ceiling twinkle lights draw you into the simple, elegant dining room where wooden tables create a warm ambiance. The many diners and take-out orders are a testament to the great Chinese, Thai and Japanese dishes the restaurant has served for ten years. Try seafood Tom Yum soup, Singapore thin rice noodles, chicken teriyaki or a brilliant ahi tuna tower with layers of crunchy spicy tuna, crabmeat, avocado, sushi, rice and caviar. Here's wishing them another ten year's of rolling out sushi with great names like Angry Dragon and Kiss of Fire.
Talula's Table
102 W. State St., Kennett Square
610-444-8255 / TalulasTable.com
By now, everyone is well versed on the transcendent experience of super-local dining at the Farm House Table or smaller Nook ($115/person, 8 courses, BYOB). Drool over the seasonal menu posted on social media. Yet before the artisanal destination dining experience unfolds in the evening, the gourmet market serves up seasonal, homemade specialty foods for Sunday supper or take out. Along with your lemon-lavender scones, spiced salts and European-style butter in the market, pick up entrees like perfect pot roast, shrimp & grits, Kennett mushroom risotto. Or order Sunday dinner-to-go (3 composed courses, $28/person) and enjoy meals like Mastering the Art of French Eating, with coq au vin.
Verbena BYOB
102 E. State St., Kennett Square
484-732-7932 / VerbenaBYOB.com
Open Verbena's door to unparalleled culinary adventures. Each week's menu is new—incorporating fine foods that local purveyors bring to the kitchen. Every course brought to the table is inventive, beautiful and exquisite to taste. Start with an amuse bouche—creamy, aromatic potato truffle mousse one evening, another day silky winter soup. Continue with colorful bib lettuce salads with green beans and Oxford oranges. Savor flavors of beets and brioche with jalapeño and black salt. Relish salmon in vodka and tea, or rib eye steak. Put down your dessert spoon after bowls of berries with Chantilly cream to talk with Chef Scott Morozin. Perfection.
back to top