Food News
A few of our favorite things to share this month about local food and drink
Pomegranate Luck.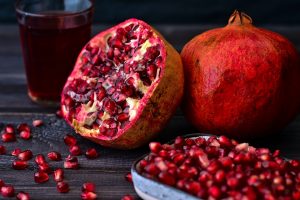 Featured in countless Greek and Roman myths, pomegranates have long represented the divine and been linked with good fortune—Greeks smashed the seed for luck during New Year's celebrations. Smashing seeds may get messy, so try using pomegranates in New Year's good-luck cocktails. Pomegranate juice (fresh or bottled) can be the base for a tart cosmo or bubbly mimosa, with a few seeds added for luck. Bring the kiddos luck with pomegranate juice and OJ for something nonalcoholic.
Winter Ice.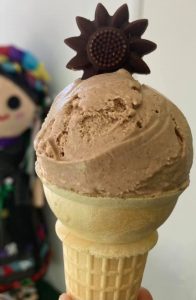 Sub-freezing temps won't stop those yearning for an icy treat. Satisfy your cravings at Oxford's La Lupita Ice Cream Shop, newly opened and family run by Omar Sanchez and his parents, and named after Oman's grandmother who loved ice cream. Defy the chill and choose from more than 20 flavors, including a brand new hot chocolate option. Pick your usual or something exotic, like gansito (Mexican snack cake) or mamey (Mexican-Caribbean fruit). Open year round, 7 days a week. 417 Market St.
New Slice.
A piece of New York is coming hot out of the brick oven to West Chester with toasty thin-crust goodness. Pizza West Chester is a one-man show bringing thin-slice style pie in plain or pepperoni. Perfecting one craft and bringing back traditional pizza making, this pizza parlor currently serves up pizzas in store, cash only, with no phone orders. $4/plain slice, $20/plain pie. Follow on Instagram for details, @PizzaWestChester. 136 E. Market St. PizzaWestChester.com.
Choo Choo Chocolate.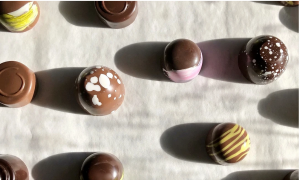 A chocolate production kitchen at the Malvern train station, who knew? Valentine Chocolate Co. has created confections—caramel, chia, passionfruit and more in pieces, truffles and mendiants—since 2018. A former pastry chef (Sweet Daddy's plus Fearless Restaurant Group), Sandra Valentine now turns out luxury treats using high-end French chocolate (think Valrhona). Available at select farmers markets, Craft and Mercantile events and Malvern's station, where you can also grab coffee and a pastry. 13 W. King St. ValentineChocolateCo.com.
Duck, Duck … Goose?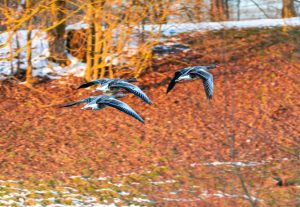 The most popular main dish for Christmas? In southeastern PA, goose is the most popular holiday entrée, with turkey as #1 to the west and roast pork to the north. Whole Foods Market sells goose for those who didn't bag their holiday meal during goose hunting season. Better yet, check out local farms for a fresh bird, including Canter Hill Farm in Malvern and Lindenhof Farm in Kirkland. CanterHillFarm.org. LindenHofFarm.com.
back to top