Getting Beyond COVID With the Help of Senior Communities
Moving Beyond Simple Window Visits
The holidays are just around the corner. Families—sons and daughters, nieces and nephews, cousins and others—are planning get-togethers, Thanksgiving meals, Christmas gift-giving. But what about mom and dad, aunts and uncles, grandmom and grandpop?
Many are safe in their senior communities. But how are they doing? They're less mobile and likely less social than they once were. And the pandemic has made them even less so. Are they being included in our family plans? Can they be? How?
Beyond Window Visits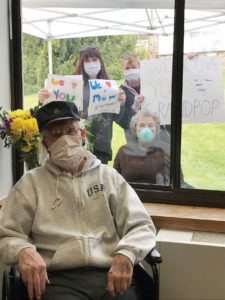 When lockdown began in March, senior care and retirement communities started opening up with "window visits." Safely separated by a window, family and friends were restricted to visiting while in outside areas, while mom and pop were limited to staying inside.
As we learned more about COVID, in-person visits became permissible, with safeguards, of course. Monica Knauss, Community Relation Coordinator, says that Dunwoody Village in Newtown Square made it a priority to provide opportunities for residents and family/friends to visit. Staff stepped up to assist with the visits, "taking the resident to designated visitation area, checking in the family, remaining in the vicinity during the visit in the event of questions or concerns," says Knauss.
Usually, the visitor's attention and kindness were all the resident required. Knauss gives this example, "The daughter of one resident brought a box full of fall pins (brooches) for her mom to choose from, and they spent time going through those."
In additon, Dunwoody found that technology—Zoom, Facetime, Skype, iPads—offered more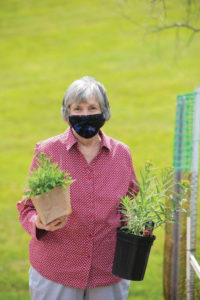 possibilities. Staff began to coordinate Zoom or Facetime visits, providing tutorials and equipment as necessary. "It's been a big hit, and it's fun to see the level of confidence that many of the residents have gained," she says.
Other communities, like Maris Grove in Glen Mills, for example, also assisted residents with FaceTime, Skype and Zoom, but they've mixed it with more pastoral and more playful pursuits. The community has taken advantage of its 87-acre grounds, where residents and their guests enjoy hiking paths and nature trails, gardening, bocce ball, fitness center, salon, woodshop and "much, much more."
Family Time
The Friends Home in Kennett has always emphasized family events: this year even more so.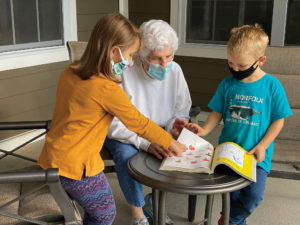 Dot Folz, its Admissions and Marketing Director, says its Montessori Inspired Life Program has been "a Godsend for families." Its staff gathered "board games, puzzles and picture recognition items for interaction between family and resident" and encouraged families "to bring in pictures to elicit memories during the visit," she says. "Even great-grandkids who have resisted visiting have found playing a game with Great-grandmom was fun!" adds Folz.
And, at The Hickman in downtown West Chester, Jennifer Harris, Director of Admission and Community Relations, has remained in close communication with all their families. As of our press date, the community was preparing a new program, where "families will be able to see their loved ones' participation at community programs, photos of their resident, menus, outings, schedule transportation and salon appointments," she says.
Staying for Lunch or Dinner…Or More
Sharing a meal often brings families together. Friends Home in Kennett notes that cookies and candy are popular when a resident is not on a restricted diet. On the other hand, during COVID, families have been "creative at times bringing a meal for the resident and one for themselves. They then 'share' a meal while six feet apart. It's a substitution for pre-COVID when families join them for a meal in our dining room," says Folz.
Aside from safety precautions, to which we're all becoming accustomed, nothing extravagant is demanded. "The brother of one of our residents would drop off a doughnut and coffee from Dunkin Donuts every morning, and would include a treat for the receptionist as well," says Knauss at Dunwoody.
As the saying goes, it's the thought that counts. At The Hickman, "some just drop by on their lunch break from work, others stop for dinner and others hang out all day."
Anyone for a Sleep-Over?
Sometimes a visit becomes more. For example, with The Hickman's encouragement, when out-of-town visitors arrive, "sometimes visitors will stay overnight in their loved one's room or stay in one of our furnished empty rooms." Families join in for meals, activities and trips. Sometimes they lead activities for those who may not have family close by.
Folz, at the Friends Home, has seen "everything from walking into Kennett—we are paces away from restaurants—to … a week at the beach."
Technology is also taking seniors "on the road." Malvern's Echo Lake is proud of a program it's deployed, called iN2L (for "it's Never Too Late), which enables residents "to take virtual trips, cycling or driving beautiful landscapes. Everyone is enjoying the experience of taking to the open road, virtually," says Executive Director Kathy Ardekani.
Most care center residents are not permitted off-campus but independent residents do "come and go." At Dunwoody, they're encouraged "to limit their shopping and in-person dining while out and about." But some have homes at the shore or in the Poconos and have traveled there, either for short visits or for extended stays. Others spend time with family and friends off-campus.
COVID is, however, always a concern. If residents have been in a "hot" state (as defined by the PA Department of Health), they're asked to "soft quarantine" for seven days when they return.
Family Extended
At the Friends Home in Kennett, the notion of "family" is practically boundless. Most visitors come with another family member "or even several, such as grandchildren, or great-grands," says Folz. She cites one resident who "has been faithfully visited by friends from her college cohort …[and another] by friends who met when they all taught together."
Harris at the Hickman says, "We're one big family. We keep the residents engaged and as active as they would like to be."
For many of us, 2020 is a year we'd rather forget. But it's also a year to remember. For those of us lucky enough to have a roof over our heads, food on our plates, and relatives and friends to share our good fortune, whether in our homes or at theirs, we can feel thankful that our senior communities are taking care.
back to top