Events Blog—Sept. 12–18
This weekend get ready for dining under the stars, BBQ, cow bingo and much more!
For more events, check out the Events Page on this website.
Devon Fall Classic—Sept. 12–15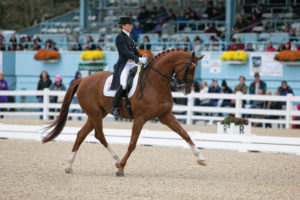 Enjoy a weekend jam-packed with family fun at the Devon Fall Classic. Watch horses in the Zone 2 Jumper Finals, enjoy pony rides for kids, children's activities and the first annual chili contest. For $20 a person, join the Yappy Hour to drink craft beers and enjoy tastings from local distilleries with your leashed pup companion. Come back for Sunday Brunch by Wild Blue Catering, $30 for adults, $20 for children 12 and under.
Tickets, Thursday, $5 for adults, $3 for kids 6–18; Friday and Saturday, $7 for adults, $5 for kids 6–18; and Sunday's free for all. Benefits Devon Horse Show and Country Fair Foundation. More info and tickets at DevonHorseShow.net. 
23 Dorset Rd, Devon.
Canine Partners for Life's Open House and Cow Bingo—Sept. 14
Bring the whole family to Canine Partners for Life's annual Open House and Cow Bingo event! The Open House includes free fun-filled activities such as a puppy race, puppy kissing booth and Cow Bingo. Get your $10 Cow Bingo tickets for a chance to win 5,000!
Need a bite? Grab food from Dino's Ice Cream Truck, Bulldawg BBQ, Sabatino's Mobile Pizzeria and more. And for the first time, Chaddsford Winery and Victory Brewing Co. will offer beer and wine from mobile trucks, so come thirsty! More at K94life.org. 
Canine Partners for Life, 334 Faggs Manor Rd., Cochranville. Noon–4 p.m.
40th Annual Chester County Restaurant Festival—Sept. 15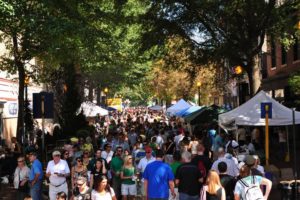 Sample food from over 65 restaurants, visit vendors and crafters, enjoy live music, and visit the beer and wine garden in this street fair in downtown West Chester. Sample local faves like Lorenzo & Son's iconic 28-inch pizza or Saloon 151's juicy burgers, and browse goods from over 100 vendors, including arts, crafts and informational booths.. What a great way to wrap up the weekend!
Benefits the West Chester Department of Parks & Recreation. Rain date, September 22. Free. More at West-Chester.com.
Gay and Market Sts., West Chester. Noon–5 p.m.
Annual Shugart's Sunday BBQ & Blues—Sept. 15
Enjoy tasty BBQ, Farmer Bob's sweet corn, homemade desserts, local brews, spirits and other cold beverages at the Historic Sugartown grounds. Listen to the blues from Philly's well-loved and longest-lived blues band, the Dukes of Destiny, as you enjoy family fun, including old-school competitions like sack races, three-legged races, spoon races, croquet and other surprises.
Tickets $15–$40. Benefits Historic Sugartown. More at HistoricSugartown.org.
690 Sugartown Rd., Malvern. 2 p.m.–6 p.m. Dinner at 3 p.m.
Al Fresco Dining in Media and Kennett Square—Summer Wednesdays and Third Thursdays—Sept. 18–19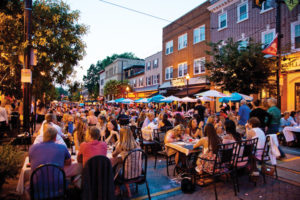 Have dinner outside this week! On Wednesday, join Media's popular Dining Under The Stars, named one of the area's best al fresco events. Enjoy local favorite restaurants while listening to live music all night long. Through the rest of September.
More at VisitMediaPA.com. Wed., State St., Media. 5 p.m.–11 p.m. 
On Thursday, head to the Mushroom Capital of the World to enjoy extended shopping hours, kid-friendly activities like live entertainers and balloon tying and outdoor dining in Kennett Square! Plus, parking is free in the parking garage after 5 p.m. Last third Thursday event of the summer.
More at HistoricKennettSquare.com. Thurs., State St., Kennett Square. 6 p.m.–9 p.m.
back to top