Events Blog—Jan. 30–Feb. 5
Leap into February with one of these noteworthy events—a show at the theater, a trip to a museum, an afternoon in a historic town and more. Your calendar just got more exciting!
For more can't-miss events in Chester County and beyond, check out the Events Page on this website.
Through Feb. 23—Eleanor, An American Love Story at the Media Theatre
Through June 14—Take a Trip to the Museum
Feb. 1—Escape Brandywine
Feb. 1—Cabin Fever Saturday
Feb. 1–9—47th Annual Fine Art Show & Sale
Eleanor, An American Love Story at the Media Theatre—Through Feb. 23
Watch a story of courage and compassion at Media Theatre's performance of Eleanor, An American Love Story. Follow Eleanor, a young aristocrat destined to become one of the country's most courageous First Ladies, as she becomes an icon for social change. And watch as her love story with Franklin Roosevelt unfolds.
This musical is more than just a historical romance—it's a story of health struggles, marital issues and the fight for women's rights. Show times and tickets online. More at MediaTheatre.org.
The Media Theatre, 104 E. State St., Media.
Take a Trip to the Museum—Through June 14
Studies have shown that going to art shows can actually improve your health! Good thing we've got some great area art exhibits for you to visit!
Through April 12, the Delaware Art Museum hosts an exhibit of Angela Fraleigh's pieces. Fraleigh's opulent paintings feature female figures freed from the social constructs of their time and empowered in their own utopian landscapes. Tickets $6–$12; Sun., free. More at DelArt.org.
In another exhibit highlighting women's empowerment and celebrating International Women's Day in March, the Brandywine River Museum will display "Votes for Women: A Visual History," including pieces from museums, historical societies and private collections. The exhibit focuses on the visual culture of the suffrage movement, with drawings, illustrations, posters and more. Tickets $6–$18. More at Brandywine.org.
2301 Kentmere Pkwy., Wilmington. Wed., 10 to 4; Thurs., 10 to 8; Fri.–Sun., 10 to 4.
1 Hoffman's Mill Rd., Chadds Ford. Daily, 9:30 to 5.
Escape Brandywine—Feb. 1
Escape-room fans, get ready for a fun new experience! This weekend, try an escape room with local historical flare at Escape Brandywine, inside the 1725 John Chads House. Become spies of the Revolutionary war and decode General Howe's battle plans that have been hidden in the house on the eve of the Battle of Brandywine! You must deliver the plans to George Washington before the hour is up.
You'll use authentic 18th-century spy techniques, like codes and cyphers, to solve puzzles that will lead to the plans. Think you have what it takes? Tickets $28. Reservations required. More at ChaddsFordHistory.org.
Barn Visitors Center, 1736 Creek Rd., Chadds Ford. 10 a.m, noon or 2 p.m., or by appointment for groups of 8–12.
Cabin Fever Saturday—Feb. 1
Introduce your kids to a different way of life at Historic Sugartown's Cabin Fever Saturday. This fun-filled event will take you back as far as the 1700s, so your kids—and even you—can experience a technology-free world. Make historic crafts like Victorian-style Valentines, try your hand at old-fashioned toys and games, check out sleighs, carts, carriages and wagons at the Carriage Museum and more.
Everyone will find something to enjoy as you sip complimentary coffee and hot chocolate! Tickets $6 for adults and children 3 and older; free for children 2 and under More at HistoricSugartown.org.
Visitor parking at 273 Boot Rd., Malvern. 11 to 2.
47th Annual Fine Art Show & Sale—Feb. 1–9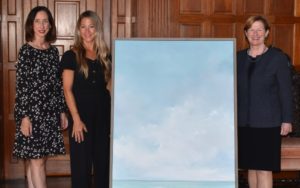 Want to spice up your home with stylish new décor? You're in luck! The Academy of Notre Dame de Namur is back with their 47th Annual Art Show & Sale. The artwork is from more than 100 artists in a variety of mediums like oils, watercolors, acrylics, ceramics, metals and more, so everyone can update their walls with beautiful new pieces.
Preview Party tickets $75 in advance, $85 at the door. Proceeds benefits Notre Dame's mission of educating young women. Preview Party & Sale Jan. 31. Exhibition open to the public Feb. 1–9, free. More at NDAPa.org.
560 Sproul Rd., Villanova. 12 to 4 p.m.
back to top