Dressage at Devon
Photos by Bob Conklin Photography
Fun and excitement for families and competitors alike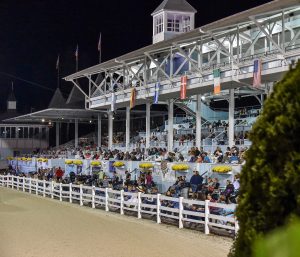 The Main Line town of Devon is known for many things. But perhaps its best known claim to fame is being home to the big blue landmark — many call it a Devon blue landmark — the iconic Devon Horse Show and Country Fair Grounds.
This equestrian venue is the oldest in the country and continues to welcome top exhibitors to its memorable blue grandstands year after year. A highlight of the fall equestrian season, Dressage at Devon returns to command the Dixon Oval, accompanied by a sea of spectators, horse enthusiasts and families hoping to share the fun of another event at the grounds.
A Little History
Since its inception in 1975, Dressage art Devon has been known for high-level competition, can't-miss special events and an electric atmosphere unlike any other in North America. Connecting traditional roots with modern competition experience, Dressage at Devon is excited to introduce new events while continuing to be the iconic horse show that's on the bucket list for dressage riders around the country and the world.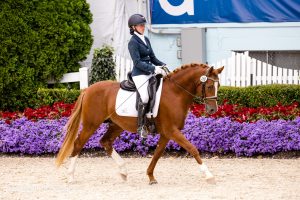 The inspiration for this competition began in 1965 with a group of equine enthusiasts whose mission was to provide instruction and training for riders and to inform the public about the art of dressage. In 1975 the event was relocated to the Devon Horse Show Grounds and featured even more exciting attractions like the ever-popular breed show. It has continued to gain momentum and prestige in the years since.
"Dressage at Devon is one of those iconic events that's memorable and special for all," said George Williams, U.S. Dressage Federation President. "We are excited about innovating and adopting new technologies that in the years to come will enable an even wider audience to experience the magic of this show."
New This Year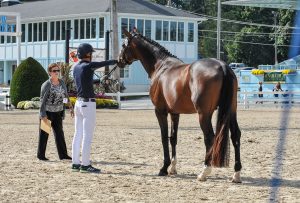 Among the exciting new events this year is an exclusive master class by Olympic silver medalist Sabine Schut-Kery on Thursday night in the Dixon Oval. This master class, presented by ShowPlus powered by CaptiveOne, will feature a variety of horses and riders of different ages and levels, making this a must-see educational opportunity.
Looking for fun outside the ring? How about a chance to dress up and watch the competition with a cocktail in hand? The Kingsview Partners Roaring '20s Party on Friday night is open to all who want to join the festivities and watch the Delaware Valley Combined Training Association's Quadrille Team perform. Tickets (available on the website) include door prizes, great drinks, food and dancing, all in the Devon Club with the Blackbird Society Orchestra setting the mood. Bring your best Great Gatsby get-up, as '20s attire is highly encouraged!
Devon's Special Draw
Dressage at Devon attracts a broad variety of passionate horse lovers — wide-eyed children, veteran participants and everyone in between. Granted, watching some of North America's top riders perform is an exciting draw. Yet for some equestrians, the chance to experience the special energy of the venue or to step in the same arena as dressage's greats is just as exhilarating.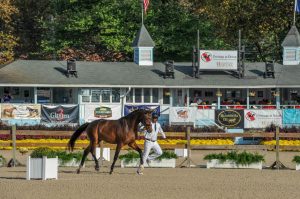 Veterans say the unique European-like atmosphere of the Devon venue is both intimate and electric. And it's the perfect setting to watch these exquisite horses and experienced riders display harmony and skill while going through their programmed paces — performing predetermined specialized movements such as piraffs, passages and pirouettes (just Google them to learn more).
World-class dressage performances are just the beginning. Saturday night's Grand Prix Freestyle performances — when horses and riders move to music — are always a crowd favorite, giving spectators the chance to cheer and clap along as their favorite horses dance. Freestyle events demonstrate why dressage is often called "ballet on horseback."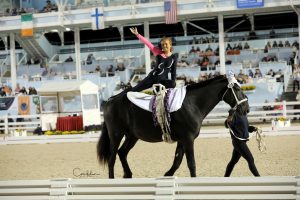 Another draw is that Dressage at Devon is an essential stepping stone in high-level dressage competition for riders who hope to compete in the world championships or the Olympic Games. This year's show includes a World Cup qualifier event for Grand Prix competitors hoping to earn valuable qualifying points for next year's 2023 FEI World Cup Dressage Finals in Omaha.
"The energy at Dressage at Devon is like no other dressage show in the U.S.," said Jessica Jo Tate, Grand Prix dressage rider and Dressage at Devon board member. "It's so exciting to compete in front of the crowds in that incredible grandstand. I've competed at Dressage at Devon for 15 years, and it remains my favorite show. Riding in the Saturday Night Freestyle is always the most incredible feeling ever. The crowd gives it such a special energy and excitement."
At the Country Fair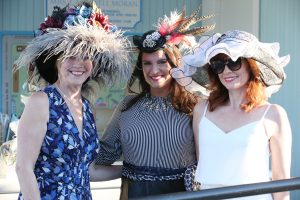 Dressage at Devon is more than just a competition. A well loved, family-friendly venue, the Devon Horse Show and Country Fair Grounds are well suited for welcoming a crowd who may not yet be familiar with the intricacies of this style of equestrian competition. To amuse and entertain dressage newbies, the grounds host exhibitions, great shopping, tempting food and a chance to socialize. Special events also keep spectators and competitors happy.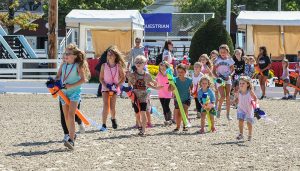 On Friday, ladies are invited to wear their best "show day" hat and attire to the grounds for a display of tradition, similar to Ladies Day at the Devon Horse Show in May. Sunday's Kids Dressage Explorers Day lets kiddos create their own stick horse and ride their mounts into the Dixon Oval to showcase their dressage movements with the help of an announcer and judges. Growing each year, Explorers Day will also include special exhibitions by Australian horseman Guy McLean, a visit from the adoptable dogs of All4Paws Dog Rescue, and the annual blessing of the animals.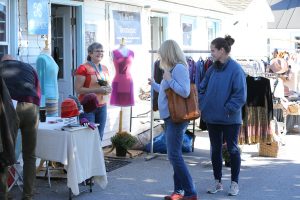 New this year, Sunday will also be "Barn Day," when barn groups from near and far are invited to share the fun, showing their team spirit in coordinated outfits to vie for prizes to take home.
Dressage at Devon offers some of the best shopping at any equestrian event, with boutique vendors open all week, selling one-of-a-kind apparel, jewelry, antiques, tack, home decor and horse show souvenirs. Plus the food vendors at Devon, noted to be some of the best at any horse show, will delight any palate for full meals or light snacks. And The Pub offers a cozy place to relax indoors or outdoors with live coverage of the competition and a libation.
With opportunities to connect with community members through fun activities, build relationships and attend special events in a magical setting, Dressage at Devon will have you wishing for more at the end of the week!
IF YOU GO:
What: Dressage at Devon, a USEF Heritage Competition
When: Sept. 27–Oct. 2
Where: Devon Horse Show Grounds
Info: DressageAtDevon.org
back to top