Dental Anxiety
It's more common than you think.
It's a scenario that's seemingly played out for as long as the profession has been in existence. Fear of going to the dentist affects nearly one in every five Americans, and one-third of these patients could be classified as having an extreme fear or "dental phobia." For this especially fearful group, even the thought of going in for a routine dental exam can lead to increased heart rate, difficulty breathing, sweating and physical illness.
Many patients can't pinpoint the origin of their fear. They know it's irrational, but they're unable to do much about it. They avoid scheduling appointments until their dental issues continue to worsen to the point when they absolutely must see the dentist.
Yet, most of those who are fearful can usually come up with a past experience or belief that led to their negative feelings toward dentistry. If patients can determine the true cause of their anxiety, the dental team can work more effectively with them to minimize their fear.
Here are several possible causes and potential solutions to consider.
Dental Office Sights and Sounds: Everyone is aware that dental offices have specific sights, sounds and smells that take us back to our first dental visits as kids. For anxious patients, these aren't welcoming to the senses.
If these sounds and smells cause you concern, consider bringing your own music and noise-canceling headphones or earbuds. Most offices will also offer dark sunglasses to help further block the sensory overload.
Fear of Needles: With vaccinations in the spotlight during the past three years, we've all become a little more desensitized to shots. But to many people, injections in the mouth are much different than getting them in the arm.
In today's dental offices, using small gauge needles and computer-regulated anesthetic flow have made pain-free injections the rule rather than the exception. In addition, some offices offer laser dentistry where many procedures can be done without using a drill, virtually eliminating the need for local anesthetic!
Lack of Control Over the Situation: We all want to have control over our environment. In a dental office, many patients may feel they've lost this power, which can lead to a feeling of helplessness.
Consider asking the dental team to explain what's happening during each stage of the procedure so you can follow the progress. You should also establish a signal — such as raising your hand — to alert the dentist that you need a break or you're feeling some discomfort. The dental team will appreciate this kind of communication.
Time of Day: Timing can play an important role in dental office anxiety. The bustle of a busy office may be enough to make some uneasy. Discuss your anxiety with the appointment coordinator when booking your visits. Scheduling at a time when the office is less crowded can help tremendously.
Knowing Your Dental Team: Stick with the same providers, if possible. When your dental hygienist, assistant and dentist are all aware of your anxiety, they can work together to avoid putting you in situations that trigger that emotion. Most offices have several hygienists and more than one dentist on staff. Try out several team members to find the combination that makes you feel the most comfortable.
Nitrous Oxide: This form of analgesia can provide a distraction to take your mind off your dental surroundings and help you relax. The gas takes effect in minutes and wears off quickly. Although not all dental offices offer this service, call or visit the website to see if this treatment option is available.
While not every technique will work for every patient, there are many simple strategies that can help reduce or even eliminate dental anxiety for a majority of patients.
Remember that this condition is very common. Your dental team is ready to give you the best experience possible to help you maintain your smile for a lifetime.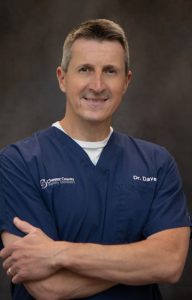 Dr. Montgomery is senior partner at Chester County Family Dentistry in West Chester, where he's practiced for the past 27 years. He's a member of the ADA, the AGD and is the examining dentist for the West Chester Area School District. He donates his services at Community Volunteers in Medicine (CVIM) and was named a Top Dentist in Philadelphia Magazine's 2023 issue.
back to top
Our Favorite Resources
Lower Bucks Hospital
Roxborough Memorial Hospital
Surburban Community Hospital