Dementia: What Can You Do to Cope?
There's a range of options available.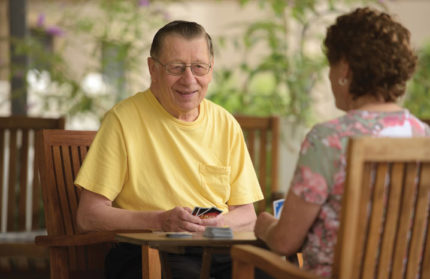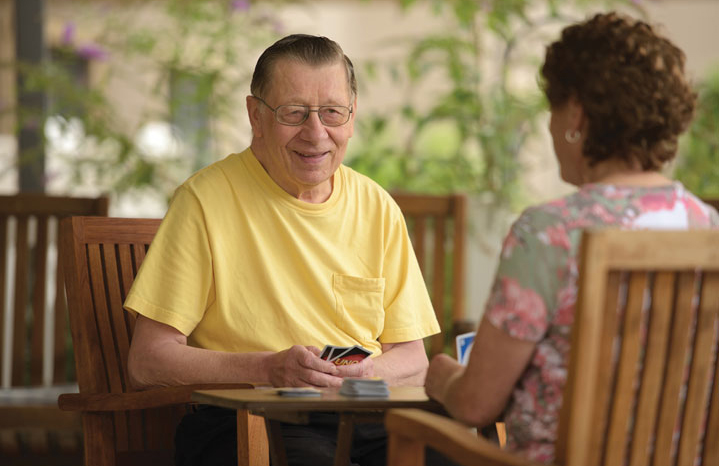 Can't concentrate? Forgetting things? Feeling confused? It could be the very normal impact of age-related memory issues.
Or it could be more serious—perhaps the onset of dementia: a group of conditions related to memory and judgment. One in 10 people over 65 have dementia, which covers a broad range of symptoms that affect everyday activities.
If you think you have dementia, or think a loved one has it, the first thing to do is see a doctor. Many area hospitals maintain teams that specialize in dementia diagnosis and area senior communities specialize in dementia care.
What Is Dementia?
Basically, dementia is the loss of brain cells that results in decreased cognitive skills that interfere with daily living. Diagnosis is complex, and there's no single, definitive test.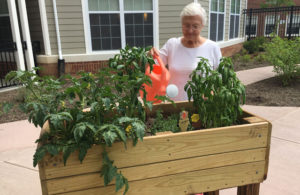 Very few types of dementia can be reversed and cured. If the symptoms are caused by a vitamin or nutritional deficiency (including B12 deficiency), the result of alcoholism, drug or chemical exposure, a fluid build-up in the brain's ventricles (an offshoot of thyroid disease), or tumors, it's worth finding out to determine if the condition can be reversed.
It's much more likely, however, that you or your loved one have one of the other much more common kinds of dementia. Alzheimer's Disease, caused by deposits in the brain, is the most common cause, accounting for about 70% of all dementia cases.
The second most common cause is vascular dementia. In essence, the blood vessels supplying the brain become clogged.
And there is a third, fourth, fifth … cause. Most causes have no cure. When all is said and done, the brain, and its many functions—memory, language, perception, judgment—are in inevitable, irreversible decline.
Care at Home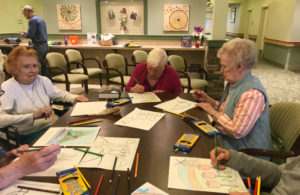 In the early stages, you'll likely want to care for your loved one who's suffering from dementia at home. Often, because you're busy or as the situation becomes more serious, you'll seek assistance—perhaps with companionship and handling medicines, meals and personal care.
There are service providers to help with these tasks, such as Visiting Angels, Bayada Home Health Care, Senior Helpers, Home Instead and others. Important considerations for choosing an outside service are safety, reliability and caring staff.
Even home care becomes a 24/7 job. At some level, you'll trust only yourself to provide the care. Until you can't. That's why most will eventually choose to place a loved one with a service for at least part of the day.
In Transition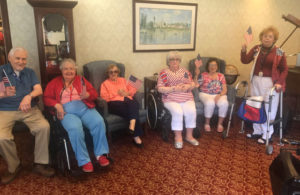 Our area offers many options for non-residential dementia services. One option is Tel Hai in Honey Brook, which is accessible by Chester County Rover transportation services.
From 6:30 a.m. until 7 p.m., participants in Tel Hai's Adult Services program are supervised—on at least a 1:7 ratio—and can be served three meals and engage in therapeutic activities, exercise and games. Four participants, for example, were playing a Wii bowling game when I visited with Tel Hai's Director Tammy Jacobs. One player was exceptional, achieving a score up in the 200s and was cheered by an audience of 15 or so.
Program participants may also choose conversation with others in Tel Hai's secure courtyard. Or a participant may prefer a quiet room: there's one with a large fish tank and another with a "magic window"—showing a 45-minute DVD in a loop of pastoral scenes that are particularly comforting. And, occasionally, accompanied by staff, participants will take a field trip to the country.
Adult Services costs are about half that of residential care. You can choose a flexible day-by-day option. And, at the end of the day, your loved one can come home.
The Memory Care Unit
Later, though, as the disease progresses, it may be best to move to a senior community and, within that, to a Memory Care Unit (MCU).
Often, the MCU is behind a secure door within the senior community. That door is likely security coded for the residents' safety. With dementia, a resident may forget where he is, or sometimes, who he is. Eventually, he may be at risk for "elopement" or wandering off.
That risk that your loved one can't be left alone at home—and family members can no longer cope—is likely why an MCU will be considered the safest option.
There are many MCU offerings in County Lines country: about 20 in Chester County, more in Delaware, Lancaster and New Castle counties, where they are state licensed.
Rates vary, of course, but generally range between $6500 and $8500 per month: about 20% more than living outside the MCU in the Personal Care population. In general, memory care residents require more attention, services and labor.
Life in the MCU
The next question is what sort of care is available behind the secure door? The quarters are similar to those found in most senior communities and are sometimes luxurious. Those I visited, all part of larger senior communities, felt spacious—a large bedroom, sink, bath, kitchenette, often with a fridge and cupboards for snacks.
Residents can bring some of their own furnishings. Linsey Cheshire, Director of Sales and Marketing at Devon Senior Living, says, residents should "feel at home."
The typical MCU has about 25–30 residents, but the number varies. The Summit, in Hockessin, Delaware, for example, has more than 50 residents on two floors. The conditions of residents will also vary, depending on the stage of their disease. Ideally, the "neighborhood" will consist of interesting, considerate, lively, but relatively quiet, folks.
Residents generally get three meals a day and snacks. The food is excellent, and your loved one will be well nourished. There's almost always a television, plus books, radios, musical instruments, arts and craft supplies. Often, residents can participate in activities of the non-MCU part of the community—song, dance, art, classes, games—though an assistant will have to accompany them.
Most MCUs have an outdoor garden: secure, of course. Another popular feature is a multi-sensory environment room—huge, colorful tubes of bubbles, aroma makers, massage cushions, low light level—like the one at The Hickman in West Chester. The Director of Advancement, Charles Alfree, showed me around the relaxing space. The Summit also has a multi-sensory room with low lights, soft music and the aroma of lavender. It's an innovation of Roxanne Wilson, Program Director.
Family and Staff
There's also the staff to consider when choosing a program. By regulation, the dementia staff at Devon Senior Living receive annual training. There are similar requirements at Tel Hai, The Summit, The Hickman and Quarryville Presbyterian Retirement Community.
Demands on the staff are great. Staff at quality programs are very conscious of the residents' condition, and they love their work and think of their residents as family. They try to be happy, pleasant, all smiles.
In general, family and friends can, and should, visit. Usually, family members can take the resident out of the unit. One daughter always shows up at The Hickman to put her mother to bed. Another will take her loved one to the park or a museum.
More generally, families visit about once or several times a week and feel the time is well-spent. The residential environment is a welcome respite from the 24 hours a day of work and worry that preceded admission.
Medications
Although most forms of dementia are not curable, there are medications that may  help manage the underlying symptoms.
Cholinesterase inhibitors—Aricept, Exelon Namzeric and others—are examples of F.D.A.-approved drugs for Alzheimer's disease. These stimulate arousal, attention, learning, memory and motivation. Unfortunately, cholinesterase inhibitors have side effects: reduced heart rate and blood pressure, increased secretion (sweat, saliva, tears, mucus), constriction of the airways and pupils.
Antidepressants, anxiety drugs, sedatives, hypnotics and antipsychotic medicines may also help some patients. All may have side effects.
You should discuss these options with your physician.
back to top