Delivery Decisions
What to look for when choosing an obstetrician and hospital to deliver your bundle of joy.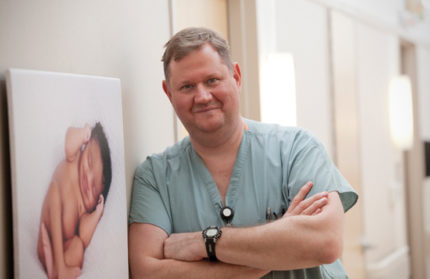 Deciding to start a family comes as one of the most important decisions in a woman's life—-quickly followed by a slew of other decisions that accompany the safe arrival of the new bundle of joy. What prenatal vitamins to take? Is this food safe to eat when pregnant? Is it safe to fly in the third trimester? How often should the baby be kicking? Is it safe to sleep on your back? Are there risks associated with an epidural? The list goes on …
Luckily, there is one person, or in some cases a group of people, who will be there for you throughout your pregnancy to assist in making these decisions and help to answer questions—your obstetrician or the team of obstetricians and nurses in your ob/gyn practice.
If you don't already have an obstetrician, choosing the person to stand by your side during this most personal (and magical) time in your life is the first step.
Most obstetricians deliver exclusively at one hospital. They see their ob patients regularly in their office throughout their pregnancy and when the big day comes, your physician, or the physician on-call for your practice, will meet you at the hospital to guide you through the last step of your pregnancy—the delivery of your child.
You may wish to choose a physician based on the hospital where deliveries are done. If this is the case, there are a number of questions that you may want to ask.
Proximity. When contractions start, will you be close enough to travel safely to the hospital in enough time to deliver the baby?
The Fundamentals. How many babies are delivered each year at the hospital? Does the labor and delivery program have a favorable reputation? Is the nursing team experienced and friendly? Does the hospital provide education and support programs?
Advanced Care. Does the hospital have an in-house Neonatal Intensive Care Unit (NICU)? Most babies are delivered without incident. But, about 10 percent of all newborns require advanced care following delivery. For this reason, it's important to consider delivering at a hospital that not only has a quality labor and delivery department, but also has an in-house NICU. This will ensure that your baby receives any necessary treatment as quickly as possible.
Comfort. Is an anesthesiologist available in-house at all times to administer epidurals in a timely fashion or attend to emergency C-sections?
Amenities. What measures are available to make your stay as comfortable as possible? The first few days with your newborn are some of the most meaningful. It is important that mothers are able to rest and recover during their time in the hospital.
Ask if the hospital offers private maternity rooms. Also, consider whether you would like to have your child in the room with you during your stay. Some hospitals have a well-baby nursery to care for babies while mothers catch-up on some much-needed rest.
Other added amenities to consider include the comfort, size and cleanliness of patient rooms, friendliness of staff, availability of accommodations for your significant other and hospitality features such as a snack station and room service.
Hospitals these days are going above and beyond to create a memorable stay for their patients. For example, Chester County Hospital offers mothers fruit smoothies in between meals and volunteers take around milk and cookies each afternoon.
Most hospitals offer tours to expecting and prospective parents. You may consider touring one or a few hospitals before making your decision. To find a physician who delivers at your hospital of choice, visit the hospital website or call the physician referral line. If you need help in selecting a particular physician, here are some tips.
Ask a Friend. Most women start by asking friends and family for referrals. These opinions many times are the most honest and enlightening—for good or bad.
Whittle It Down. Some easy decision makers include: Does the practice/physician accept your insurance coverage? Are they accepting new patients? Are they affiliated with a hospital where you would like to deliver your child?
Do Your Homework. Online resources, such as Vitals and Healthgrades, provide listings of physicians' credentials, specialties, years in practice, patient reviews and ratings, education and more.
Consider Your History. If you have a medical history, consider choosing a physician who specializes in particular medical conditions (i.e. high-risk pregnancy or gestational diabetes).
Meet the Doc. Once you have a short-list of physicians or practices that you would like to consider, make an appointment. During this introductory appointment, make sure that you are comfortable with the physician and the team. Ask questions about their values, their approach to care and the visits, tests and imaging required during pregnancy.
William Brazerol, M.D., received his medical degree from Wright State University School of Medicine and completed his residency at Pennsylvania Hospital. He's a Fellow in the American College of Obstetrics and Gynecology (ACOG) and Board Certified in Obstetrics and Gynecology. His special interests include high-risk obstetrics, adolescent gynecology, infertility and care of perimenopausal women. Learn more at Penn Ob/Gyn, locations in Exton, West Chester and West Grove. PennMedicine.org/ObGyn.
back to top
Our Favorite Resources
Lower Bucks Hospital
Roxborough Memorial Hospital
Surburban Community Hospital