Culinary Vision Sets the Pace in West Chester
Photos by Timlyn Vaughan
Even a well-known dining destination has room for more.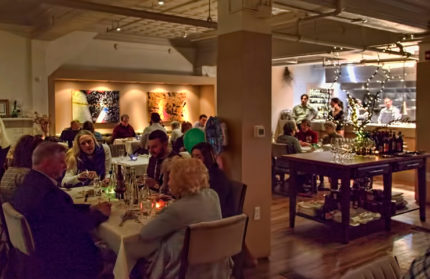 Download the West Chester dining guide and map (PDF)
California has its vineyards and wineries, but in Pennsylvania it's the craft beer industry that's sweeping the Commonwealth. In fact, PA ranks #7 in craft breweries per state and that latest number is always rising as more open.
As Iron Hill Brewery and Restaurant approaches its 20th anniversary in downtown West Chester, who would have thought that opening a craft beer-centered restaurant would lead to launching West Chester as a popular destination for dining?
Now West Chester is well known for being a place to go to gather with friends and family, to grab an after-work drink, to mark a milestone with a celebratory meal, or just to enjoy the amazing variety of restaurants in the compact downtown district.
Visit any of the 65 eateries and bars to enjoy a memorable meal. And then come back again … to sample more places!
Almost as surprising, each year brings more new dining options to enjoy—from world-class dining, to even more beer-focused spots, to new additions to the ethnic cuisine bonanza, to healthy spots and kid-friendly cafés.
West Chester has it all. I hope you find some new favorites!
A New Star is Born, an Old Favorite Reborn
The eminent Philadelphia restaurant critic Craig LaBan gave downtown West Chester's newest fine dining restaurant three stars—meaning "special, excels in most every category of the dining experience." That was his assessment of Andiario (106 West Gay Street), which, he anointed"the suburbs' best new restaurant."
The credit for offering exceptional fine dining goes to Chef Anthony Andiario, who, along with his partner Maria van Schaijik, chose to relocate from Arizona and open their dream restaurant in West Chester. Their dreams have proven to be gastronomically sweet with reviewers raving about the "epic" thick pork chop cooked over oak flames and the "magical" hand-rolled pastas. Go taste for yourself … if you can get a reservation.
A star is reborn at the other end of Gay Street. Organic. Sustainable. Farm-to-table. That's how Daniel Merola, the new owner of Roots Café (133 East Gay Street), describes this West Chester favorite. "We're always seeking to build relationships with Brandywine Valley farms and food suppliers," he says. "It allows us to create a rotating menu consisting of local and sustainable ingredients." The menu certainly reflects this, aiming to satisfy vegetarians and meat-eaters alike.
Coupled with the farm-fresh food that even the most discriminating diner will be delighted with is the intimate atmosphere of the charming dining room. Friends tend to linger uninterrupted by the noise and bustle of daily activities. Crafted drinks are also served, along with fine wines by the glass. And with nice weather, the rear outdoor patio becomes a pleasant refuge.
Room for More Beer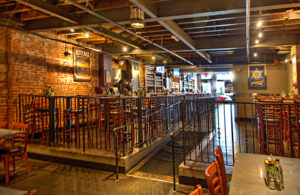 New to the craft beer scene is Appalachian Brewing Company (142 East Market Street). Known simply as ABC to its growing number of friends, this is a spot to enjoy a wide array of crafted beers, specially crafted by the brewing team, known simply as Scott, John and Matt. Also try the crafted soda that adds to the family-friendly atmosphere.
On the menu you'll find crowd-pleasers like old-fashioned potato and cheese pierogies, Beef on Weck (that's prime rib piled high on a kimmelweck roll) plus handmade tater tots, perfect for dipping in ranch sauce.
And stay tuned. There just may be another new place to quench your thirst opening soon.
Ethnic Cuisine
When Bert Johnson left the corporate world, he enlisted the help of his son Nick to open Miss Winnie's (211 East Market Street). It's now West Chester's first Caribbean restaurant, serving authentic Jamaican jerk and paying homage to Bert's mother and Nick's grandmother. Nick remembers the delicious recipes, as well as his grandmother's welcoming spirit that made everyone feel right at home.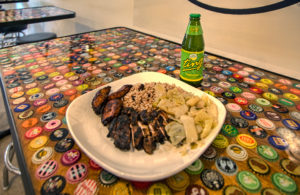 You'll find a wide variety of dishes made to satisfy any taste—from jerk burgers, chicken, wings, pork and plantains, to the finest Jamaican desserts and refreshing drinks. "At Miss Winnie's, everything we do is done with good taste and our customers' enjoyment in mind," says Bert.  "Nothing pleases us more than happy people." Miss Winnie's offers eat-in and take-out.
Moving around the corner to its new location on Gay Street, Que Rico Homemade Ice Cream Bar and Latin Grill (39 West Gay Street) brings Latin flavor from such places as Mexico, El Salvador and the Dominican Republic. And the food lives up to its name: que rico means "delicious."
The selections can be mixed and matched with food from different locales and enjoyed in the casual atmosphere of the dining space or for take-out. Don't forget dessert—also good as a refreshing snack—from the Tropical Ice Cream Bar!
Healthy and Tasty
When Evan Ross conceived Liquid Eatery (18 North High Street), he wanted to offer more than just a vegan smoothie bar. "By mixing fresh ingredients with unlikely superfoods, we are able to craft brand new menu items loaded with healthy, nutritious eats and drinks," says Evan. "We strive to create dishes in ways never before imagined."
Particularly fun is the signature hand-rolled ice cream, where liquid becomes ice before your eyes and is then scraped into ice cream rolls. Many items are vegan, gluten free and non-GMO and convenient for dine-in or take-out. Plus it's easy to mix and match a refreshing meal with a veggie or fruit smoothie. Says Evan: "It's by no means fast-food. Instead, it's health-food made fast."
When it comes to the term "fast-food," Bango Bowls (109 West Gay Street) is giving the industry a whole new meaning with their delicious bowls and smoothies. What started as a dream to make and taste the difference between mediocrity and excellence, quickly turned into a personalized, mood-boosting experience.
"Our mission is to provide our customers with the best-tasting, healthy food products in a fast and affordable way," says owner Katrina Sandstrom. "We use the freshest ingredients possible so our customers can fuel their bodies and their souls to thrive throughout the day."
Their menu features a variety of health-friendly and tempting options, from the standard Bango Bowl (frozen açai topped with granola, seasonal fruit and honey) to The Big Island Poke Bowl (marinated salmon topped with veggies and cucumber wasabi sauce) and everything in between.
For Kids
"We like to describe it as a kid café that's parent friendly," says Lisa Elliott, co-owner of Lulu's Casita (109 North High Street). That pretty much sums up what you see there. Kids discover what must feel like a nearly endless romper room, while moms and dads sit in the nearby café with snacks, coffee and free Wi-Fi.
There's also a bi-lingual story time and music circle so youngsters can learn as they play. And of course kids' birthday parties are welcomed. Plus, it's not just fun and games for the kids. Parents get their chance with a BYO Happy Hour on Friday evenings.
For more information about West Chester dining, visit  DowntownWestChester.com.
Elle Steinman and Dave Fairman contributed to this article.
back to top