Covid Vaccination for Young Kids
The CDC's latest guidance extends to children as young as 6 months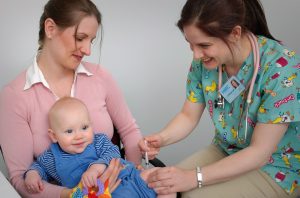 On June 18, 2022, the Centers for Disease Control and Prevention (CDC) endorsed a recommendation for Covid-19 vaccination for children as young as 6 months of age, making about 20 million children across the country newly eligible. Many parents with young children have been eagerly awaiting this milestone in the pandemic since the CDC's October 2021 recommendation covering children 5 to 11.
Some families, though, are more reluctant to move ahead with vaccinating their young children, so it's essential to understand why these vaccines are important and how they have been studied so parents can make the best decision for their children.
Logistics
Two vaccines are available for this new, younger age group. Both vaccines have been provided Emergency Use Authorization from the U.S. Food and Drug Administration (FDA).
The Moderna vaccine is an mRNA vaccine. Each dose contains a quarter of the amount of vaccine as the adult dose and is given in two doses, 28 days apart.
The Pfizer vaccine is also an mRNA vaccine. Each dose of this vaccine contains one tenth the amount of medication as they adult dose and is given in three doses. After the first dose is given, the second dose is given three weeks later, and the third dose is given at least eight weeks after that.
Children will be considered fully vaccination two weeks after completing either series of vaccines — either the two-dose Moderna series or the three-dose Pfizer series.
It is currently unknown if a booster will be recommended for either series of immunizations.
Effectiveness
Both vaccines had predefined outcomes that they needed to meet to determine whether they were effective. The studies were done looking at something called "immunobridging" – essentially, ensuring that the participants had an immune response equal to or more robust than teenagers and young adults.
Additionally, data in older children demonstrates that vaccination significantly reduces the incidence of a rare but dangerous condition called Multisystem Inflammatory Syndrome in Children (MIS-C) that occurs after a Covid-19 infection. This will continue to be studied in younger children and is another anticipated benefit.
Safety
The mRNA vaccines made by both Moderna and Pfizer have been monitored by the most extensive safety monitoring in U.S. history, providing confidence in their safety. The data from these trials has passed through an independent advisory board, then the FDA, and finally the branch of the CDC that provides guidance on vaccines — the Advisory Committee on Immunization Practices.
The side effects that were noted — such as fever, fatigue and pain at the injection site — are the anticipated immune response associated with vaccination. Reactions such as these indicate the immune response is making a significant response. These side effects are short-lived and not harmful.
Practicalities
Many families are looking to determine the value of vaccinating their child even though Covid-19 is mild in most children.
This is a question that pediatricians have always considered when selecting infections for which to provide vaccination. Mild in most children does not mean mild in all children. Even if the incidence of severe disease is rare in children, the mRNA vaccine aims to vaccinate children to prevent hospitalization or death from relatively common infections.
As the virus that causes Covid-19 transitions to endemic (consistently present, but limited to a specific region) from pandemic (when a disease's growth is exponential), children will continue to have Covid-19 exposures. While the medical community anticipates that children who are vaccinated may potentially get a mild infection with Covid-19, those children who receive an mRNA vaccine will be protected from severe disease and hospitalization, as occurred during the recent Omicron surge.
A practical consideration when deciding whether to vaccinate your child is that there are likely to be changes to the quarantine requirement after a vaccinated child is exposed to Covid-19. As a result, vaccinated children will likely be able to go to school or daycare instead of having to stay home.
These quarantine changes would likely make the 2022–23 school year and daycare less chaotic for families and allow children to continue to have important experiences with other children required for their ongoing growth and development.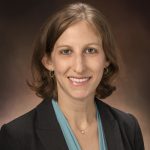 Lori Handy, MD, MSCE, is Medical Director of Infection Prevention and Control and an attending physician in the Division of Infectious Diseases at Children's Hospital of Philadelphia. She is also an Assistant Professor of Clinical Pediatrics at the University of Pennsylvania Perelman School of Medicine. CHOP.edu.
back to top