Could This Be Your Next Home?
55+ and Life Plan Communities offer an intermediate option … with tempting amenities.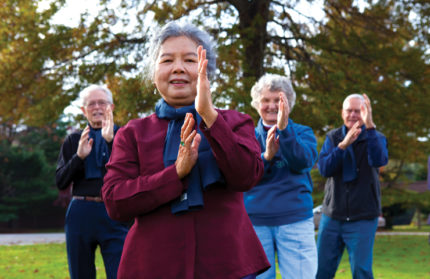 Hmmm. I guess I qualify. I am 55+. And 55+ communities are no longer "just for old people." But why would I move there? I still like having kids around … even millennials.
Besides, I'm not ill, though I may be in the future. My memory isn't what it once was, though I'm sharp enough. I am tired of chores, though—lawn mowing, leaf raking, home repairs …. But I'm still handy.
What is a 55+ Community Anyway?
It's an "age-restricted" community, meaning no less than 80% of the occupied units include at least one person 55 or older. There are about 40 in County Lines country, with more every year. Most were built after 2000, but some go back before that.
You'll find that most have traditionally styled, single-story homes, mainly with two-bedrooms. Typically, they're compact but comfortable for two. Watson Run in Gordonville is a good example. Dawn Linke says, it's "the perfect place to relax in the laid-back heart of Amish Country." Lawn care and snow removal make it maintenance-free, while its community center with pool and workout room support physical activity. And it's a short walk to the nearby town of Intercourse.
Larger homes, such as those in Knob Hill Farms in Honey Brook, are over 4,000 square feet, while smaller options, such as Cokesbury Village in Hockessin, are less than 400 square feet. Most of us would have to downsize.
The communities themselves also vary widely in size. Most have 100 to 200 homes, but many communities are larger. Hershey's Mill in West Chester has over 1,700 homes on over 800 acres, including an 18-hole golf course and tennis courts. In contrast, Longwood Reserve in Avondale consists of only eight homes built on 1 to 2-acre lots.
Home styles run the gamut, from separate, detached homes, as in Ovation at Elkview (in West Grove), to apartments or condos, as at Westtown Reserve in West Chester. In between, there are cottages, carriage homes, town homes and others that are simply attached.
Buy or Rent?
In general, prices of 55+ homes range from about $300,000 to $500,000, with options at both ends of the budget. Athertyn at Haverford, for instance, has condos at well over $1 million. Plus a condo fee—or homeowners association or HOA fee—may also be required.
Although fewer, rentals are another choice—usually for apartment-like settings. For instance, Canvas at Valley Forge, Arbour Square at West Chester and Meridian at Eagleview are examples.
Offerings and Amenities for Active Adults
Frequently, these communities include a wide variety of amenities, making them feel like you're living at a resort. A clubhouse, for instance, is practically mandatory, though the sizes can vary substantially. The one at Fox Hill Farms, for example, is over 14,000 square feet, while others are 2,000 square feet or less.
The clubhouse, in turn, inspires activities like cycling, photography, dancing, billiards, gardening .… In other words, practically anything, assuming someone else is interested.
Typically, the 55+ communities are for what's called active adults. Expect to find an exercise room or fitness center, complete with treadmills, mats and weight-lifting equipment. More lavish set-ups might include a swimming pool, walking and cycling trails, plus tennis, bocce and pickleball courts. And more.
So, you can stay fit, save gym fees, and save the ten feet of space dedicated to your own exercise machines. And you'll find buddies who are running, walking or swimming at, more or less, your speed.
In fact, some communities go well beyond these basics. Canvas, for example, has 18,000 feet of common space and offers a makers space, media lounge, multi-media room, genius bar, pet spa and more. Michele Kearney and Sarah McMeeking call it "amenity-rich." Just opened, they're "listening to the community" regarding its future.
In a similar spirit, Meridian at Eagleview has an 11,000-foot club, heated pool, spacious game room, e-lounge, theater room and other common-space features.
Ditch the Lawn Mower and Snow Shovel
What 55+ homes have in common is their very low maintenance, giving you a carefree lifestyle. Usually an HOA fee covers lawn mowing, leaf raking, snow removal, exterior painting, trash removal …. Saving you about 100 to 200 feet of clutter, 30 to 50 hours of work, not to mention several bouts of back pain each year. Plus many communities are gated and offer the safety of 24-hour security.
Meals and transportation, however, are generally not included, since 55+ is not "assisted living." Occasionally, though, these amenities may be offered on a pay-as-you go basis. Again, each community offers its own mix of amenities and services.
If You Don't Need Help Now, But …
Perhaps you don't want to move again. You may not need assistance now, but are planning for later—or for a spouse. Consider a Life Plan Community (LPC), a rebrand of the Continuing Care Retirement Community. In County Lines country, there are about a dozen.
Tel Hai in Honey Brook is an LPC, offering residential living in cottages, apartments and town homes, plus a full campus of pools, gyms and the like. But, in addition, Tel Hai offers a "full continuum" of care. According to Jolene Weaver, you can enter at 62+ but "stay for the rest of your life." More attuned to their residents' medical needs than a 55+ community, LPCs generally have 24-hour medical assistance. And Tel Hai will move you to an on-site personal, memory, rehabilitation or skilled nursing facility, if and when you need it.
Another example of an LPC is Dunwoody Village in Newtown Square, offering dining and housekeeping, plus amenities like a fitness center, library, walking paths and wellness programs. If needed, however, Dunwoody will provide emergency assistance and access to onsite physicians, dentists and other medical providers. When required, it will also move you to a care facility.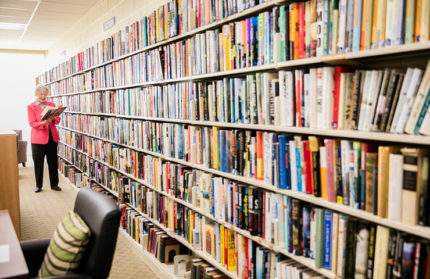 More Options
Watching planes take off and land at Brandywine Airport from Arbour Square's roof-top deck—with fireplace and outdoor TV—is certain to capture residents' imagination. They'll also enjoy their own Main Street with a restaurant, '50s diner, movie theater, pub, salon and spa and more. The community will "take care of life's chores" so you don't have to, according to Jason Childers. All with the option of independent living, personal care or memory care services.
At the Kendal developments of Longwood and Crosslands LPCs, the lifestyle includes two aquatic centers, gyms, tennis courts and more. But, if you need assistance, personal care and skilled nursing are provided. Meanwhile, at Kendal's Coniston and Cartmel's over-50 communities, you get priority admission at Kendal's local health or nursing centers, but are otherwise on your own.
No-maintenance lifestyle, including meals, housekeeping and transportation, is also available at The Summit in Hockessin, with a choice between independent, assisted living or memory care. In addition, it has a full-time Activities Director who "ensures there's always something happening!"
When You're Ready
In short, the 55+ and LPC communities are offering residents of County Lines country a bridge between life as an independent community-loving citizen and life as a cared-for, assisted-by-others senior. You can choose from a community of youthful Baby Boomers to a more mature, settled and peaceful environment.
It's nice to know there are plenty of choices!
back to top